The News
U.S. President Joe Biden on Wednesday doubled down on his support for Israel in its war against Hamas during a visit to the country where he met with Prime Minister Benjamin Netanyahu.
"While it may not feel that way today, Israel must again be a safe place for the Jewish people," Biden said in a speech.
The president's trip to Israel comes as Middle Eastern and Arab communities worldwide are enraged over an explosion at a Gaza hospital which Palestinians say killed hundreds of people. Palestinian authorities blamed an Israeli airstrike for the explosion, while Israel said it was caused by a misfired Palestinian rocket.
On Wednesday, Biden backed Israel's account. Speaking alongside Netanyahu, Biden said, "I was deeply saddened and outraged by the explosion of the hospital in Gaza yesterday, and based on what I've seen, it appears as though it was done by the other team, not you."
The White House said in a statement that the U.S.'s "current assessment" is that "Israel is not responsible for the explosion at the hospital in Gaza yesterday."
In his speech, Biden said he would urge the U.S. Congress for "an unprecedented support package for Israel's defense."
He also cautioned Israel not to be "consumed" by rage and repeat the mistakes that the U.S. made after the 9/11 terror attacks.
"I caution this, while you feel that rage, don't be consumed by it," Biden said. "After 9/11, we were enraged in the United States: while we sought justice and got justice, we also made mistakes."
Step Back
Most Palestinians have very little to no confidence in Biden's ability to help negotiate a fair peace treaty between Israel and Palestine, according to a Gallup poll taken in the weeks and months ahead of Hamas's Oct. 7 attack.
Of the 84% of Palestinians who said they have "little to no trust" in Biden, 70% said they have "none at all." Palestinians have generally mistrusted the incumbent U.S. president's ability to arbitrate peace in the region, according to Gallup's polls for some of the administrations, excluding Donald Trump's.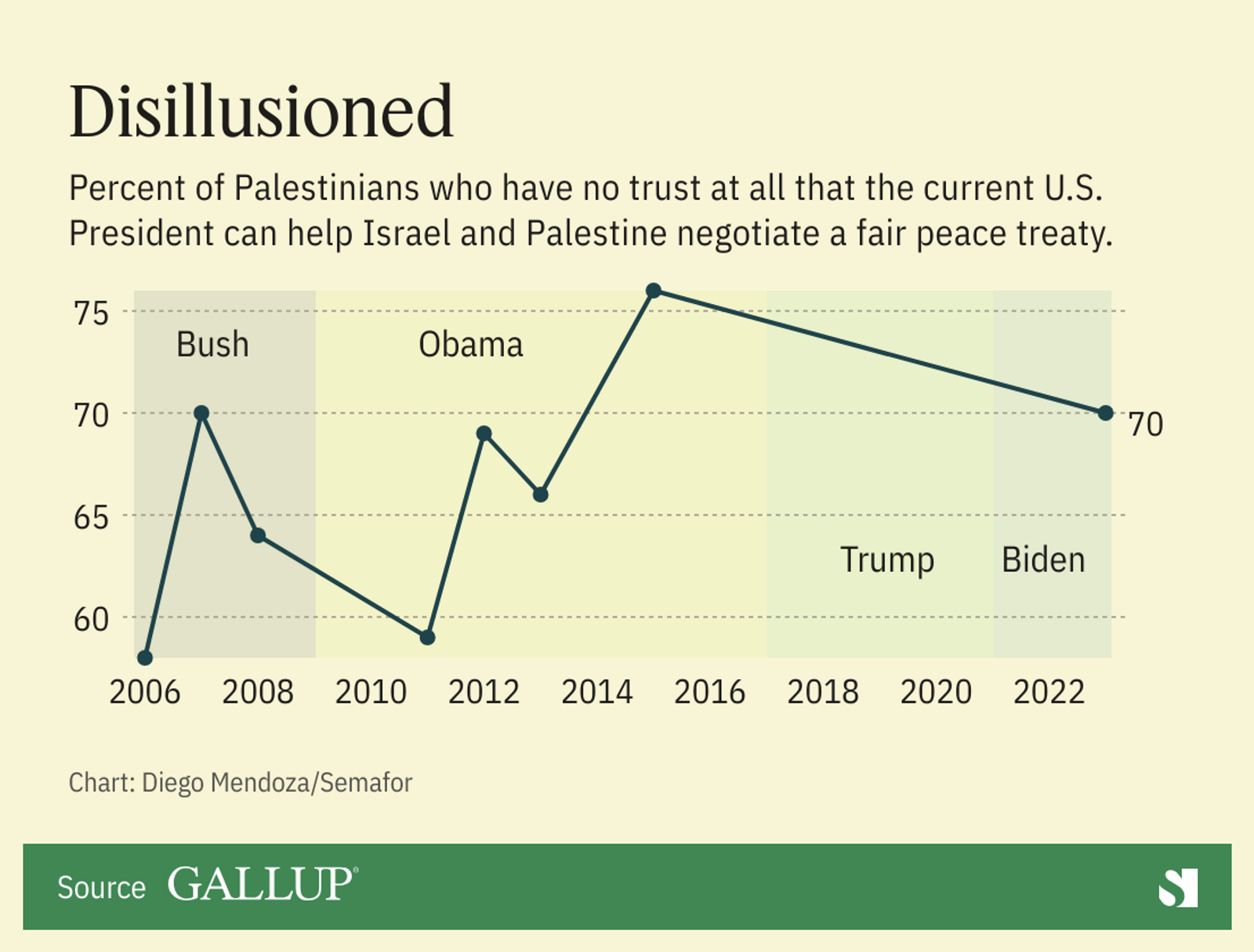 Support for a two-state solution is also waning: The Gallup poll found that only 24% of Palestinians in the months leading up to the war were in favor of a Palestinian state existing alongside Israel, a 35% drop compared to 2012.