The Scoop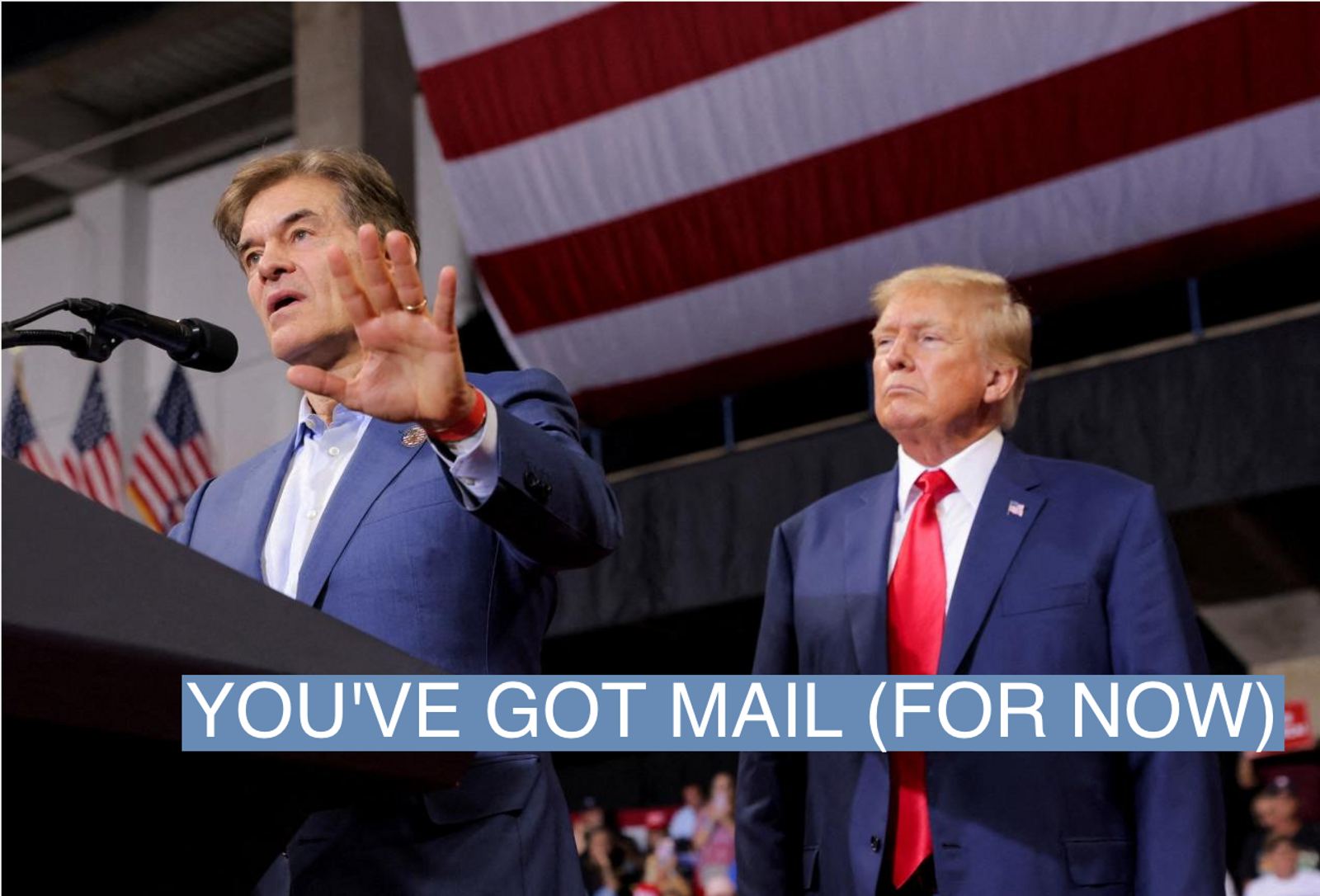 Former President Donald Trump is increasingly focused on changing voting rules in Pennsylvania, joining efforts to whip Republicans against a bipartisan mail-in voting law that's become a Trump world obsession since he lost the state by over 80,000 votes.
Trump has spoken in recent weeks with allies who are leading a campaign to overturn the law, known as Act 77. Most recently, on September 6, he met with former Trump official Michael Caputo, Sam Faddis, a former CIA operations officer who ran for Congress in Maryland in 2016, and Pennsylvania county commissioner Doug McLinko at Trump Tower. Trump pledged to lend his support to their efforts, Faddis told Semafor.
Over the same period, he's woven talking points from anti-Act 77 activists into campaign speeches in the state, where he's demanded a return to in-person, same-day voting.
"Republicans of the state legislature need to get to work immediately to kill Act 77 by a state constitutional amendment," Trump said at a rally in Wilkes-Barre on September 3. "They have to do it immediately."
Act 77, which allows for no-excuse mail voting, initially enjoyed strong Republican backing. It was signed by Democratic Governor Tom Wolf in 2019 after passing with bipartisan support in the state's Republican-dominated legislature.
Now, Trump's backers hope to repeal the law either by sending a bill to Republican gubernatorial nominee Doug Mastriano if he prevails in November or through a more elaborate amendment process that could bypass a Democratic governor by putting the question to voters. The latter method would require Republican legislators to pass the amendment in successive sessions, among other hurdles, making a referendum unlikely to reach the ballot before 2024. The state's top court rejected a Republican-backed lawsuit led by McLinko to invalidate the law in August.

Shelby's view
Trump's involvement in the new attack on Pennsylvania's mail-in voting law puts pressure on the state's divided Republicans to pick a side.
The effort indicates that Trump remains determined to reshape state voting rules in a way that he believes might favor him in 2024. Trump's involvement also highlights ongoing fears among some Republicans that mail-in voting and related reforms cost them the last election, though no credible claims of significant fraud have emerged. Trump has been advised by multiple people in his orbit that a Republican will never again win the state – or the presidency – unless the law is overturned. Independent analysts consider the state highly competitive in the midterms and beyond irrespective of voting methods.
The details of the bill itself may also be less important than the broader effort to bring the legislature to heel. It's part of the continuing battle between "establishment" Republicans and so-called "MAGA" members that's been playing out in states around the country. In Pennsylvania's governor's race, Mastriano, who participated in the January 6th rally, is leading the ticket after a contentious primary.
The attempts to overturn the 2020 election that the January 6th hearings have explored often revolved around convincing GOP-held state legislatures to invalidate the results and send their own electors. Trump has continued his attempts to reverse the 2020 results since leaving office, calling up individual state leaders well over a year later and encouraging primary challenges to oust state politicians who resisted his entreaties. Act 77's individual provisions may not intersect with those efforts, but a pliant state legislature could be a vehicle to challenge future election results in 2024, especially if Mastriano wins the governor's race.
Republican state leaders have so far tried to walk a fine line between their Trump-loving constituents and the president's demand for fealty on election issues.
Pennsylvania House Speaker Bryan Cutler testified to the January 6th committee about the Trump campaign's nonstop efforts to recruit him to their cause after the election, which he reportedly called "inappropriate." But while he enthusiastically supported Act 77's passage in 2019, he's also since joined Republican efforts to overhaul or overturn the law, claiming it's been administered by Democratic Governor Wolf differently than he intended.
Christopher Borick, a public opinion researcher and professor at Pennsylvania's Muhlenberg College, told Semafor that "there's definitely a dance going on with some of the state legislature" in regards to how they deal with claims of voter fraud and attempts to overturn Act 77.
None of this is lost on Trump World, which is hoping the former president's personal attention will make it harder for purported allies to straddle both camps without moving decisively against the law.
"Where's the action?" asked McLinko in an interview, suggesting lawmakers who didn't join the lawsuit are posturing and not doing enough to actually reverse the law.

Room for Disagreement
While the issue has become more polarized on partisan lines since 2020, Republicans are far from universally opposed to mail-in voting or convinced it's a net negative for the party.
Prior to the 2020 election, a number of states had mail-in and early voting programs with little controversy and established Republican turnout programs. The most recent January 6th hearing even featured testimony from Trump's son-in-law, Jared Kushner, and former campaign manager, Bill Stepien, on how Republicans – including House Minority Leader Kevin McCarthy – advised Trump in 2020 to embrace mail-in voting as a potential asset.
National Republicans are also divided over Trump's efforts to exert control over legislatures and officials on voting and election issues. The House and Senate are currently considering bipartisan election reforms designed, in part, to make it harder for so-called "rogue" governors, legislatures, and state officials to try to overturn elections in 2024 and beyond.

The View From Voting Rights Activists
Rick Hasen, a legal scholar and law professor at the UCLA School of Law, said that even if the campaign to change Pennsylvania's voting rules operates within state law, partisan efforts to repeal existing mail-in voting laws could further erode trust in the process, which has already been undermined by Trump's false claims that he won the 2020 election.
"Trump has been very damaging to the confidence in elections," Hasen said.

Notable
Gallup surveyed Americans on a variety of voting measures in the news this month, including absentee ballots. 60% of those polled favored sending absentee ballots to all eligible voters, but this policy was also the most polarizing, with 88% of Democrats backing it compared to just 27% of Republicans. Gallup also found 79% of respondents support a voter ID requirement, a common Republican proposal typically opposed by Democrats.