Poland exit polls suggest ruling right-wing party will lose power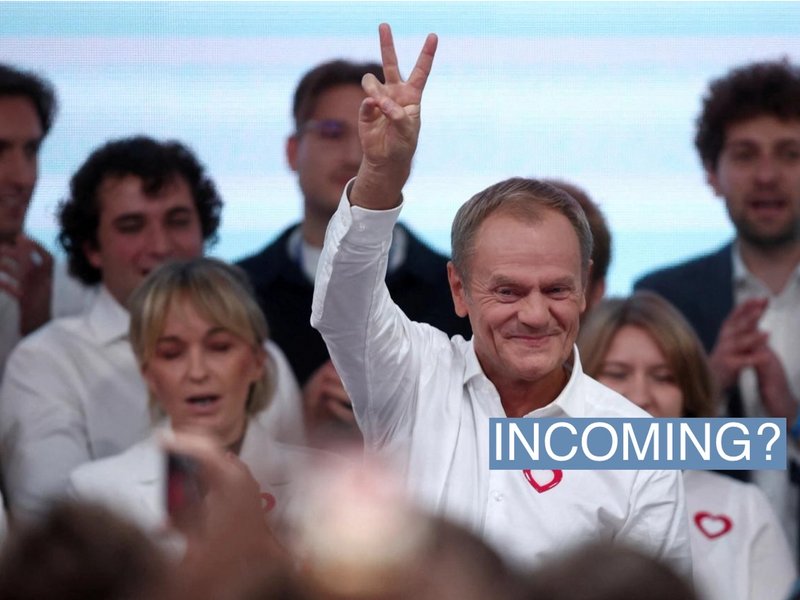 A general election in Poland may have ended eight years of conservative politics.
The final vote is still being tallied, but exit polls conducted Sunday indicated that the country's three largest opposition parties had out-performed the incumbent right-wing Law and Justice party, known as PiS. "Already today we can say this is the end of the bad time," Donald Tusk, leader of the Civic Coalition, told supporters.
PiS is expected to win the most seats but still fall short of the majority needed to form a government. The party has been hampered by scandals in recent years, and in September it was alleged that consulate officials had issued Polish visas in some countries in exchange for bribes.
Russia's war in Ukraine was a top issue for all parties. Shifting attitudes in Poland towards continued support for Kyiv led to bitter anti-aid rhetoric from the right-wing Confederation party. Despite polling at just 6%, Confederation's campaign forced PiS to adopt a stronger posture against increased aid to their neighbor. A dispute over grain shipments has recently strained ties between the two nations, and allies fear that degrading relations could hamper efforts to supply Ukraine with military equipment, The Wall Street Journal reported.
Populist politics have fueled Warsaw's slide to the right since PiS first took power eight years ago. Some observers fear Poland has been on an authoritarian trajectory: "This election campaign has been yet another expression of illiberalism," Karolina Wigura and Jarosław Kuisz, authors of the forthcoming book The New Politics of Poland: A Case of Post-Traumatic Sovereignty, wrote in The Guardian. "Confrontation and denunciation are part of political rough and tumble in other European countries," they write. The difference in Poland, however, "is that, one by one, red lines are being crossed in this campaign and dehumanising the opposing side is taken as a given."
The campaign has been followed closely by the EU and across Europe, and frosty relations between Warsaw and Brussels mean that billions of euros in funding have been withheld over concerns in the EU about the eroding rule of law in Poland. A Tusk government would normalize relations, but it will take some time before the country is back on the same footing with the bloc. "Just *being* more liberal than PiS won't unlock the cash," Henry Foy, Brussels bureau chief for the Financial Times, wrote on X. "And unravelling years of illiberal judicial reforms will take time and, possibly [involve], equally controversial legal shenanigans."