Zelenskyy makes surprise NATO visit with Israel and Ukraine wars on agenda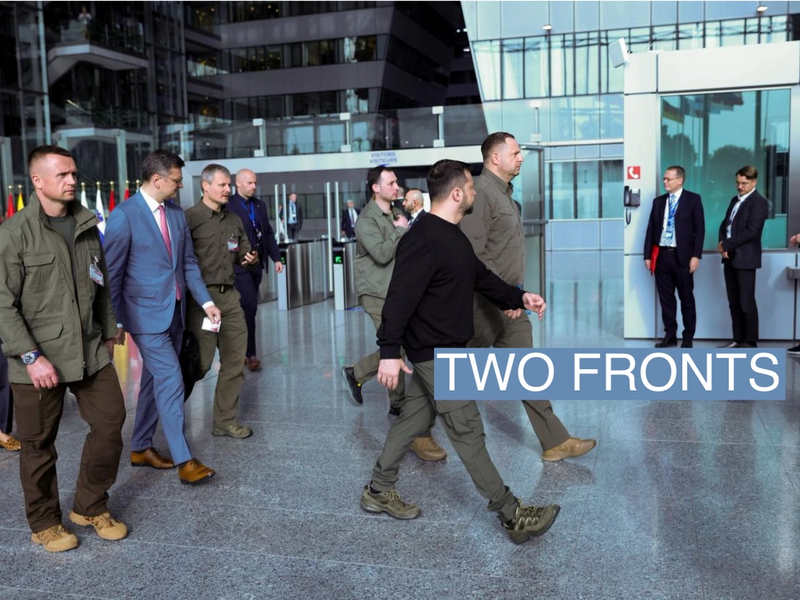 Ukrainian President Volodymyr Zelenskyy made a surprise visit on Wednesday to a meeting of NATO defense ministers at which both the Israel-Hamas and Ukraine wars are on the agenda.
Zelenskyy, in Brussels to urge further backing for Kyiv's military, has voiced his support for Israel while warning that conflict in the Middle East risked distracting from his country's war efforts.
U.S. politicians are struggling to agree on a new aid package for Ukraine, and the crisis in Israel has led some Republicans to argue in favor of directing funds away from Kyiv. Russian propaganda outlets have seized on that discourse, with Sputnik, a state-linked news site, questioning if the U.S. could supply sufficient ammunition to both nations. Russia is correct in suggesting that the wars are connected, Josh Rogin writes for The Washington Post: The Kremlin, together with Iran and Hamas, is working "to wage war against democracies and upend the world order the United States and its partners spent decades building. Republicans can't claim to resist this challenge but provide resources for only one of its battlefields."
There is little overlap in the types of arms requested by Israel and Ukraine, but the joint asks could present some strain on supplies, analysts believe. Israel will require precision munitions for its offensive, and it's possible Ukraine will soon need the same if it hopes to hit targets beyond the war's frontlines. The issue then becomes the speed at which those munitions can be manufactured, Mark Cancian, an adviser at the Center for Strategic and International Studies in Washington, told Bloomberg. The U.S. may have to pull them from already-depleting stockpiles, and that means Ukraine "could only shoot at the highest-priority targets."
The fallout of the Israel-Hamas crisis could be good for Moscow, which would like to see Western nations at odds with each other, a top Latvian diplomat told Foreign Policy this week. The "Russians hope somebody will say it's too hard," to supply arms to both Israel and Ukraine, the diplomat said.