Amazon takes on Starlink with satellite internet launch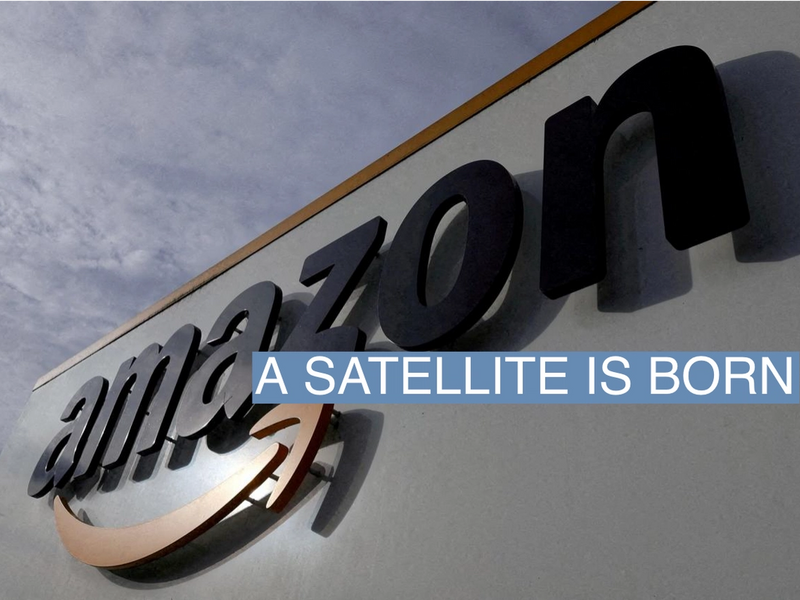 Jeff Bezos is edging into Elon Musk's cosmic backyard.
Amazon's satellite internet initiative called Project Kuiper is set to launch its first two test satellites from Florida's Cape Canaveral on Monday.
But as the space race between big tech heats up, scientists are worried about the consequences of so many new satellites orbiting the planet.
Even with Amazon's cosmological ambitions, "SpaceX remains way ahead," writes George Dvorsky for Gizmodo. Amazon's satellite internet service isn't expected to begin until the end of 2024, and SpaceX already has plans to launch more satellites during that time. The clock is also ticking for Amazon, with the Federal Communications Commission giving the company a 2026 deadline to launch half of its satellites, Gizmodo reports. Amazon is already facing a hiccup after having to switch satellite design because of a developmental delay with its first unit.
Scientists are worried that the rush to launch more satellites will disrupt astronomical studies. One astrophysicist told Wired that we are at a "cusp of a new era" where the sky will soon like a "crowded, large zoo of satellites." Satellites, located much closer to earth, are significantly brighter than stars, including ones that are designed to appear darker while in orbit. They also interfere with radio signals, making images more difficult to capture. Researchers recognize the necessity for satellite constellations to enhance connectivity, which is why they don't want them banned, but regulated to require things like anti-reflection technology.
Satellite internet remains a significant contributor of greenhouse emissions. A recent study found that on average, subscriptions to satellite internet increases a carbon footprint by nine to 21 times when compared to land-based mobile internet because of the fuel needed to launch the satellites. Project Kuiper, which will use solid fuel propellant, will likely be the biggest emitter when compared to Starlink and another competitor, Eutelsat.