On The Record
Semafor Business's new signature interview series, On The Record, brings you conversations with the people running, shaping, and changing our economy. Read my earlier conversations with Norfolk Southern CEO Alan Shaw and Delta CEO Ed Bastian.
I joked to Mattel CEO Ynon Kreiz over lunch in his office that I got there by pushing the "all the way up" button in the elevator. It's one of the Easter eggs in Barbie spoofing corporate culture in general, and his company in particular.
They're funny, especially the army of product developers in matching khakis and Oxford shirts, all possibly named Aaron? And Will Ferrell as Mattel's cartoonish chief executive, fumbling for words of feminist support and landing on "I'm the nephew of a woman aunt," cannily lampoons CEOs, almost all of them white men, addressing thorny issues of sexism and racism in recent years. (For the record, half of Mattel's board members are women, twice the corporate average.)
But they also serve as cloud cover for a movie that was co-produced by Mattel itself and is key to reviving the toymaker's fortunes. If there's any doubt about the company's hand in the film, Kreiz's name appears on screen about 17 seconds in, as an executive producer.
Mattel expects a $125 million revenue boost this year from Barbie, including merchandise and its share of the $1.4-billion-and-counting box office. With 14 more films already announced, including ones about Barney, Magic 8 Ball, and a Polly Pocket film written and directed by Lena Dunham, Kreiz, a 58-year-old, Israeli-born career media executive, aims to make Mattel a major player in Hollywood by mining its toy chest.
The company's commercial heart is nearby in its 200,000-square-foot design center, where I'm occasionally asked to put my phone away to protect trade secrets. But Kreiz's quarters showcase Mattel's artsy side, with Barbies reimagined by Andy Warhol and Mark Ryden. Kreiz is staking the company's future on combining the two, without alienating either.
This conversation has been edited and condensed for length and clarity.

Liz: This is a movie Mattel produced [along with Warner Bros.]. You're an executive producer. How did you think about creative license given that in another context, we'd call this branded content?
Ynon Kreiz: We didn't make this movie to sell more toys. It was about creating quality content that people want to watch. If people watch our content, and connect with it, good things will happen.
We are collaborating with the best people out there and they run with the ball. It's one thing for us to say, 'we will make the next Hot Wheels movie.' It's another thing to say, 'J.J. Abrams will make the next Hot Wheels movie.'
[Director] Greta Gerwig has said there's a fascism joke that you weren't wild about.
We were very much part of the entire process but we gave Greta full creative freedom because she deserves it. We trusted that she would turn it into something that resonates with people.
What did you think when you found out that the CEO of Mattel is a jerk, and sort of a bumbling one at that?
Embrace self-deprecation. It wasn't just about bashing Mattel; it was part of this great narrative and interpretation of Barbie's universe.
What did you make of the geopolitical reactions to the movie? [Barbie was banned in Vietnam over a cartoonish map drawing that included the South China Sea.]
The goal was to make it relevant to everybody. In some cases there were local reactions, and Warner Brothers commented on that.
But Warner Brothers isn't trying to sell Hot Wheels in Vietnam. Have you seen any backlash?
We haven't. You get some reactions that are not as positive as you would like, but that's part of running a global brand.
You're at the beginning of a major effort to turn your toys into movies, TV shows, live events, theme parks. It's worked great for Marvel. It didn't work for Hasbro.
This strategy is not our invention. It's been done before. It's whether we can execute, and we believe we can. It's not a secret that Mattel tried to make movies before and they were viewed as 'okay, this is marketing, this is designed to sell toys.' You have to be authentic.
We have a fan base that goes back two and even three generations in some cases. We're tapping into that. Our brands have a place in culture. Magic 8 Ball, Rock 'Em Sock 'Em — Whac-A-Mole became part of the vocabulary. These are concepts, not toys.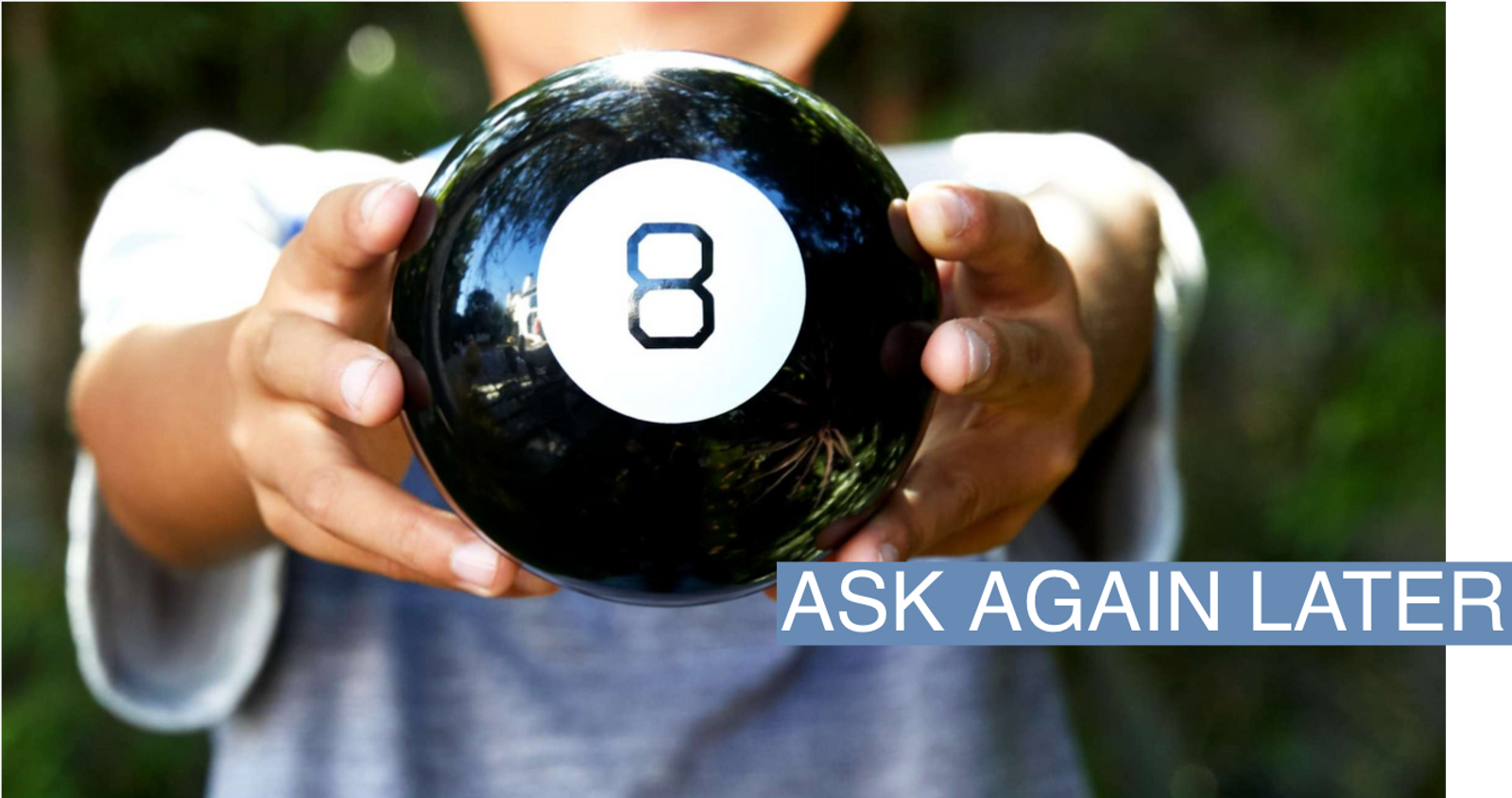 Why was the takeaway from Barbie not 'feminist culture is quite popular' but rather 'we should make a Barney biopic?'
That one is getting a lot of reaction.
I think that's because it sounds weird.
It's too early to be specific, but I can tell you we are taking a fresh approach that will be fun, entertaining and culturally oriented. It will not be an odd movie.
You were Mattel's fourth CEO in four years when you joined [in 2018]. What was your plan?
The initial goal was to restore profitability and regain top line growth after multiple years of decline. We reduced our workforce significantly, we cut the number of items we make, 35% of the SKUs. We shifted to a capital-light model in our factories, we exited five factories.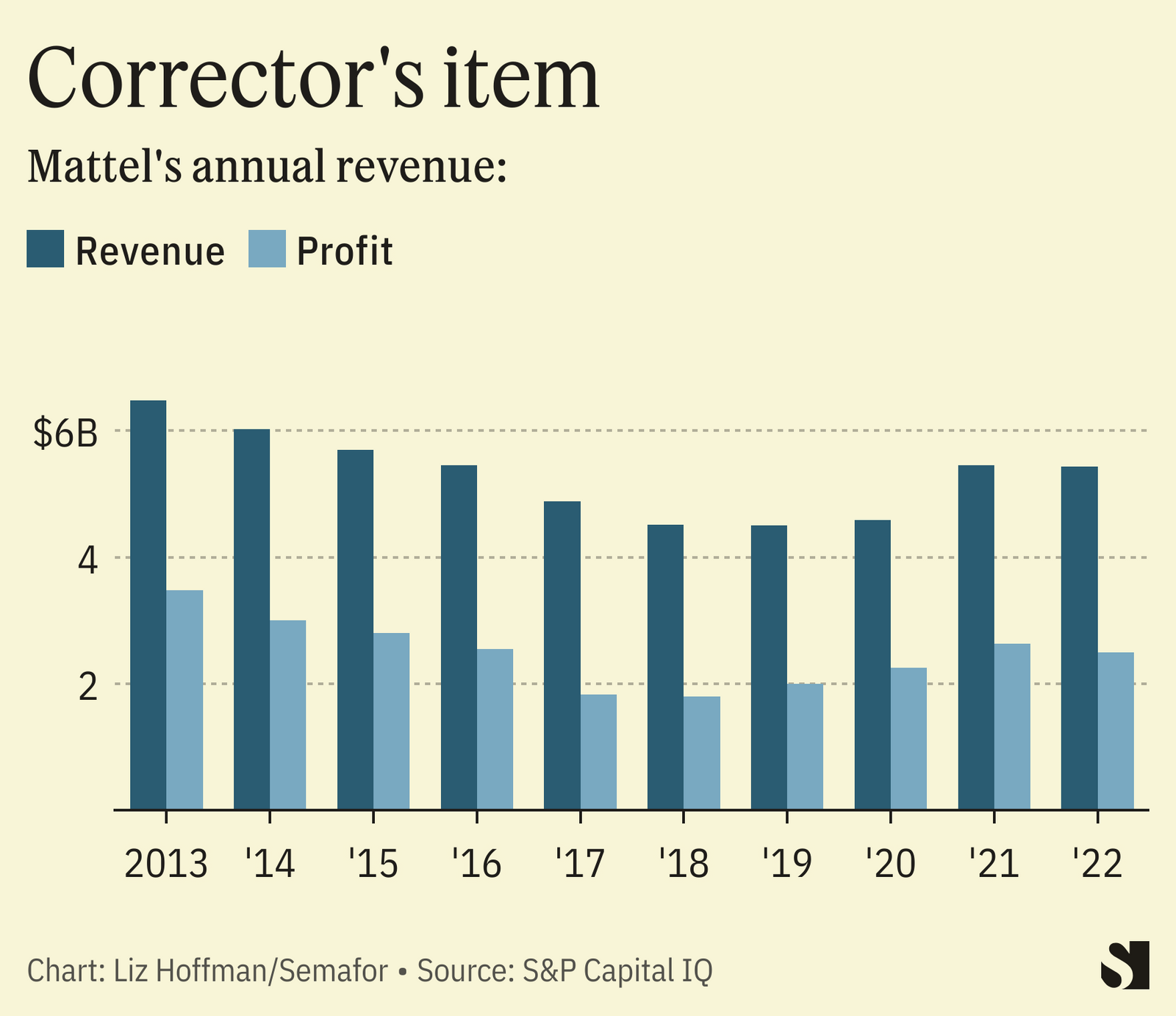 We elevated the design function, and put more focus on creativity and innovation. Because at the core, Mattel is not a manufacturing company. It's a creative company.
But Mattel makes a lot of stuff. I bet if I asked Jim Farley at Ford, he'd say the same thing, that they start with innovation and design. But Ford doesn't trade like a studio.
But the making of the stuff starts with an idea that you want to be original and innovative. You take that idea, you design a product, you make it, and ultimately you put it on the shelves. And you have to make sure it's delivered to your retail partner at the right time, at the right quantity. So Mattel is a highly operational company. But the DNA that we wanted to amplify and bring to the fore is creativity and innovation.
People who buy our products, they're not just consumers, they are fans. And once you have a lot of fans, it's an audience. And when you have an audience, it changes the opportunity that you have in front of you. This is not about selling 11½ -inch dolls.