Not everyone agrees that Ukraine should join NATO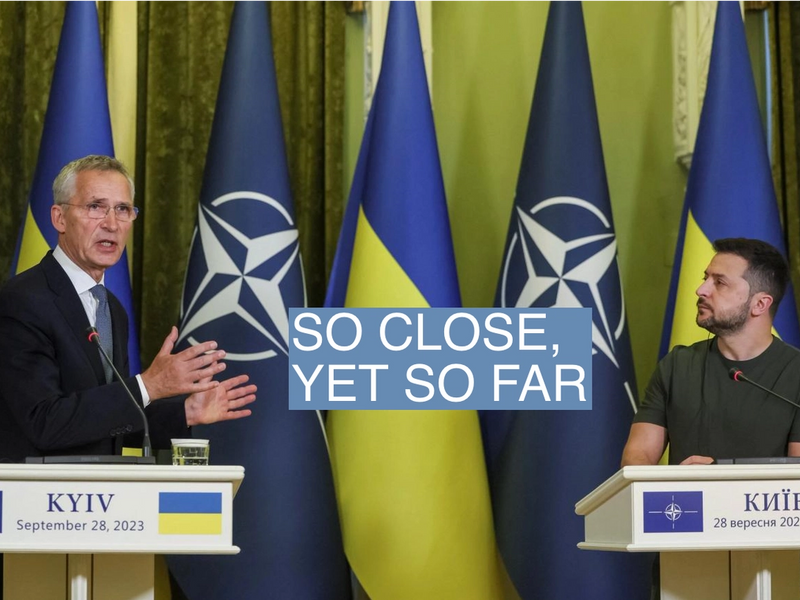 "Ukraine is now closer to NATO than ever before," the alliance's Secretary-General Jens Stoltenberg said Thursday, noting that "all allies" had agreed to shorten Kyiv's path to membership.
Speaking alongside Ukrainian President Volodymyr Zelenskyy in Kyiv, Stoltenberg praised the progress of Ukraine's counteroffensive, but said that he was "constantly pushing" NATO allies to provide support and speed up deliveries of defense systems to the war-torn country.
"The stronger Ukraine becomes, the closer we come to ending Russia's aggression," he said.
However some world leaders and analysts have expressed skepticism about Ukraine's NATO bid.
President Joe Biden has said it would be "premature" to allow Ukraine to join NATO before qualifications like democratization are met, an assessment that other analysts agree with. NATO defends democratic countries, but "it's wholly unequipped to promote democracy within those countries," writes Eurasia Group's Mark Hannah for Politico. Ukraine has long grappled with a corruption crisis — more recently involving the country's defense ministry — and giving it NATO membership in the short term will not incentivize it to strengthen its democracy in the long run. It could also "erode NATO's reputation as a defender of democratic norms," Hannah argues.
Hungary, which is keeping Sweden's NATO bid on hold, said that it would not support Kyiv in any issues until the rights of ethnic Hungarians in Ukraine are restored. In 2017, Kyiv passed a law that banned the use of minority languages in schools, including the mother tongue of roughly 150,000 ethnic Hungarians. "They want to transform [Hungarian schools] into Ukrainian schools and if that does not work they want to close them, Hungarian prime minister Viktor Orban said recently. As a NATO member, Hungary opposes Russia's invasion, but has refused to ship weapons to Ukraine.
Republican presidential candidate Ron DeSantis said he's opposed to Ukraine's NATO membership as it would add more obligations for the U.S., but without any benefits in return. Speaking on The Glenn Beck Program podcast, DeSantis said the U.S. shouldn't just give a "blank check" to Kyiv unless it plans to somehow end the conflict. And in response to Russian President Vladimir Putin's aversion to NATO expansion, Hillary Clinton said, "Too bad, Vladimir. You brought it on yourself."