Ukraine pushes through Russian defense lines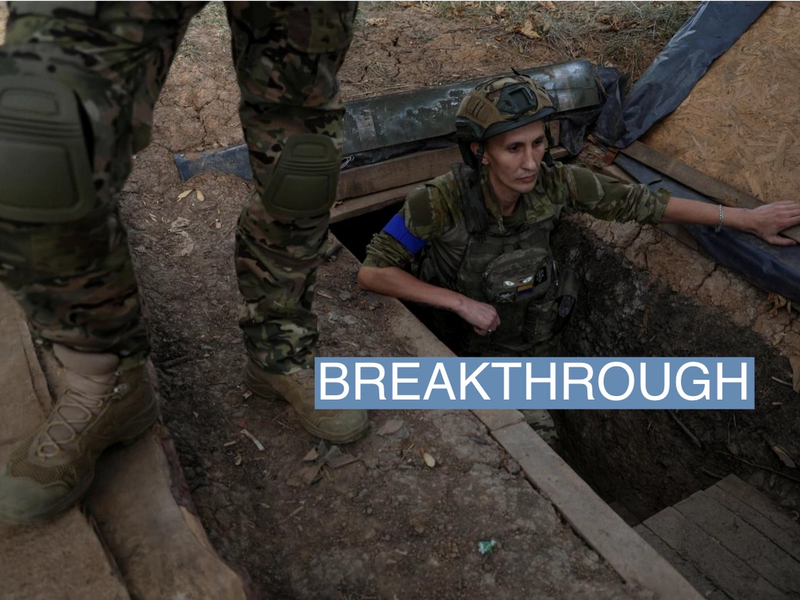 Ukrainian forces have reportedly breached Russia's main defensive line near the village of Verbove in the country's southeast region of Zaporizhzhia — a sign that its counteroffensive is gaining momentum after months of slow progress.
Ukrainian forces pushed through the "Surovikin line" — a site of intense fighting in recent weeks. The line is named after a now-fired Russian general and has three defensive belts with minefields and trenches• 1 , which Russian forces built to slow down Ukraine's counteroffensive, the Washington Post reports. Ukraine's armored vehicles that breached the line involved U.S.-provided Strykers which are able to transport 11 soldiers at a time to their positions, a tactic that underscores the benefit of having soldiers retake territory on foot, the Post writes.
While Moscow denies Ukraine's breakthrough, one Russian military blogger or milblogger warned of Russian units being encircled after Ukraine's advance into Verbove, according to the Institute for the Study of War. The milblogger noted "high losses and poor morale• 2 " among the Russian regiment in the area, which may impact the Russian defense as counterattacks require "high morale," ISW writes. However, the Russian milblogger may be exaggerating the situation to depict the military in a poor light and advocate for a Russian general — who the milblogger's mission is to protect – to have greater control over decision-making. Such milbloggers — who have key military contacts and report from the front lines — have surfaced as the war's micro-influencers and have often bypassed the official narrative from Russia's defense ministry to become the "authoritative voice"• 3 of the war.
After months of Ukraine's demands for the Army Tactical Missile System or ATACMS — which can strike targets as far as 180 miles away — the Biden administration has told Ukrainian president Volodymyr Zelenskyy that the U.S. will provide him with a "small number of long-range missiles"• 4 , NBC News reports. However, the U.S. does not have a large stockpile of ATACMS and some in Washington are opposed to offering the sophisticated weapons to Ukraine over concerns of further escalating the war with Russia.