Hollywood writers reach tentative deal to end strike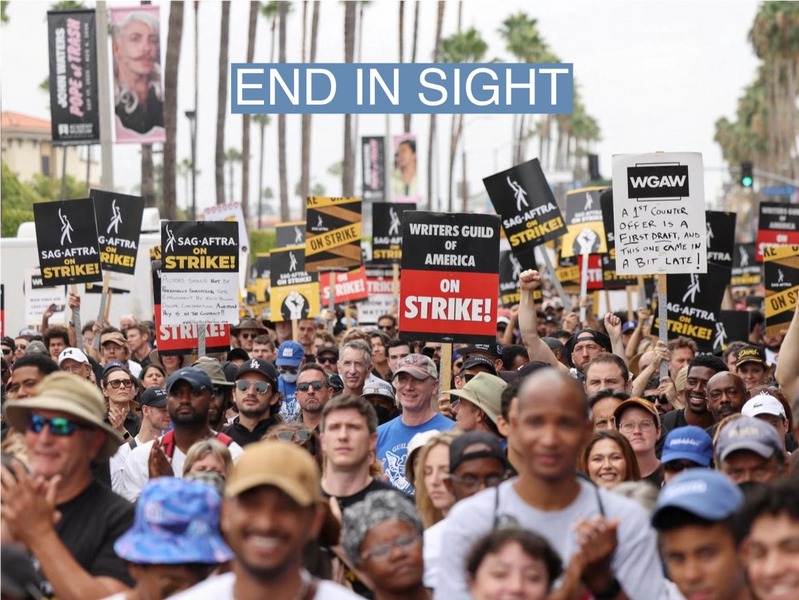 Hollywood's screenwriters may soon end a nearly five-month strike that has upended the film and television industry. The Writers Guild of America reached a tentative deal with the Alliance of Motion Picture and Television Producers on Sunday, both organizations said.
"This deal is exceptional — with meaningful gains and protections for writers in every sector of the membership," the WGA said in a statement.
The agreement is likely to pass a vote among the guild's members, who have been on strike since the beginning of May. It will take time before projects pick up again, but Variety reports that behind the scenes, some studios have been preparing for a return to production. Talks resumed on Sept. 20, after stalling for a month. Both sides returned to negotiate in a marathon three-day session, which was attended by top executives from Disney, NBCUniversal, Netflix, and Warner Bros. Discovery.• 1
The work stoppage has had sweeping impacts on film industry staff beyond the writers' room. For those in production roles not covered by the WGA, the strike meant a five-month pause in employment. The Motion Picture & Television Fund was receiving 150 to 200 calls for financial assistance each day from workers impacted by the dueling SAG-AFTRA and WGA strikes. There is wide support for both unions among crew members, who view the labor fight as beneficial for their own eventual contract negotiations. But the ramifications to crew have been vast: Many have fallen into sweeping debt, and some face eviction from their homes because they're unable to make rent.• 2
If anything held back talks, it was corporate greed, Guardian columnist Kathleen Sharp wrote last month. Entertainment companies reported sky-high earnings ahead of the strike, but argued that they were struggling to afford the contract changes workers demanded. Nearly 90% of SAG-AFTRA employees don't make the minimum income to qualify for the union's health insurance, Sharp noted, adding "the smoke of class warfare is wafting over the labor table."• 3