The News
LAGOS — African e-commerce company Jumia lost 1 million customers and fulfilled 6 million fewer orders in the first six months of this year than in the same period 2022, its earnings report for this year's second quarter published today showed.
Jumia said the value of its sales between April and June dropped by 25% to $202 million, resulting in revenue of $48.5 million — a 15% decline. The number of active customers has remained constant at 2.4 million this year.
Francis Dufay, Jumia's chief executive, blamed the company's usage performance on "the complexity of a very challenging macro environment," just as he did when explaining declining metrics in the first quarter. He cited average inflation of 14% across the company's 11 markets in June 2023 as a major factor that depressed consumer spending and sellers' ability to stock inventory.
However, Jumia reported a loss of $19.3 million, 66% lower than a year ago and its lowest quarterly loss in four years. The reduction was driven by cuts to expenses such as the average amounts spent on deliveries, sales, and advertising, Dufay said.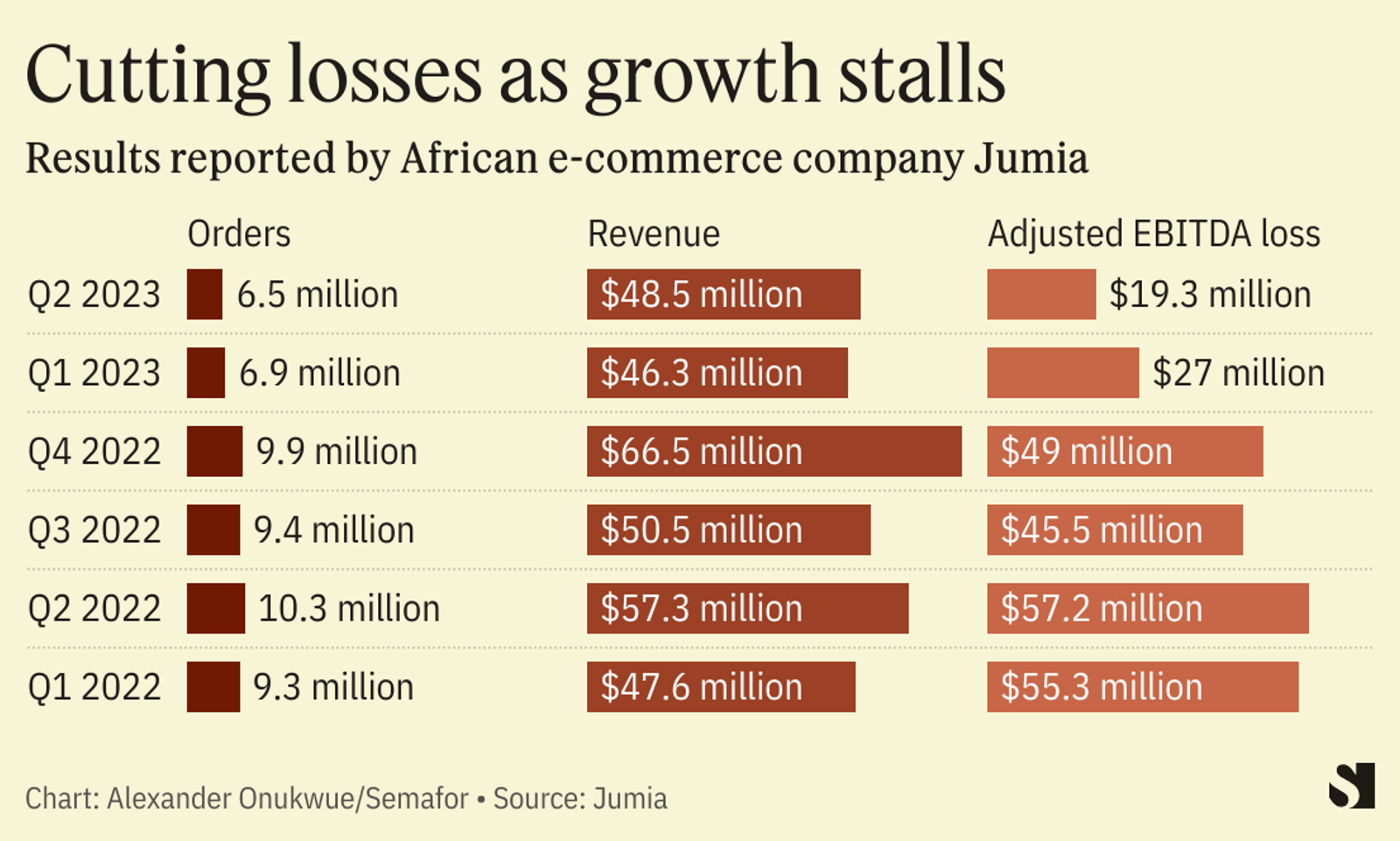 Know More
Since becoming the first African tech company to go public on the New York Stock Exchange in 2019, Jumia has tried several strategic approaches to achieve a path to profitability with little success. One such move was shifting its focus from high-value items like phones and home appliances to more "everyday" items such as cosmetics and food delivery.
"It has not worked," Dufay — who assumed leadership from the company's two co-founders last November — said during Tuesday's earnings call.
Facing the twin pressures of inflation and local currency depreciations against the dollar, Jumia is reverting to its earlier strategy of prioritizing high-value items, which yield an average of $42 each. By contrast, items in the so-called everyday category had an average value of $7. This adjustment to the company's service portfolio will involve "moving away from unprofitable categories with limited consumer lifetime value," Dufay explained.

Alexander's view
Dufay's attempt to streamline Jumia has led to the discontinuation of the company's Prime program, ending an unsuccessful effort to replicate Amazon's model in Africa. Additionally, he has terminated grocery deliveries and is eliminating products like mobile phone airtime from the company's app, reflecting the company's newfound realism.
Despite declining losses indicating progress, he operates in a market climate that could exacerbate the underlying macro problems hindering user growth. As the second-quarter report was presented today, Nigeria's statistics agency announced that inflation had risen to 24.1% in July. A foreign exchange reform initiated by the country's president in June has caused the naira to depreciate by over 60%.
Jumia has raised the commission it charges sellers on its platform, and some sellers have passed on the costs to consumers, Dufay confirmed during the earnings call in response to an analyst's question. Rising inflation and further currency depreciation are likely to accelerate these trends, raising questions about when Jumia can anticipate growth to rebound.
"It's very hard to tell you whether it is in one, two, or three quarters," Dufay remarked.

Notable
After years of focusing on Africa's major cities, Jumia is exploring a push into rural areas in search of new users to push sales numbers up. In Nigeria, its largest market, the company said it has set up 250 pick-up stations to be closer to customers in parts of the country outside of Lagos.
*An earlier version of this story misspelled the name Dufay. It has been corrected.