The News
Africans applying to study in the United States face higher rates of visa refusal than people from other regions, a report based on data from the U.S. government, UN and World Bank said.
The report looked at U.S. visa refusals for applications from every continent and showed that the rate of refusal increased to more than one in two (54%) in 2022 for African students from 44% in 2015. By contrast, refusal rates were constantly under 10% in Europe and mostly under 35% elsewhere.
Southern Africa, where the average refusal rate for the period reviewed is 12%, is the exception within the continent. In 2022, African students from that region had lower U.S. visa refusal rates than South American or Asian students.
But very high refusals for West African students place Africa atop the overall chart. Last year, seven in 10 applicants for a U.S. student visa from West Africa were refused. The data was published by U.S. higher education research company Shorelight and the non-profit Presidents' Alliance group.
Know More
International student enrolment in the U.S. has shot up 72% since the turn of the century. There were almost 1.1 million such students as of the 2019/20 academic year. Most foreign students in the U.S. are from China (35%), India (18%), and South Korea (4%). Nigerians are sub-Saharan Africa's major representatives with 1%, or about 12,860 students.
At the same time, student visa refusals have been increasing in most places, except Australia, China, Brazil, South Africa and parts of Europe according to Shorelight. In South America, the refusal rate has more than doubled from under 10% during the Barack Obama administration. Among other reasons, refusals seem to be increasing because consular officers have stepped up scrutiny of prospective students' financial documents and post-graduation plans, and reduced staff capacity at U.S. consulates, the report suggests.

Alexander's view
The authors question whether the increase in refusals reflect "an overall negative public narrative toward international students and immigrants in general, especially those from certain countries and regions."
While refusal rates elsewhere held steady between 2016 and 2020, a 15% rise for Africans coincided with former President Donald Trump's anti-immigration stance, including a travel ban that affected Nigeria.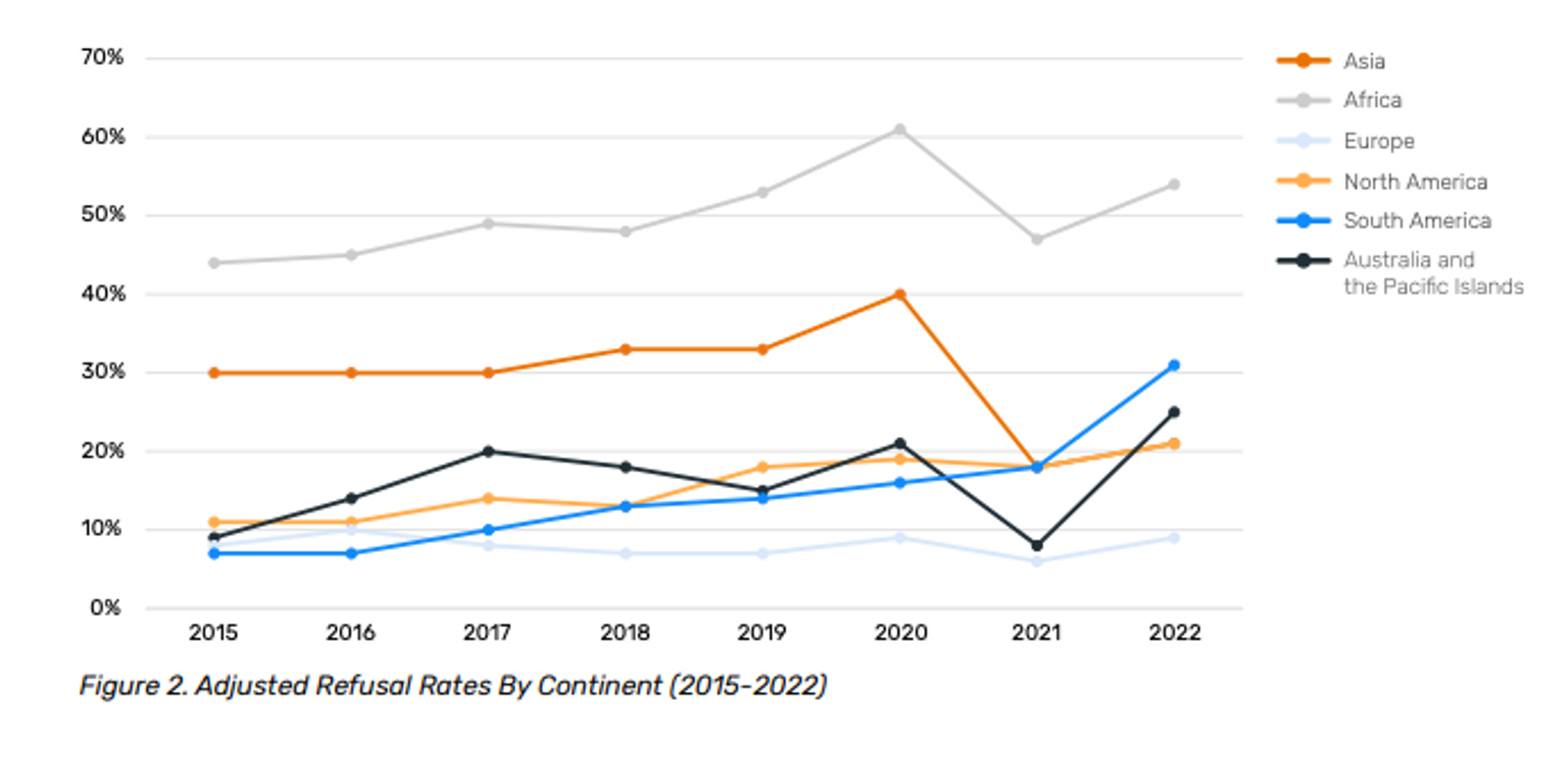 Many Africans want to leave their countries for security and seemingly better opportunities in North America and Europe. Pursuing higher education is often an attractive route in the absence of a permanent residency or second passport. One consequence is that a higher share of sub-Saharan immigrants than native-born Americans have some college education (as of 2018). College-educated immigrants have been repeatedly reported to be good for American productivity.
Yet, student visa refusals are on the rise for Africans. Whether it stirs a greater supply of better education institutions on the continent, from localized U.S. universities to higher quality private schools, remains to be seen. In Rwanda for example, the presence of Carnegie Mellon University's $12 million Africa campus (opened in 2011) and the African Leadership University (opened in 2017) is turning the east African country into an alternative to studying in western countries.

The View From a student loan company
Lydiah Kemunto Bosire, the founder of educational technology platform 8B which provides financing for students, said guidance for consular officers asks them not to speculate about what a student might do post graduation. Despite this, she said, one of the key reasons offered for many denials is that the student did not demonstrate "strong enough ties" at home to give assurance that they would return to their country of origin after graduating.
Bosire suggested a number of changes such as making sure consular officer follow U.S. State Department guidance, ensuring that universities "tip the scale of power between a consular officer and student by getting a congressional letter of support for their African students," and making the issue "a standing agenda in bilateral discussions between African governments."

Notable
Canada responded to concerns about its high visa refusal rates for African students last year by saying that "many applicants seeking a study permit do not present sufficient funds for their studies, or do not satisfy the visa officer that the studies are a reasonable expense given factors such as limited assets and low income."