The Scene
The Federal Reserve launched its own payments system last week that will let bank customers send and receive money almost instantly. It's a rival to the Clearing House, a utility owned by the 22 largest commercial banks that has had a monopoly on the nation's payments rails since the late 19th century.
We talked to Charles Birnbaum, a partner focused on fintech investments at Bessemer Venture Partners, about the move.

The View From Charles Birnbaum
Liz Hoffman: About time?
Charles Birnbaum: About time. It's just been unreasonable how long a payment takes to clear. Whether you're cutting a paper check or sending an ACH [transfer] or initiating a wire, all of those legacy options are just bad for both sides.
Real-time payments aren't new, but the Clearing House wasn't incentivized to have the game disrupted. They want everything to flow over credit and debit rails.
By the way, this exists in the rest of the world and has for a while. In India and Brazil and China, they laugh at us. There's no such thing as non-real-time payments. The difference is they have a government-mandated identity, because so much of this comes back to fraud. That'll never happen in the U.S. for political reasons.
Q: By some estimates there's $1 trillion locked up in employer payroll accounts, just being floated by employees to their employers. How does that start to change?
A: The biweekly pay cycle is crazy. Why not do immediate payouts over real time rails, as value is accrued, as hours are accrued? I think that's where it will end up, but it requires a [real-time payments] system that works.
There are all these startups trying to fill that gap, through loans, things like invoice factoring and payroll advance. That's unnecessary risk that has to be taken on in the capital markets, which charge for it.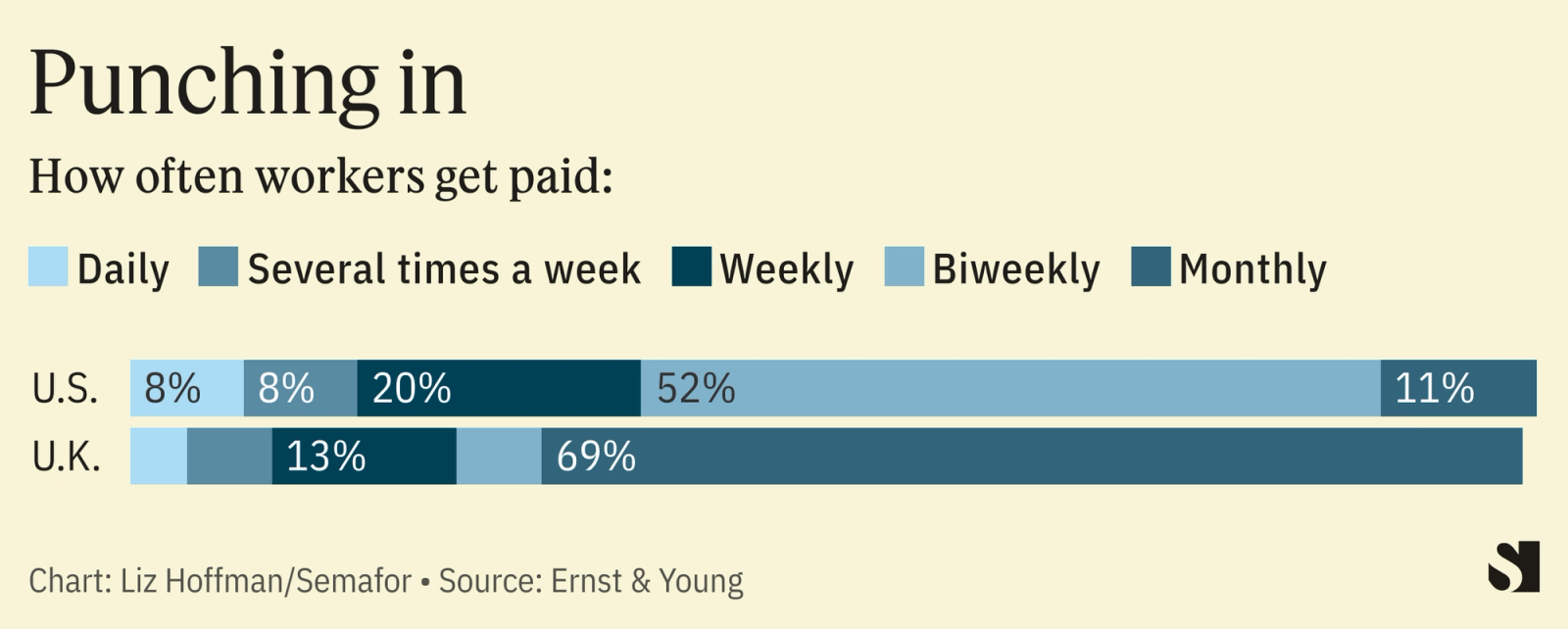 Q: You hinted a little at the incumbents, whether it's the big banks or payment companies, who don't have an incentive to change here.
A: They have one of the best business models in the history of business models.
I don't want to suggest it's all bad. When you make a purchase with your American Express card, you're paying a couple hundred basis points in interchange, but there's recourse. If you're disappointed or if there's fraud, there's an organization that can track it down.
With real-time payments, there's no way to get that money back. The banks have had a lot of issues with [Venmo competitor] Zelle. You've seen them cap the limits at very low points, depending on who the customer is and the data they have about the relationship between the sender and recipient. So you need new companies that can stop that fraud before it happens. Otherwise nobody is going to trust it and nobody will use it.