The News
There's a frustrating disconnect in the perception of how artificial intelligence will impact trade workers versus those in white-collar industries, President Joe Biden's top economic advisor said at a Semafor event Tuesday.
"One thing that gets under my skin a little bit is when it comes to sort of blue-collar displacement, a lot of people seem to think 'well, you know, that's just life,'" Jared Bernstein, chairman of the White House Council of Economic Advisors, said during Semafor's The World at Work Summit. But "when it comes to white-collar displacement we're like 'wait, hold on a second.'"
Know More
Bernstein, who was narrowly confirmed to his post by the Senate in June, said "nobody knows" how AI will affect productivity, "even the most renowned experts."
He likened AI to past technological advances, and said economists will be watching how it either substitutes or complements existing jobs.
"We do not have I think, clearer insights into the extent to which AI will be displacing or augmenting," he said. "I can see areas of both."
Speaking about the White House's renewable energy policies, Bernstein said officials have had good discussions with Republicans. "In my conversations with folks on the other side of the aisle, there are a lot of head nods, a lot more understanding than you get if you listen to the noise," he said.
A PARTNER MESSAGE
The View From
By Jon Clifton
At Gallup, we help leaders solve their most pressing problems. But the truth is that your biggest problem is likely the one you aren't paying attention to.
Over the past decade, while the global economy grew, government and business leaders missed the other big trend: the global rise in unhappiness. According to Gallup's Negative Experience Index, negative emotions around the world have been increasing since 2014.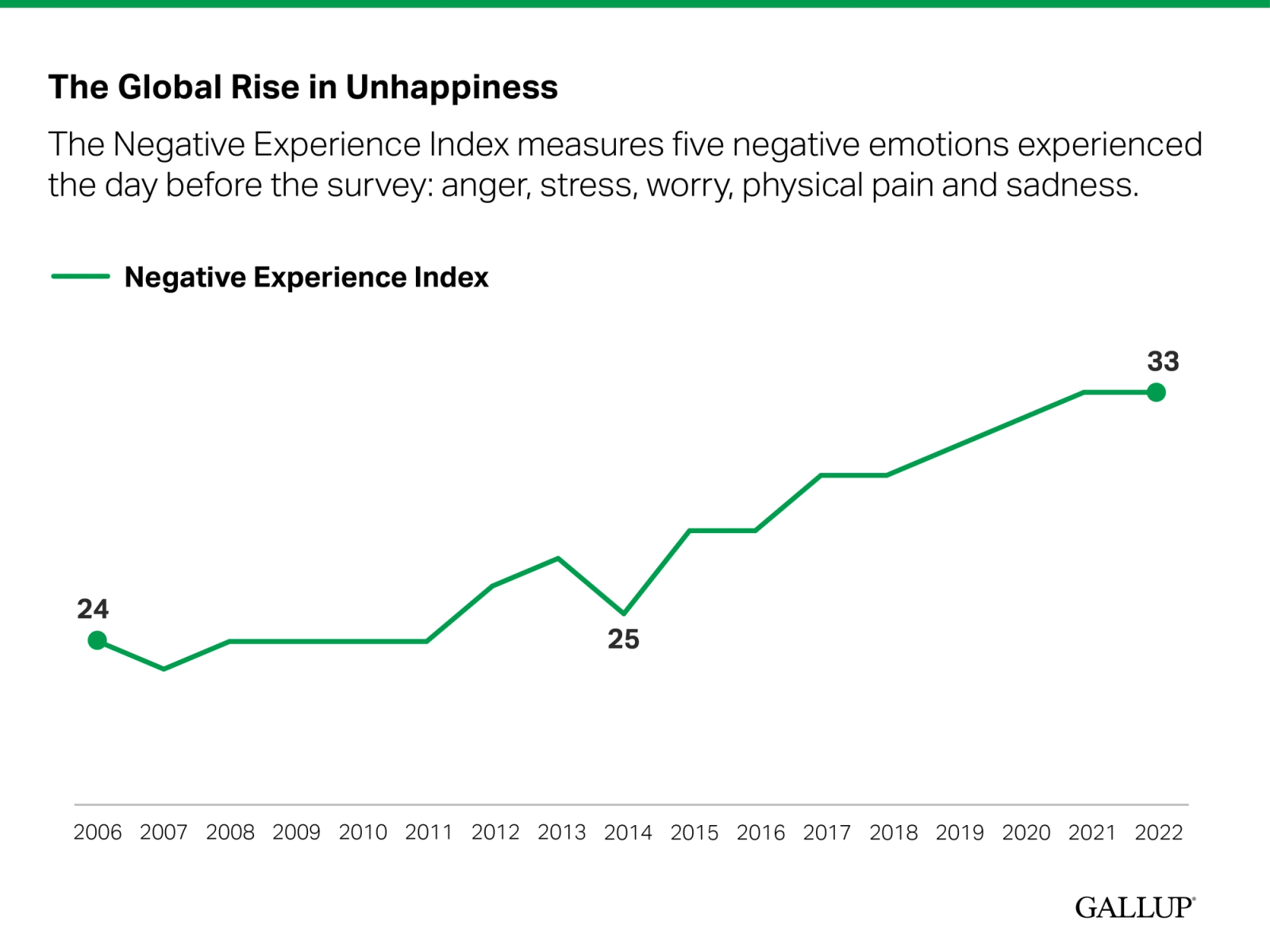 Why should global leaders care about the emotions of their people? In 2011, right before the uprising in Egypt, Egyptian wellbeing dropped. Similarly, in 2015, the year before the Brexit vote, U.K. wellbeing plummeted. Emotions — like anger, stress, sadness, and worry — have the power to rock governments, economies, and markets.
Today, as leaders debate inflation measures and economic recession predictions, there's an emotional recession already underway. Global employee stress remains at a record high, even as the pandemic recedes. In the U.S., employee engagement has fallen as more Americans mentally check out from their workplaces.
These trends impact teams, performance, customers, citizens, law and order, dollars and cents. They tell us a story about what comes next.
If you're interested in learning more about our latest findings on the global workplace, see this year's State of the Global Workplace report.