Know More
Speakers shared their perspectives on the state of work in the U.S. and around the world, including how artificial intelligence would impact jobs and the future of the gig and service worker economy.
AI and job displacement
Across industries, speakers said they are keeping an eye on how AI could affect workers, though it's too early to predict how the changes could play out.
Workers "see what's coming," said Liz Shuler, the president of AFL-CIO, the national union federation. "I think there's a lot of fear out there about how technology is going to be used and implemented and the impact it's going to have on their work. And they feel somewhat powerless."
Jared Bernstein, chairman of the White House Council of Economic Advisors, said "nobody knows" how AI will affect productivity, but that there's a troubling disconnect in how its impact is perceived across industries.
"One thing that gets under my skin a little bit is when it comes to, sort of blue-collar displacement, a lot of people seem to think 'well, you know, that's just life,'" he said. But "when it comes to white-collar displacement we're like 'wait, hold on a second.'"
The gig and service economy
Gig workers are largely safe from immediate AI displacement, TaskRabbit CEO Ania Smith said.
"It's going to be a long time before a robot can come in and mount a TV on a brick wall in a Brooklyn apartment," she said. But the company is looking at how it can leverage AI models on its back end, including for matching clients to workers.
U.S. Sen. Tina Smith (D-Minn.) said the policy discussions around supporting service workers "is really about a women-in-the-workforce issue more than anything else."
"I was reading a comment by a sociologist who said most countries have safety nets. The United States has women," she said, noting that women are "doing the really really hard work""in nursing homes, child care facilities, and hotels.
Worker power
Labor laws in the U.S. are outdated and have "never been in favor of workers," Amazon Labor Union founder and president Christian Smalls said. He said the union is still in a legal fight with Amazon but hopes to bring them to the table soon to begin contract negotiations.
On the White House side, Bernstein said having a pro-union president makes a difference.
"One thing the president does is he uses the bully pulpit to just say, 'Unions are really great.' And you don't hear that that much in the past, and that's helped," he said, adding that overseeing a tight labor market also gives workers more bargaining power.
Quiet quitting and worker satisfaction
Data collected by Gallup shows that workers are losing satisfaction with their work, and 4% of people have "quiet quit," tapping out of their roles and doing the bare minimum required to get by.
Lisa Osborne Ross, U.S. CEO for public relations firm Edelman, said she thinks employees "have a responsibility to ... make their workplaces the best that they can be," while employers should listen to their staff to make their workplaces better. "But if you can't get to a good place and you continue to disagree, I think you should leave," Ross added.
Dave Stephenson, the chief financial officer and head of employee experience for Airbnb, said he believes "in-person collaboration is critical," though many employees take advantage of the company's "live and work anywhere" policy. He said worker satisfaction and retention at Airbnb is higher than ever.
"There's a global war for talent, and talent is demanding flexibility," he said.
— J.D. Capelouto, Jenna Moon, and Karina Tsui
A PARTNER MESSAGE
The View From
By Jon Clifton
At Gallup, we help leaders solve their most pressing problems. But the truth is that your biggest problem is likely the one you aren't paying attention to.
Over the past decade, while the global economy grew, government and business leaders missed the other big trend: the global rise in unhappiness. According to Gallup's Negative Experience Index, negative emotions around the world have been increasing since 2014.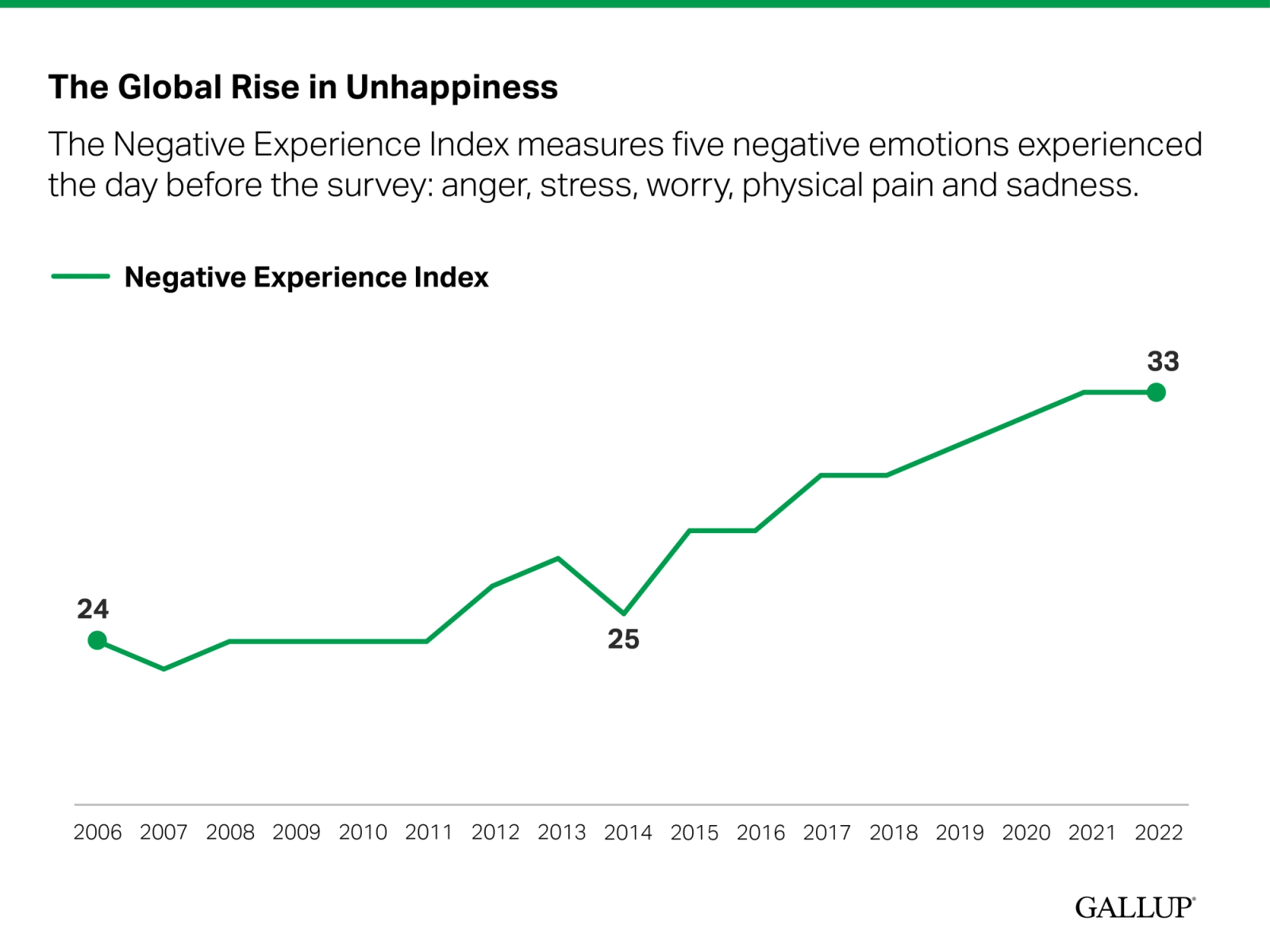 Why should global leaders care about the emotions of their people? In 2011, right before the uprising in Egypt, Egyptian wellbeing dropped. Similarly, in 2015, the year before the Brexit vote, U.K. wellbeing plummeted. Emotions — like anger, stress, sadness, and worry — have the power to rock governments, economies, and markets.
Today, as leaders debate inflation measures and economic recession predictions, there's an emotional recession already underway. Global employee stress remains at a record high, even as the pandemic recedes. In the U.S., employee engagement has fallen as more Americans mentally check out from their workplaces.
These trends impact teams, performance, customers, citizens, law and order, dollars and cents. They tell us a story about what comes next.
If you're interested in learning more about our latest findings on the global workplace, see this year's State of the Global Workplace report.