The Facts
Tolu Eros is the executive chef and founder of ILÉ LA, a West African concept kitchen and experiential dining room in Hollywood, Los Angeles, and its casual offshoot ILÉ Bistro which opened in March 2023. Eros opened his first restaurant in Nigeria in 2009 at the age of 21 after studying in the UK. With the ILÉ restaurant brand, Eros, who grew up in Benin City and Lagos in Nigeria, is determined to play a part in putting West African food on the global map. He has even developed his own brand of "unity jollof rice".
Know More
i💡 How did jollof rice become jollof rice?
In the 1800s, the Wolof people of Senegal created this tomato based rice that has become a staple on every West African table. Every single African country makes their jollof differently. There are three main types of jollof that have been recognized worldwide. The Nigerians are known for their smoky jollof (in some regions it's spicier than others). The Ghanaians are known for their perfumed jollof rice where they use a basmati or jasmine rice. And the Senegalese are known for their broken rice where a lot of vegetables are added and its served together on a platter that's eaten family style.
💡 What's the best type of rice to use to make jollof?
It's difficult to determine what the best rice is as every single one offers a unique flavor revered by its people. Personally, I prefer to use basmati rice when making my jollof even though I process it like a Nigerian by making the base with more bell peppers than tomatoes; reducing that into what I call "mother sauce."
💡 Who else has an interesting take on jollof?
Every single country makes their jollof uniquely. I always say that if you want to learn about people, then taste their food. Thus, when you go to Liberia or Cameroon, you will find that the jollof rice is different and unique to the respective region. It's hard for me to say any one in particular has an interesting take because as a people we are stronger together so I will not be contributing to the "jollof wars."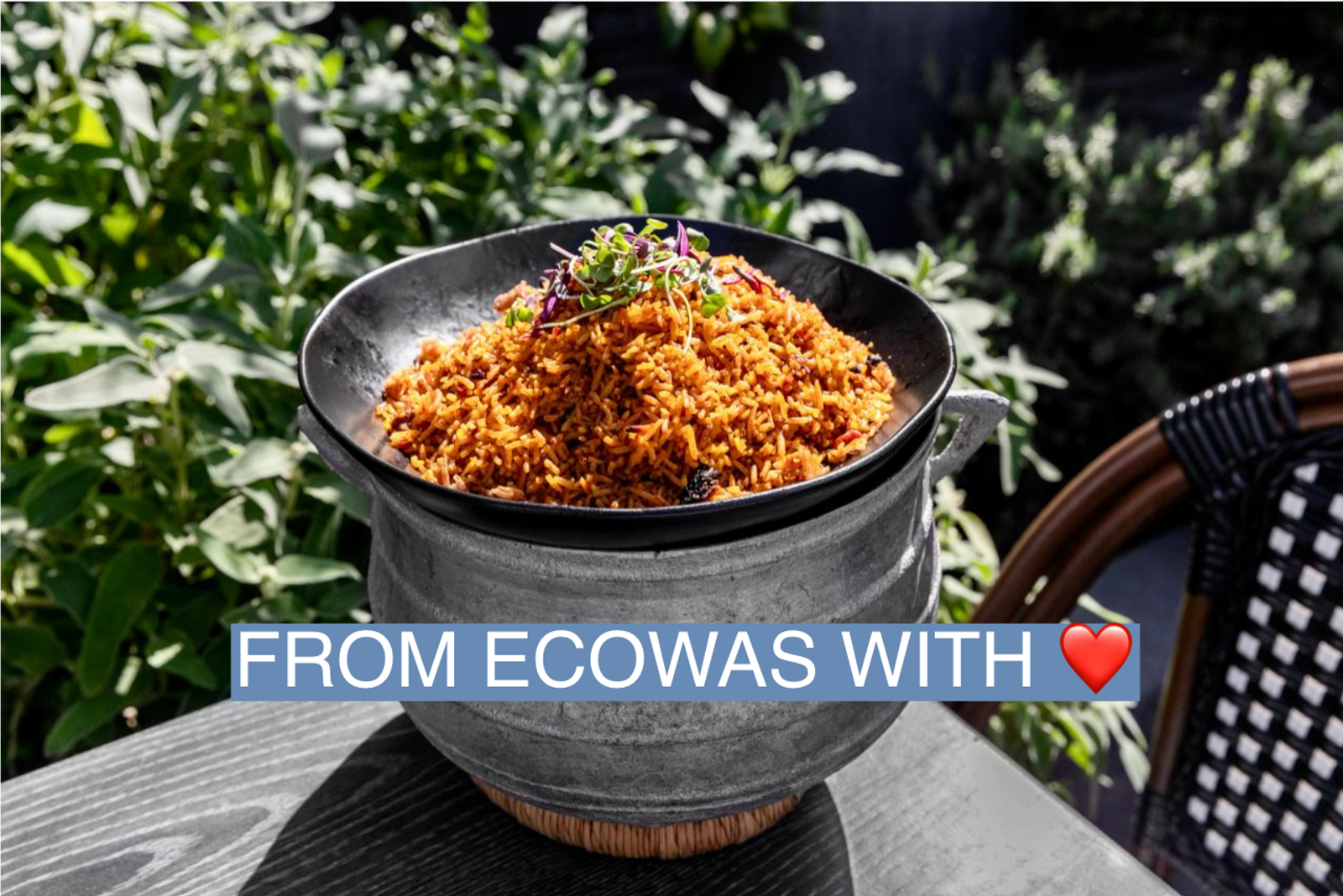 💡 You're Nigerian, what's so unique about Nigerian jollof?
As a Nigerian, I think the most unique thing about our jollof is its smokiness. My grandmother would say that there is no party without jollof and the party jollof is quite different from the home-cooked version. This is because the party jollof is cooked over firewood in a large pot called the Adugan. The smoke from the firewood infuses flavor into the rice and the result is remarkable. I personally like to cook my jollof with the same approach albeit not with firewood per se, but I allow my jollof to smoke. Some people put coal in foil and place that on top of the rice. Some people will let the rice burn at the bottom of the pot and let the smoke naturally infuse, but for me the distinct part of the Nigerian jollof is the smoky effect. I do have to mention that the Nigerian jollof is heavier in the sweet bell peppers, which we call, "tatashe," in Yoruba land. This generally allows for the rice to be less tangy and sweeter.
💡 How do you go about combining the best of West Africa to create your "unity jollof"?
I approach it by combining the jollofs from Nigeria and Ghana — two countries which have been fiercely competitive over who makes the best jollof — to settle that friendly feud, but also crown it with the origin of jollof itself, Senegal. I use the process of making the Nigerian jollof; the ratio of bell peppers to tomatoes and smoking the rice. I use basmati rice to represent the preferred perfumed rice of the Ghanaians and then add fried plantains (in some cases carrots) and also use a vegetable stock. My jollof has been recognized as one of the world's best and, while I recognize that everyone makes their own differently, my approach is to bring out the best of the three to create something special.