The Scoop
Charlie Ergen is looking to merge the two halves of his telecom empire, Dish and EchoStar, a deal that would tilt Dish away from a satellite TV business in decline.
Both companies have engaged advisers to sort through what a deal might look like, people familiar with the matter said. A key issue: EchoStar is financially stronger than Dish, which is spending heavily to build out a nationwide mobile network while outrunning the cord-cutting that has gutted its core business.
EchoStar spun out from Dish in 2008, which kept the set-top TV business while shedding the satellite infrastructure that beamed content into them.
The 70-year-old Ergen has long been the industry's enfant terrible. The rooftop dishes he sold from the back of his truck in the 1980s became a $35 billion thorn in cable's side. He has meddled in rivals' deals for decades, sometimes as self-interested supporter (throwing his weight behind the tie-up of Sprint and T-Mobile) and sometimes as spoiler (twice outfoxing Rupert Murdoch).
As the media world has changed around him, rivals have been watching to see what he'll do with the aging assets he still has. Chief among them is valuable spectrum that he's been hoarding for years and is now trying to turn into a competitor to AT&T, Verizon, and T-Mobile.
Dish has said it plans to spend $10 billion on the effort. Some analysts say even that amount — which is less than half of what Verizon spent last year alone — won't be enough. The company may need as much as $3 billion more to meet a 2025 deadline from the Federal Communications Commission to offer service to 75% of Americans. The New York Post reported last month that Ergen had been fundraising in Dubai.
Dish and EchoStar didn't respond to requests for comment.

Liz's view
A merger between Dish and EchoStar may make business sense, but it's a governance nightmare.
Dish has $22 billion of debt, more than 10 times its annual cash flow. EchoStar is essentially debt-free. Ergen is chairman of both companies, which he controls through supervoting stock.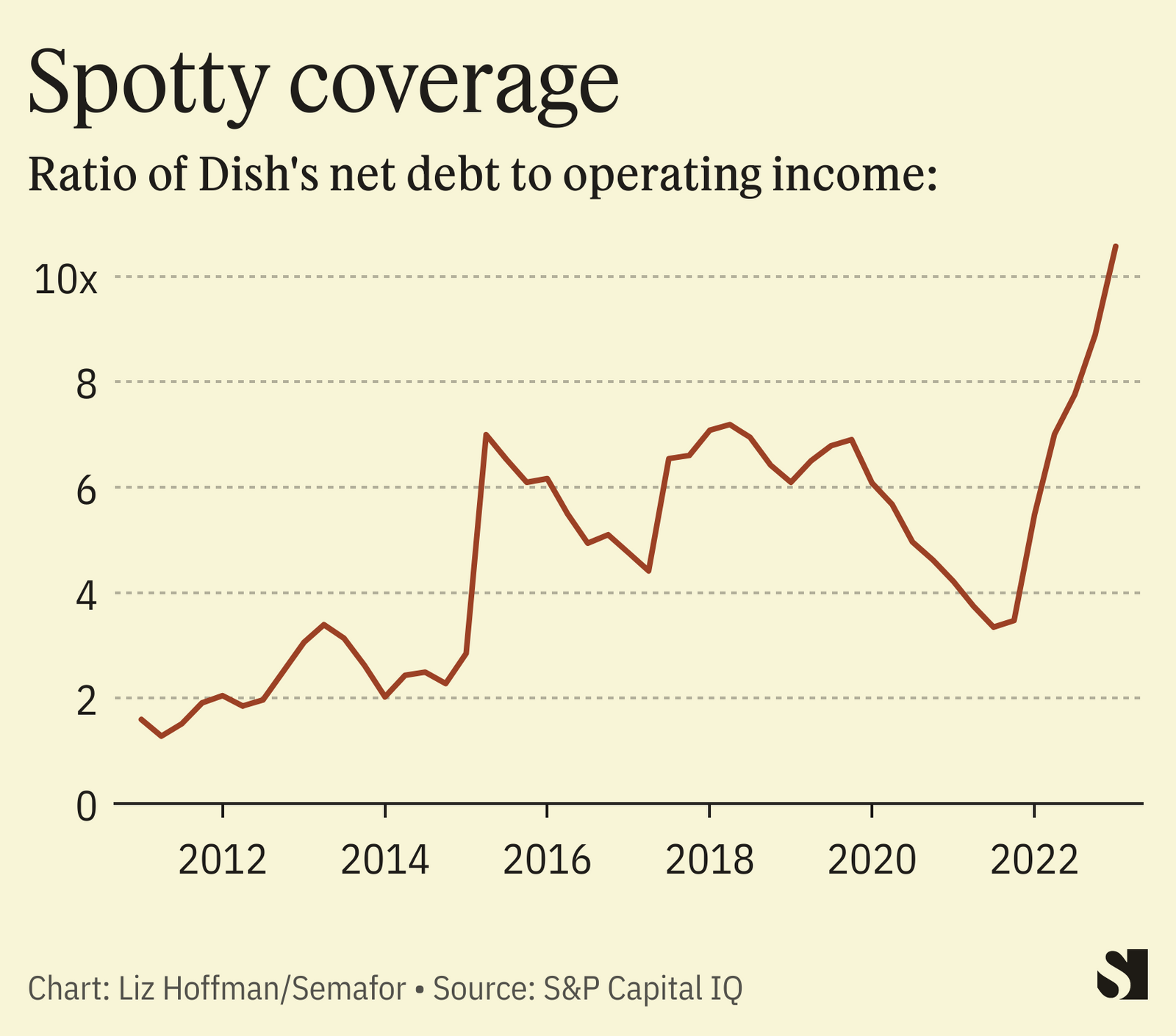 A controlling shareholder merging two of his interests, one significantly weaker than the other, sounds a lot like the 2016 merger of Tesla and SolarCity.
Tesla shareholders sued, arguing that Elon Musk, who owned about 20% of each company, was bailing out his flagging solar-power venture with richly valued Tesla shares. Musk eventually won that lawsuit, though it took six years for a judge to decide that the deal's $2.6 billion price tag was financially defensible.
Ergen, though, is famously tightfisted — unusually so among media moguls, who tend to live large, or at least give the appearance of enjoying a good party.
For years, Ergen personally signed any Dish check above $10,000. He fed his investment bankers hot dogs from street vendors. Traveling Dish executives shared hotel rooms. My favorite story, related to me by an attendee: At a golf outing to celebrate the completion of a deal in the early 2000s, Ergen asked if he could take home the unused disposable cameras.
His skinflint attitude has cost him on the M&A battlefield. "Always a groomsman, never the groom," The Wall Street Journal called him after he was outbid by AT&T for DirecTV in 2014. (A dodged bullet, maybe: The deal was a disaster for AT&T, which spun off the business in 2021 at a big loss.) Other targets that got away from Ergen over the years include Sprint, Clearwire, and MetroPCS.
Ergen is as cautious and calculating in dealmaking as he was during his days as a professional gambler, when he was kicked out of a Lake Tahoe casino for counting cards. The sticky governance issues mean he would have to pay top dollar to get EchoStar, and he's not known for that.

Room for Disagreement
EchoStar isn't likely to attract a swarm of buyers, which might lower the bar on price. It lists only four companies in its peer set, just one of them American. That matters because a foreign deal for U.S. satellite assets would face a tough national-security review in Washington.

The View From Washington
After squatting on valuable spectrum for years, Dish is on a tight clock from the FCC to use it or lose it — to finish the buildout of a nationwide wireless provider to compete with the big three. The company says it met a deadline last month to provide wireless coverage to 70% of the country, but penalties escalate if it can't continue to expand.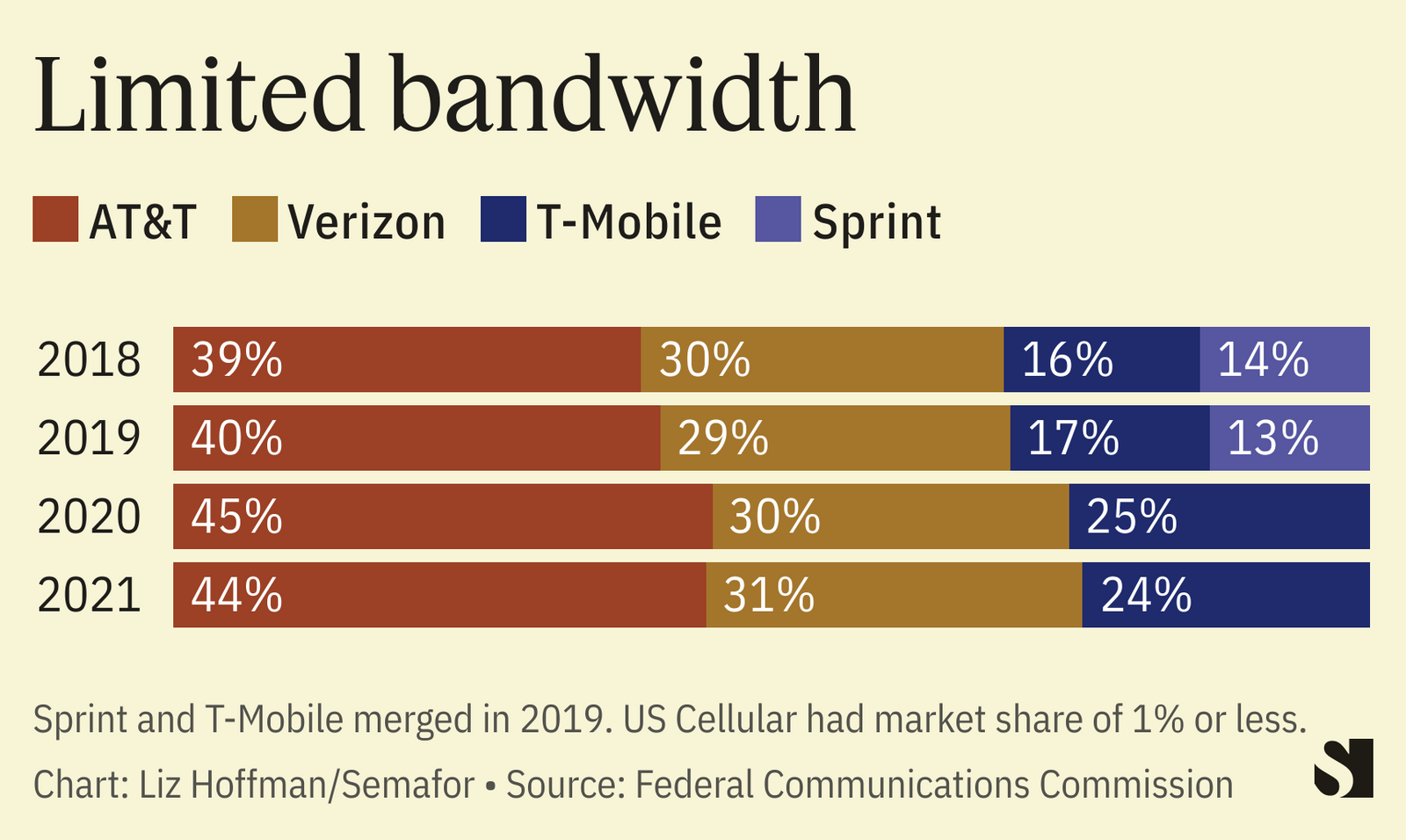 Notable
"We're going to get really bloody fighting for consumers," Ergen told the Financial Times a decade ago, a pugnacious attitude that hasn't changed.