The Scene
James Lu is a former executive at Baidu and Amazon, the chair of newly public Grindr, and a founder of education tech company Chegg, whose stock tanked last month after its executives warned that ChatGPT was about to eat its lunch. Also he worked at NASA.
All of which puts him at the center of the forces driving huge money flows right now. The Singapore-based partner at Joffre Capital spoke to us about China, AI, SPACs, and space. This conversation has been edited for length and clarity.

The View From James Lu
Bradley: Would you invest in China right now?
James: At this moment, we have zero investment in China. Geopolitics is only one part of it. The other part is just the uncertainty of valuations. You don't know if it is the end of their growth, or if the company soars. With that said, we do have a lot of coverage on the ground in China. There will be some friction and conflicts, inevitably, but there's incentive for the U.S. to champion a solution.
Bradley: So even a company like a ByteDance or Pinduoduo doesn't interest you right now?
James: Both are extraordinary companies but we're in the business of creating alpha, and I think my value-add is just going to be difficult given their current teams and maturity. And given the geopolitics and all the turbulence around TikTok, all these companies are still waiting to be valued in a normal market.
Bradley: Let's get into AI. How do you sort through what's real and what's fake?
James: With the cost of training these models, it's just going to be impossible for someone else to come up and say, 'Hey, I'm going to fund a new company to do that.' You will see existing gigantic tech players dominating this space and startups that have first-mover advantages and are backed by gigantic tech companies.
Bradley: So it'll just be the domain of the largest companies?
James: Let's take Google, for example. Even as the all-encompassing search engine, they did not win the war for commerce, they did not win the war for travel, they did not win the war for weather. Now you can make an argument to say, 'Hey, you know, Google just didn't want to play' because if they did, they would be successful. And that might be true.
But you cannot be the referee and the player in the same game. You're trying to be fair for all verticals, but all of a sudden, on this vertical, I think it's super lucrative so I'm going to suck out your data and block you out and start playing. You just can't do that. You have a lot of this conflict of interest, and eventually these general-purpose players just take taxes. Apple calls taxes App Store fees, Google calls it advertising fees. It's much easier to take taxes across all verticals than go deep into any single one. So there's room for players in specific verticals.
Bradley: Speaking of specific verticals, the poster boy of AI disruption has been a company you're very familiar with: Education tech company Chegg. Did the market overreact?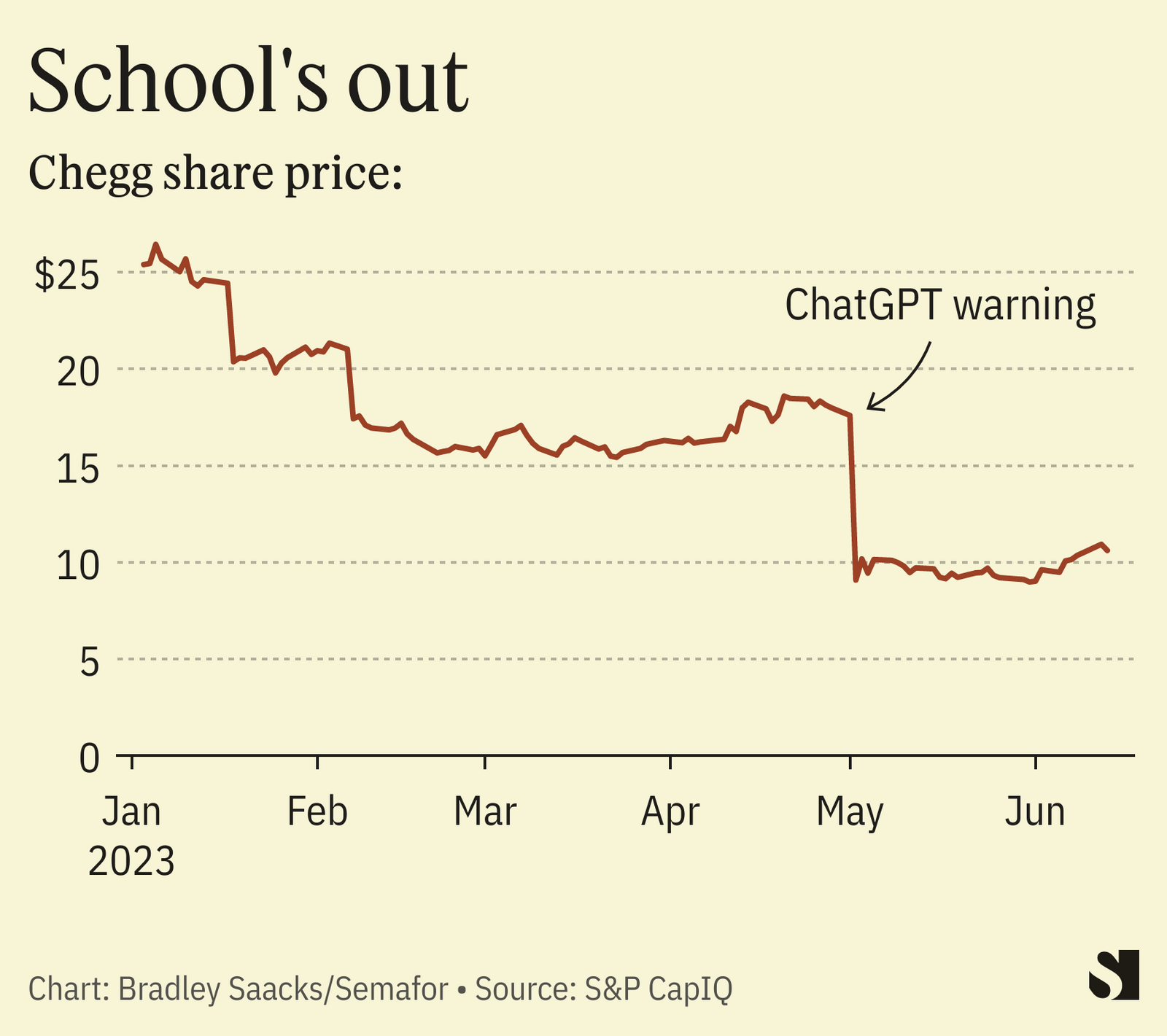 James: The fear in people is real. What is also real is that Chegg hasn't come to the table with a solid response. They did, however, announce CheggMate but it's still in beta. Not yet fully released to the public. All in all, I think Chegg is super undervalued.
With that said, GPT-4 was launched in March. A lot is happening very quickly. I think the jury's still out around how sticky OpenAI is as an independent service by itself versus as an infrastructure provider.
Bradley: So it can be a part of Chegg but not necessarily overtake it?
James: You need to grab a lot of users' attention, which is hard. That's what brands are for. You can't build one service that's tailored for every single context of education, for example. Tutoring is a very different experience than question and answer. OpenAI over time will realize they should be a general purpose player, which is kind of what we have seen, even way back in the days of Yahoo.
Bradley: Grindr went public via SPAC. What's next for the company?
James: We debated heavily 'do we want to be public?' Being a public company provides a certain credibility and stamp of approval. That's very important for us if we want to champion for the community. And today Grindr is a very singular social-dating app. We think we can do a lot more. Being a public company, we'll be able to, we'll have a bigger war chest to do more.
Bradley: What does do more mean at Grindr?
James: We already provide free HIV testing to all our members. So in the areas of LGBTQ users, [we're interested in] travel, health, wellness. We will build, we will buy, we will collaborate, and lots of things are happening.
Bradley: And doing a SPAC was the right decision for the company?
James: I don't want to spend a moment of management's bandwidth on all these road shows and miscellaneous stuff just to get public. I'm not happy with the stock price today, but I also understand why. Something like 80 percent of the company is in the hands of three people. There's no trading volume.
Bradley: You started your career at NASA. What's your read on the private space companies out there today?
James: If there's one thing that will make me jump out and do a startup on my own, it's this. Twenty years ago, flying from Beijing to New York took 13 hours. Now it's still 13 hours. There are lots of things just waiting for us to do and explore.
This type of program is very well suited for the venture capital model, because it's high risk, high return. The upside could be infinite and there's no way we can value the market. Hey, how much is it to have a second Earth?
You need to be careful in this space, though. It's a natural place to attract con artists looking to get money from the state and investors. It is not meant to disrespect business folks. There are many smart people out there, but this is an extremely technical field, maybe the most complex work we can do.