The News
Former NBA player Dwight Howard has become the latest celebrity to face backlash from Chinese nationalists after releasing a promotional video in which he described Taiwan as a "country."
The eight-time NBA All-Star has become an icon on the self-governing island — which China regards as a breakaway province — since he joined Taiwan's Taoyuan Leopards last year. On Thursday he appeared on a video promoting a sweepstake, alongside Taiwan's vice president, for fans to spend a night at Taiwan's Presidential Office Building.
"Since I came to Taiwan, I've gained a whole new appreciation of this country." Howard said. "This place makes me feel so much love."
Following intense criticism from the mainland, the former Los Angeles Lakers player apologized on Friday.
"Where I'm from, if I say I wanna go to the country, it doesn't mean that place is a country. It's just how we talk," he told reporters. "If I offended anyone in China I apologize. It was not my intention to harm anyone with what I said in the commercial."
Howard is not the first celebrity to apologize over Taiwan comments. Here's a look at how others have landed themselves in hot water.
Know More
Celebrities
John Cena
After also calling Taiwan a country in a promotional video for Fast and Furious 9 in 2021, actor and former wrestler John Cena uploaded a video to Weibo — China's version of Twitter — and apologized in Mandarin for his comments.
"I made one mistake, I must say right now, very important, I love and respect Chinese people," he said. "I am very sorry for my mistake. I am so sorry, I apologize."
Chou Tzu-yu
A Taiwanese member of the K-pop group Twice, the then 16-year-old Chou Tzu-yu, was the subject of harassment after waving a Taiwan flag during a performance in 2016. Her talent agency subsequently uploaded an apology video in which she said that there is only "one China."
Companies
Christian Dior
After not including Taiwan on a map of China during a presentation, the French fashion house apologized on Weibo, blaming the mistake on an employee and saying it respects Beijing's "sovereignty and territorial integrity."
Delta Air Lines
China's aviation agency demanded Delta apologize after it listed both Taiwan and Tibet as countries on its website. Delta later updated its website and issued a statement saying it recognized the "seriousness of this issue."
Marriott
The hotel giant's Chinese website was shut down after the company distributed a survey listing Taiwan, Tibet, Hong Kong, and Macau as separate countries. Marriot later pulled its questionnaire and also said it respected China's sovereignty.

The View From Weibo
Weibo users were quick to condemn Howard's comments. Censors worked to take down the promotional video, but the hashtag #霍华德台独# (#HowardTaiwanIndependence) was among the top trending topics, with posts using the tag receiving over 400 million views.
"This idiot is happy to be taken advantage of by the bad guys, thinking that he has received another business and made money," wrote one user. "You are completely cold now, and the Chinese market has abandoned you 100%. Goodbye!"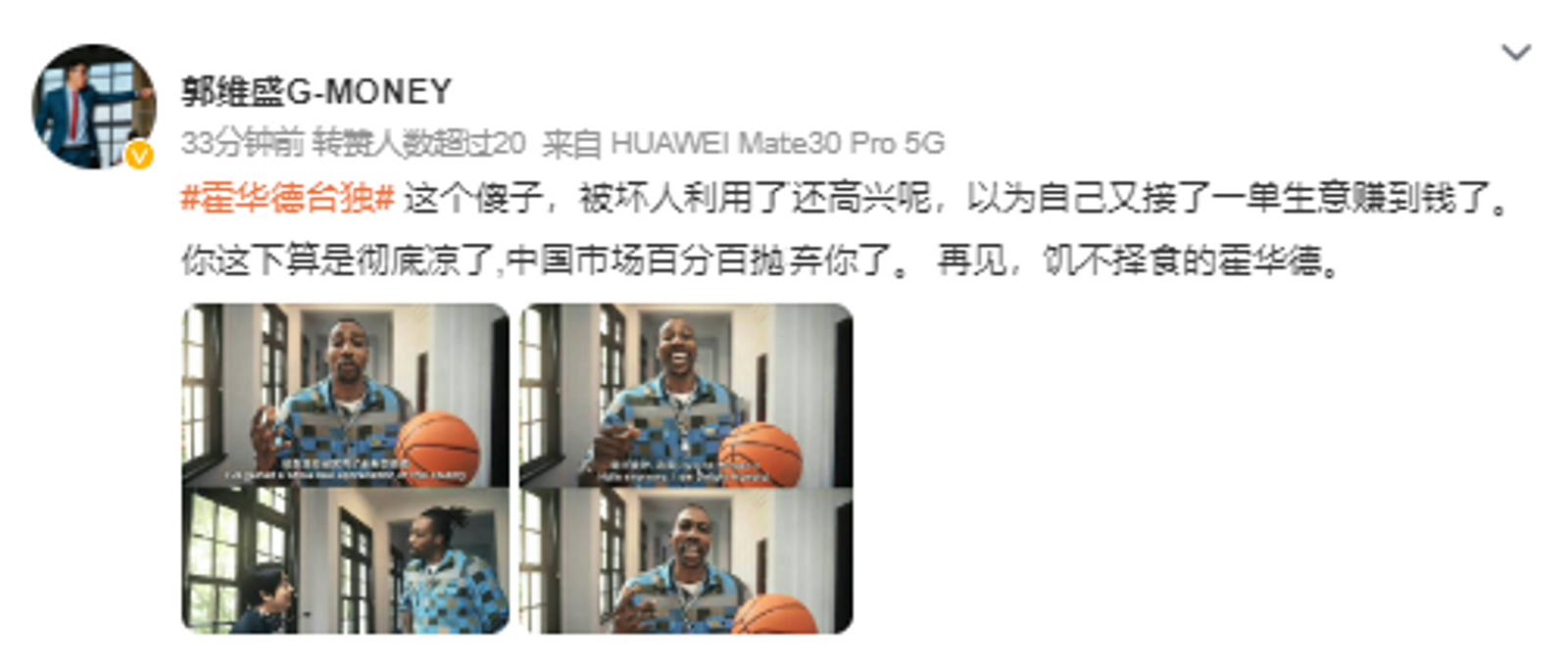 "If you don't want to leave , then don't come to mainland China to make money in the future, we won't welcome you," posted another.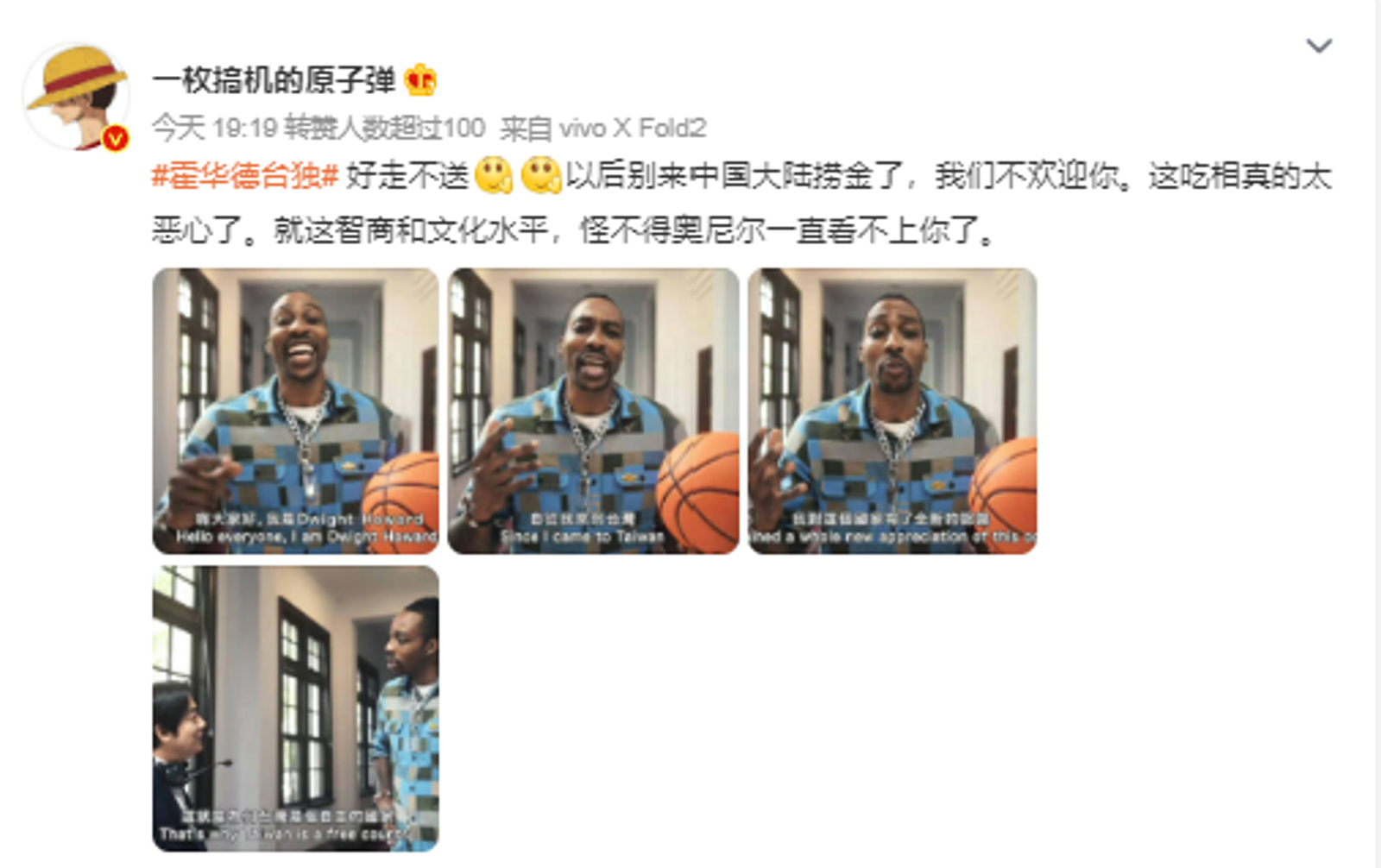 Notable
Xi Jinping is likely living in an "echo chamber" and his circle is far too optimistic about successfully reclaiming Taiwan argues scholar Tong Zhao in Foreign Affairs. He outlines why an invasion of the island is more complicated than what Chinese intelligence suggests.
China's growing authoritarianism has strained its relationship with NBA figures, The New York Times reported in 2019. The league, which relies on a Chinese audience for a significant amount of revenue, went into crisis mode after then-Houston Rockets' general manager Daryl Morey tweeted support for the Hong Kong protesters. Other players like former Bolton Celtics' player Enes Freedom have also called out Beijing for its policies on Tibet and Xinjiang.