The News
The U.S. Food and Drug Administration (FDA) on Thursday finalized new measures that the agency hopes will make it easier for gay and bisexual men to donate blood.
Previously, men who have sex with men (MSM) faced de-facto lifetime bans from donating blood in the U.S., the result of policies implemented during the HIV/AIDS crisis of the late 20th century. Some of those rules were relaxed due to shortages during the COVID-19 pandemic, but they were still subject to separate questionnaires.
The new guidelines will now require all potential donors to answer the same pre-screening questions regardless of sexual orientation and will defer donors for three months if:
The donor has had a new, or more than one, sexual partner in the last three months
The donor has had anal sex in the last three months
The donor is taking medication to prevent or treat HIV
The Red Cross will be responsible for implementing the changes, but the agency previously said it would not be able to do so immediately.
The U.S. now joins the majority of countries who have largely retired explicit MSM deferrals or bans. Here's a look at what some of those policies look like.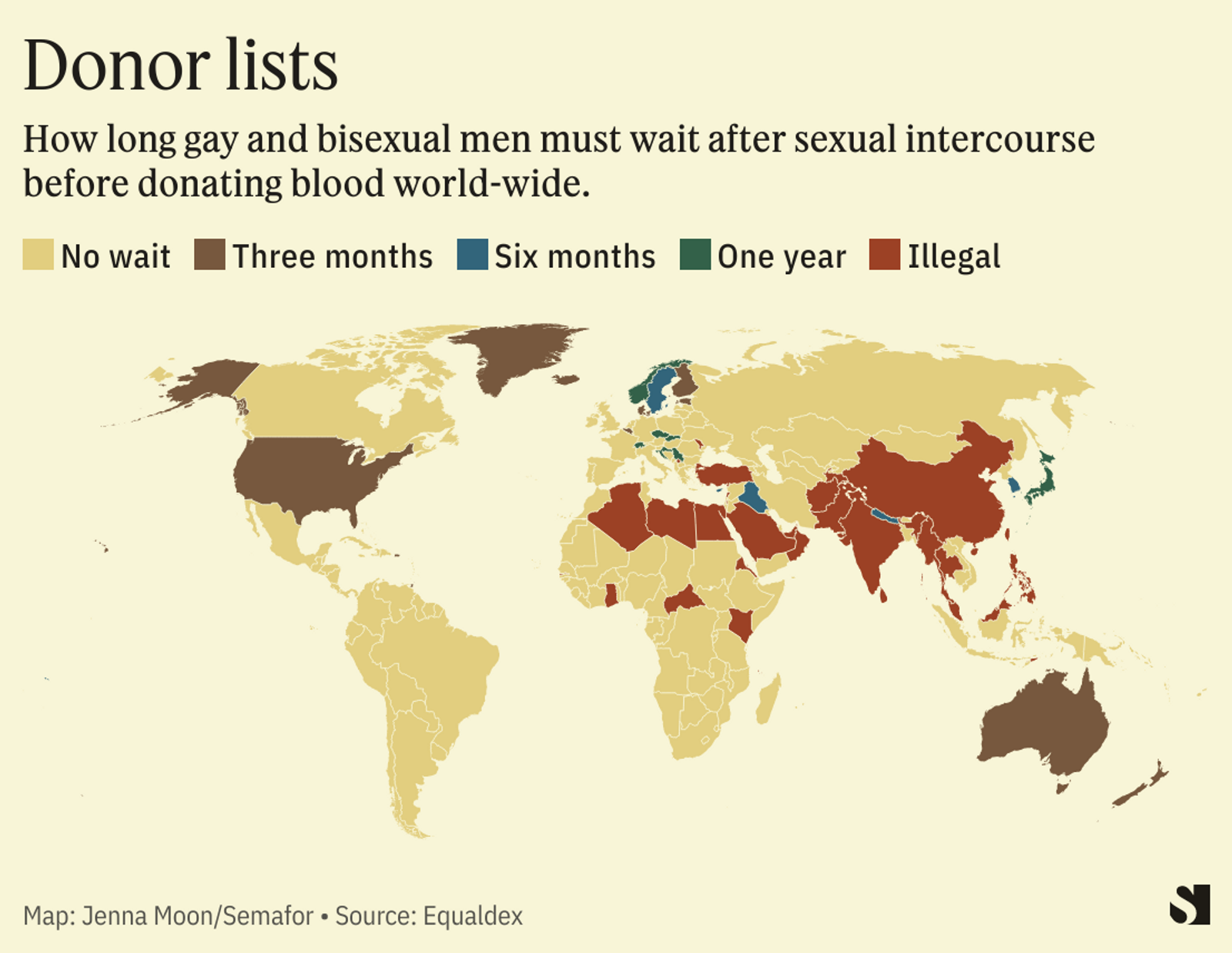 — with Jenna Moon

The Numbers
Only 6.8 million Americans, or about 3% of the age-eligible population, donate blood annually.
38,000 units of blood are needed daily.
Blood donation rates had declined between 2008 and 2019, one study found.

The View From South Africa
South Africa updated its blood donation policy in 2014, removing homosexual activity as one of the reasons for being deferred for six months.
The current policy favors monogamous relationships and issues a three-month deferral for anyone that has multiple sex partners, regardless of sexual orientation.

The View From Taiwan
Despite Taiwan legalizing same-sex marriage, and the government pushing to allow MSM to donate blood after a five-year deferral period, Taiwan's Centers for Disease Control declined in 2019 to update its rules.

The View From Australia
An Australian federal agency is urging the government to get rid of any pre-screening questions related to sexual activity, meaning Australia could become the first country where gay and bisexual men face no hurdles in donating plasma. It currently maintains a three-month deferral period for MSM.

The View From LGBTQ Groups
Some LGBTQ groups like GLAAD and GMHC (formerly the Gay Men's Health Crisis) said they appreciated the changes but said the FDA needed to clarify certain issues, in particular the "nonbinding" clause, questioning whether this meant that not all blood donation centers needed to adhere to the policies. Activists also said they were disappointed that users of pre-exposure prophylaxis will still be deferred.