The News
HARARE, Zimbabwe — Zimbabwe launched gold-backed virtual coins as a central bank digital currency (CBDC) on Monday in its latest bid to fight currency volatility and contain spiraling inflation.
The token, Africa's second CBDC after Nigeria introduced the eNaira in 2022, comes amid rampaging inflation, estimated at more than 70% in April, and a collapsing Zimbabwe dollar, which has lost half its value against the U.S. dollar in the past fortnight.
President Emerson Mnangagwa's government is trying to bolster confidence in the local currency, while his main rival in this year's election, Nelson Chamisa of the Citizens Coalition for Change (CCC) party, has called instead for the full adoption of the United States dollar. Many local companies and traders already use the US dollar for key transactions.
Tendai Biti, former Finance Minister of Zimbabwe and a leader with Chamisa's CCC, said that the central bank's "attempt to introduce gold backed digital currency is bad economics in a country without any significant reserves" of gold.
Zimbabwe's digital tokens can be held in either e-gold wallets or e-gold cards, according to the Reserve Bank of Zimbabwe, and can be used for normal daily transactions or person-to-person exchange.
Know More
Zimbabwe has been trying to solve its hyperinflation and monetary issues through a myriad of currency experiments that have largely failed over the last 20 years.
In 2003, Zimbabwe introduced bearer cheques before unveiling special agro-cheques with denominations of up to 100 trillion Zimbabwean dollars. In 2009, Zimbabwean authorities adopted the U.S. dollar as legal tender, bringing some stability to the economy.
But when President Mnangagwa dislodged Robert Mugabe from power in 2017, he banned the use of foreign currencies for transactions and reintroduced the Zimbabwean dollar in 2019. The ban was short-lived as Zimbabwe subsequently endorsed a multiple currency basket of legal tender a few months later.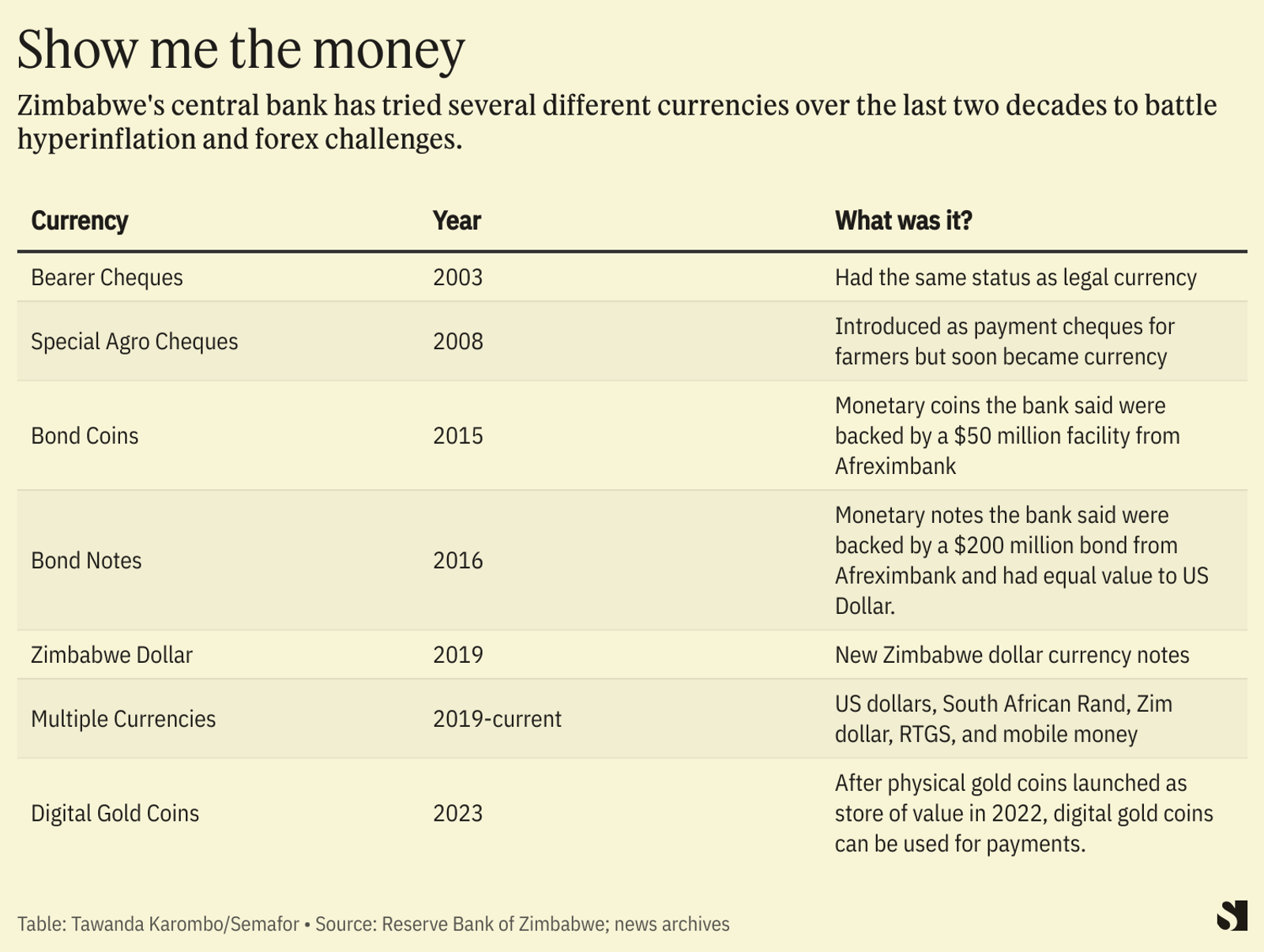 Tawanda's view
Zimbabwe is trying to gain public trust by linking the digital currency to physical gold reserves. But economists argue that Zimbabwe's government is itself fueling excess liquidity and inflation by printing money to pay off government contractors for infrastructure development.
They say the digital gold coins will only work if their introduction is matched with focused efforts by the government to target economic fundamentals.
"The efficacy of new tokens will be determined by the market confidence in the issuing authority and related institutions," Chiedza Madzima, head of Africa research at Fitch Solutions told me. "Adding new currency layers will not solve the fundamental monetary policy issues at play and will do little to quell the underlying drivers of inflation."
Trust is the critical factor, Kin Mungai, Senior Research Analyst at the Center for Financial Regulation and Inclusion (Cenfri) told me. "Issues to do with corruption and smuggling of gold may undermine public trust in the new tokens so it is important to address that as well as other underlying issues."
In any case, the U.S. dollar is now dominant as a means of payment in Zimbabwe, according to listed companies financial reports.

Room for Disagreement
Emmanuel Mathe, an independent Bulawayo-based crypto currency analyst, said the gold token approach is a "good initiative as per their intended use to be a store of value." But he added that "a lot of ground work needs to be done regarding the implementation and the infrastructure" which will determine the market's confidence. "There needs to be a robust proof of reserve system that authenticates the availability of gold backing the digital currency."

The View From SAN FRANCISCO
Jonathan Dharmapalan, CEO of CBDC technology firm eCurrency, agreed with Zimbabwe's strategy saying other central banks could opt to "issue a gold-backed CBDC to further reinforce trust" in a digital currency. "This could be an enhancement and an interesting feature of digital currency that does not typically apply to other forms of currency."

Notable
How Zimbabwe hit a new level of dysfunction with its currency woes. It's clear Zimbabweans don't trust their local currency and as there isn't enough U.S. cash to make change, vendors have been issuing their own on scraps of paper.