The News
Forge Global launched a new stock index Thursday that may help average investors get access to pre-IPO companies like Stripe and SpaceX, which has been a privileged world for top venture funds and the wealthiest families.
An exchange-traded fund using the index may be the next step, said Howe Ng, a Forge executive who worked at BlackRock. That means mutual funds and pension funds could tap investing in top startups without having to pay expensive fees to big fund managers.
The index, with a total market value of $350 billion, is based on the trading data of the 75 largest private companies from Forge's platforms as well as other secondary marketplaces, where shares in private companies are bought and sold. The platform will also provide more transparency on the performance of these companies that have long operated in opaque settings.
"It's a simple concept, but very hard to make in the private space. We are trying to create our S&P 500," Ng said.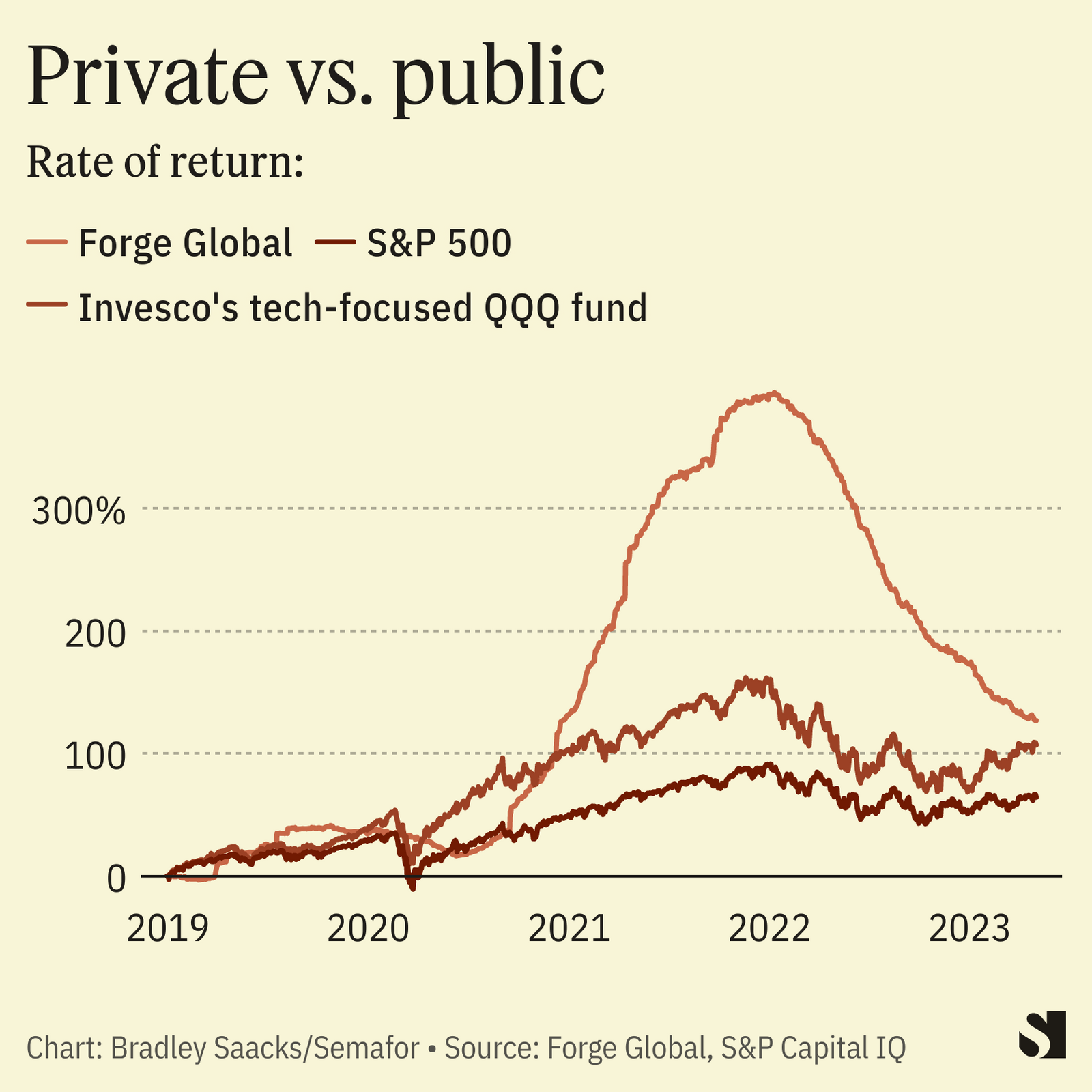 Bradley's view
The mega venture capital funds, the tech-heavy hedge funds, and private equity giants have big advantages in backing startups, and charge their investors a lot to access them. An ETF based on the index could give investors cheap exposure to the space without having to invest in individual companies or fund managers.
There are plenty of ripples that come with adding more transparency to the market, opening up a lucrative space to more investors and capital. Young companies on the fundraising trail would also understand how much their peers are being valued.

Room for Disagreement
Forge's index is somewhat protected from the worst private companies since traders on its platforms are mostly interested in the largest unicorns. But some of them have failed spectacularly over the years as they avoided the scrutiny of the public markets. Investing in this index means you could get pre-IPO exposure to the big winners — like Uber — and the big losers (another WeWork).

Notable
Morningstar and Pitchbook's suite of unicorn indices use Pitchbook's fundraising data and "a proprietary three-factor pricing model to estimate daily valuations."