The News
The rate of smoking in the United States has dropped to a new all-time low, data from the Centers for Disease Control and Prevention suggests.
According to the preliminary findings from the CDC's National Health Interview Survey, 11% of adults — about 1 in 9 — said they were smokers in 2022.
That's down from about 12.5% in 2020, and 18% 10 years ago.
Electronic cigarette usage, however, is going up. About 6% of American adults — about 1 in 17 — reported smoking e-cigarettes last year, up from 4.4% in 2019.
Know More
The rate of cigarette usage in the U.S. remains much lower than in some European and Asian countries, according to the World Health Organization.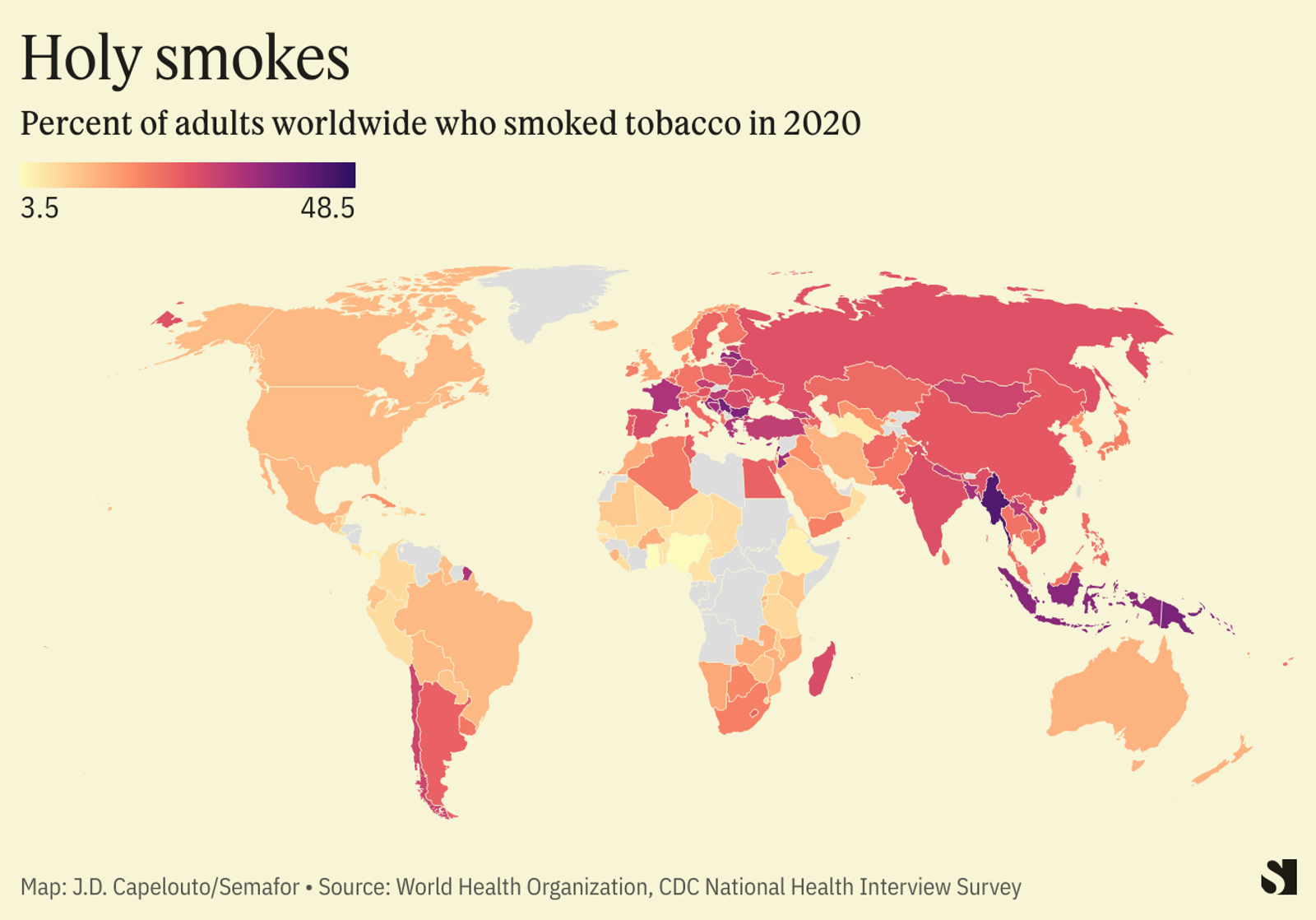 About 26% of adults in EU countries smoked in 2020, according to EU data. Bulgaria, Greece, and Latvia had the highest numbers of cigarette smokers, while Scandinavian countries like Sweden, Finland, and Denmark were among the lowest.
Almost 30% of adults in Asia smoked, the WHO data shows, with China, India, and Indonesia all having high rates.
A study in The Lancet estimated that in 2019, nearly one third of the world's tobacco smokers lived in China. It urged governments to adopt more policies to reduce smoking, especially among young people.
"The current level of tobacco control policy implementation is insufficient in many countries around the world," the study stated.
— Jenna Moon contributed to this report.

The View From The U.K.
The British government announced a new scheme this month to give vapes to smokers to get them to quit smoking cigarettes, Reuters reported.
The government hopes to give the e-cigarettes to 20% of smokers — up to 1 million people. Pregnant women will even be offered financial incentives to make the switch.
The goal is to get the rate of smokers from 13% to 5%.