The News
Chinese leader Xi Jinping has been on a diplomatic tear in the last two months, meeting, callings, and hosting leaders from over a dozen countries, according to a Semafor tally.
It was marked most recently by a call Wednesday between Xi and Ukrainian President Volodymyr Zelenskyy, which resulted in Kyiv appointing its first Chinese envoy in nearly three years. And it signals a shift from just six months ago, when China's strict pandemic rules were still in place and Xi seemed reluctant to meet world leaders.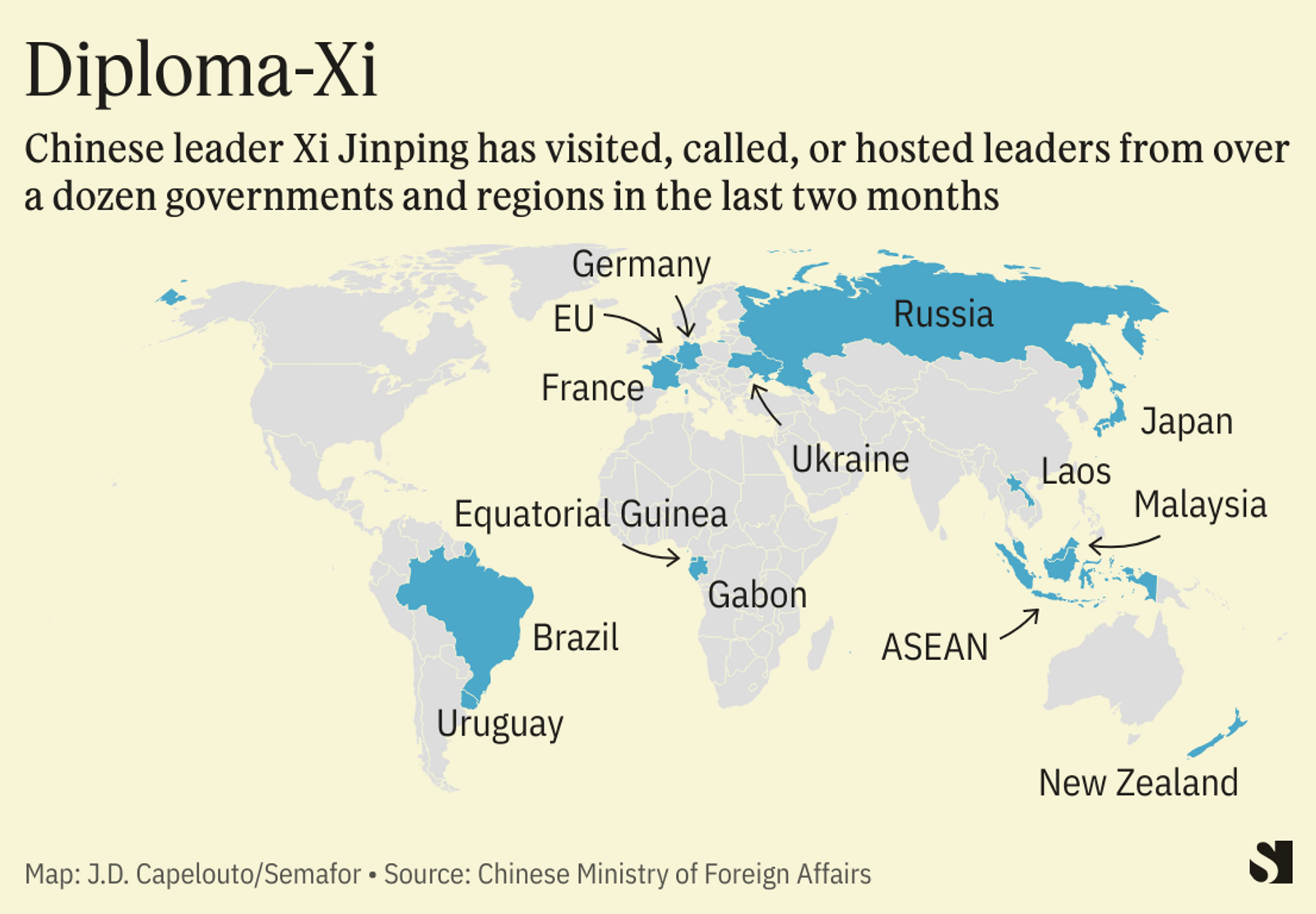 Know More
The latest diplomatic push began when Xi paid a state visit to Russia on March 20 and met with President Vladimir Putin.
Since then, these senior officials have visited China:
March 22: New Zealand Foreign Minister Nanaia Mahuta
March 22: Equatorial Guinea Foreign Minister Simeón Oyono Esono Angue
March 24: Association of Southeast Asian Nations (ASEAN) Secretary-General Kao Kim Hourn
March 28: Malaysian Minister of Foreign Affairs Zambry Abdul Kadir
April 1: Japanese Foreign Minister Yoshimasa Hayashi
April 5: French President Emmanuel Macron
April 5: European Commission President Ursula von der Leyen
April 12: Brazil President Luiz Inácio Lula da Silva
April 13: German Foreign Minister Annalena Baerbock
April 16: Uruguay Foreign Minister Francisco Bustillo Bonasso
April 16: Laos Deputy Prime Minister Foreign Minister Saleumxay Kommasith
April 18: Gabon President Ali Bongo Ondimba
Step Back
Xi's foreign minister, Qin Gang, has been even more active, visiting 10 other countries and speaking to nearly 80 foreign officials.
The South China Morning Post's Shi Jiangtao wrote this week that China has been on "diplomatic overdrive," noting that there has been an emphasis on China's ties with its Asian neighbors as well as Europe, "as China tries to counterbalance its tense relationship with the US."
But Shi pointed out that there hasn't been a significant shift on the most crucial foreign policy relationship: the U.S., China, and Russia dynamic.
Keith Zhai, who covers China for The Wall Street Journal, noted on Twitter that China's engagement with the international community "is a departure from the old approach to make sure the Americans are happy."
And the call to Zelenskyy was part of that effort to play a more active role in countering the U.S., he argued.
"This is akin to playing the game of Go, where China is making the first move and waiting to see how the US will respond," Zhai wrote.
Correction: A prior version of this story incorrectly stated that Brazil's president visited China on March 26 and EU High Representative for Foreign Affairs and Security Policy Josep Borrell visited on April 13. Both trips were postponed due to health reasons.