The News
The number of dollar millionaires resident in Africa is projected to grow by 42% in the next decade.
Mauritius, Rwanda, and the Democratic Republic of Congo are expected to see their millionaire numbers grow by at least 60% each during the period, the latest wealth research curated by investment consultancy Henley & Partners shows. These three countries, plus Uganda and Seychelles, have seen the highest growth in millionaire numbers in Africa since 2012.
Namibia, Zambia, Seychelles, and Morocco will also have more millionaires in the next decade, the report said. These countries will help increase Africa's millionaires to 195,000 by 2032.
Know More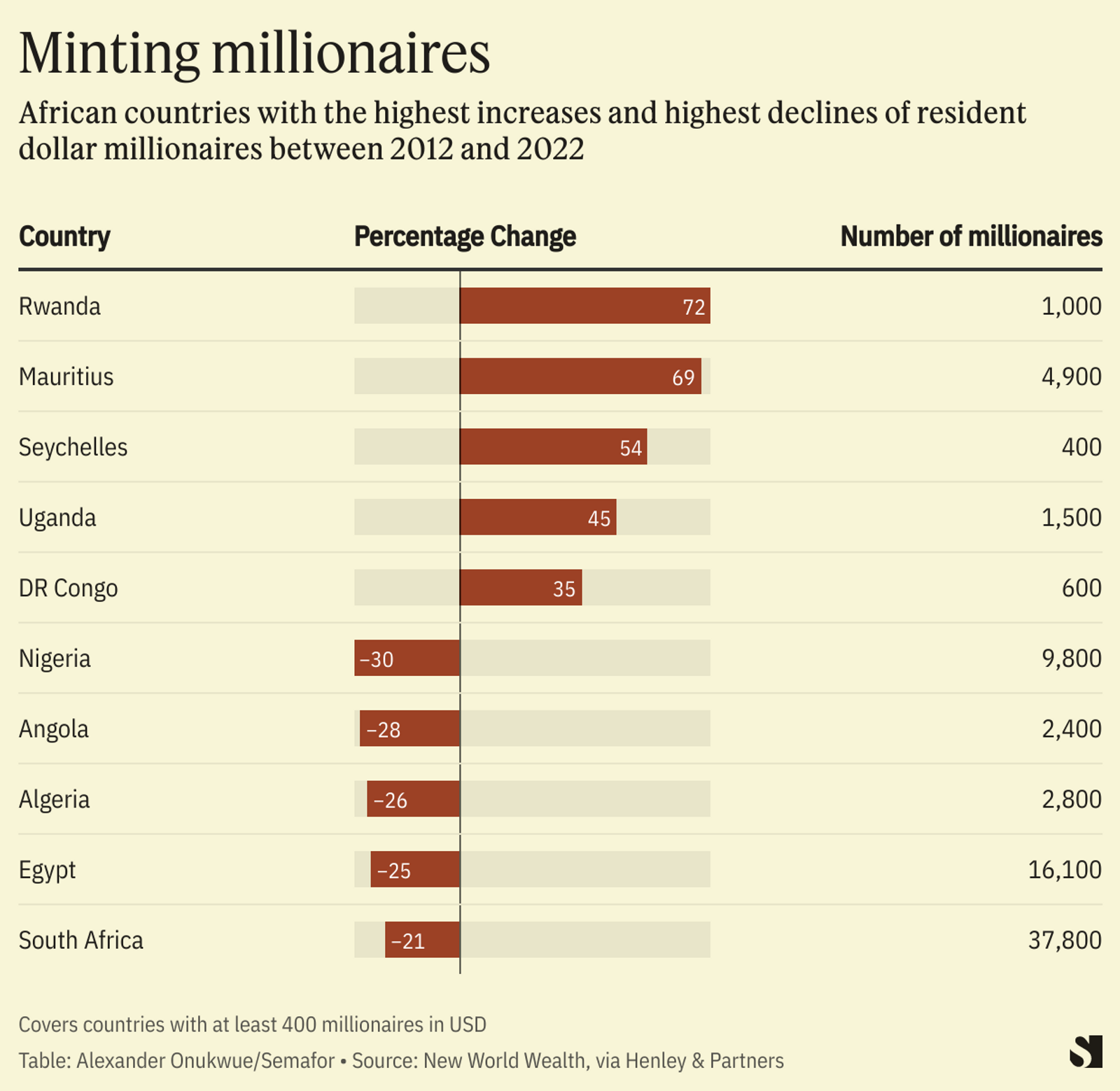 But South Africa, Egypt, and Nigeria — which account for 46% of Africa's millionaires — have been shedding millionaires over the last decade. South Africa's 37,800 millionaires live in some of Africa's richest suburbs in Johannesburg, Cape Town, and Durban, but their population is 21% less than in 2012.
Nigeria, home to Africa's wealthiest man Aliko Dangote and where there have been two recessions in the last decade, has seen a 30% decline in millionaires. It's the highest drop of the top 20 African countries with at least 400 millionaires on Henley's rankings.

Alexander's view
The drop in the number of millionaires in South Africa, Nigeria, and Egypt has happened despite the three being among Africa's largest economies by gross domestic product and top destinations for startup investment running into billions of dollars.
On the other hand, millionaire growth has happened in Rwanda and Uganda, two countries led by long-time strong men. East Africa generally saw a rise in millionaires compared to other regions, as Kenya and Tanzania each posted above 20% growth.
But it's not clear that an increasing number of wealthy individuals necessarily means a country is in good health.
Ghana has 24% more millionaires than a decade ago but the country is about to face harsh cuts in public services ahead of a $3 billion bailout from the International Monetary Fund. Zambia is projected to have 60% more millionaires in 2032 but it is at the center of debt restructuring debates pitting China against the World Bank and other multilateral institutions. Zambia defaulted on $17 billion of debt in 2020.

Notable
Dangote and 18 other African billionaires lost 4% in net-worth in the 12 months leading up to January this year. It left their combined value at $81.5 billion.