The News
U.S. Vice President Kamala Harris capped the most frenetic period of Washington diplomacy with Africa for nearly a decade with a three-nation tour — but the main takeaway was about China.
Harris, whose trip ended on Friday, was the latest of nearly 30 U.S. officials who visited 18 African countries in the first quarter of the year, a Semafor Africa tally shows. The visits followed President Joe Biden's U.S.-Africa Leaders Summit in December, the first since 2014, during which the 49 African leaders who attended were told the White House would make $55 billion in investments over the next three years.
In Ghana, at the start of her tour, Harris set the tone by saying "the conversation was not about China" as much as it was about the relationship between the U.S. and African countries.

Yinka's view
The White House doesn't want these visits to be framed simply as a counterweight to China's influence on the continent, but they're not going to have much luck breaking that narrative even as African leaders made clear it was becoming tiresome.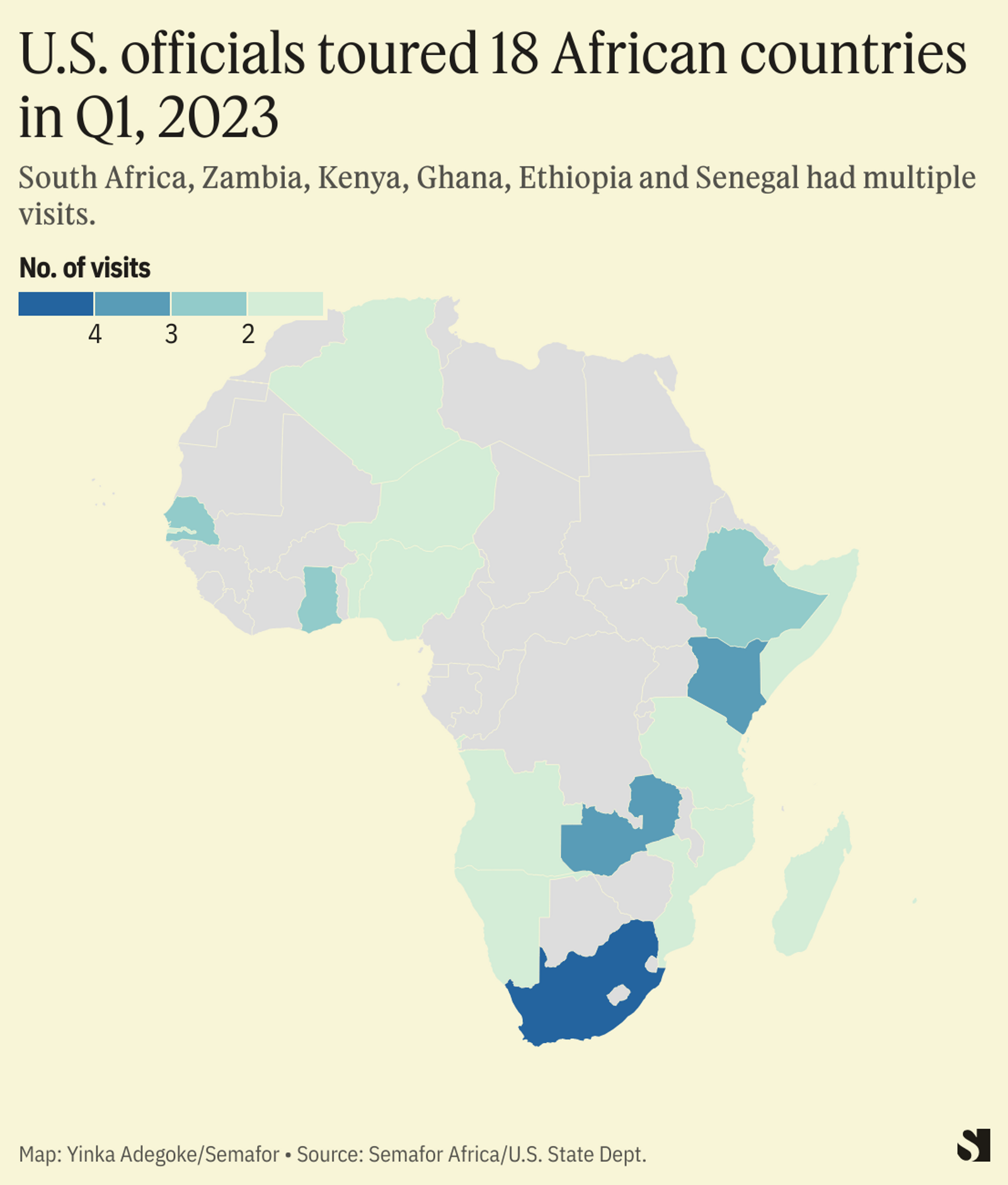 "There may be an obsession in America about Chinese activities on the continent but there's no such obsession here," Ghana's President Nana Akufo-Addo said in response to a question at a press conference with Harris alongside him, gamefully trying to smile through the awkwardness of the moment.
Even when China wasn't mentioned it was still being talked about. Take Harris' visit to Zambia, which was the first African country during the pandemic to default on its debt, in 2020. The southern African country is currently negotiating a debt restructuring program with international creditors. There's just one problem: China. Beijing, whose state institutions and private companies hold a combined $4 billion of Zambia's debt, is refusing to take a haircut unless multilaterals like the World Bank do so too — something they have traditionally never done.
Harris didn't mention China by name during a press conference with Zambia's President Hakainde Hichilema last week, but her reference wasn't subtle either. "I will reiterate a call we've made many times, for all official bilateral creditors to provide a meaningful debt reduction for Zambia," the vice president said.
But, like Ghana's president, Hichilema wasn't interested in being cast as the grass in the old aphorism about two elephants fighting. "When I'm in Washington, I'm not against Beijing and equally when I'm in Beijing, I'm not against Washington."
This is why there's little chance of African countries choosing to forge an alliance exclusively with either nation.
Long-time U.S.-Africa analysts in Washington D.C. we spoke with in recent days are now speculating on the most-likely African stop-offs for Biden during a long-expected tour later this year. The White House is yet to share his plans.

The View From Abuja
Western narratives about China's impact across Africa are increasingly being challenged by senior African government officials. Nigeria's Vice President Yemi Osinbajo, in a speech last week, pointed out that African countries were "unapologetic" about their close ties with Beijing. "China shows up where and when the West will not or are reluctant. And many African countries are of the view that the beware of the Chinese Trojan loans advice from the West is wise but probably self-serving," he said. "Africa needs the loans and infrastructure and China offers them. In any case, the history of loans from Western institutions is not great."

Room for Disagreement
The U.S. has had a "long standing relationship with Africa" which means it is "a misconception for anyone to say that now the U.S. is trying to dislodge China from the continent," said Dr. Caroline Wandiri Mwea, an international relations researcher at Kenyatta University in Kenya. Mwea said China's attempts to be the leading partner in Africa are being undermined by the mounting debt burden owed to the Chinese by several countries.

Notable
U.S. officials who have visited Africa this year include Treasury Secretary Janet Yellen, Secretary of State Antony Blinken, US ambassador to the UN Linda Thomas-Greenfield, and First Lady Jill Biden. However, fears remain that Biden may not "follow through" on his commitments to the continent or he could be replaced by a hostile Republican administration after the next U.S. election.