The News
Russia seems poised for an extended economic downturn after enjoying an initial windfall from rising energy prices after its full-scale invasion of Ukraine last year.
Data shows the ruble has sunk 20% against the U.S. dollar over the last several months. Oil revenue is also sinking, and, despite assurances from Moscow that Russian unemployment is at a record low, there are fewer workers than ever available to fill jobs, according to the Russia-focused outlet The Bell.
Here's a look at the country's economic state, summarized in three charts.
Know More
The value of the ruble against the U.S. dollar has been sinking since November. Speaking to The Wall Street Journal, Maria Shagina, senior fellow at the International Institute for Strategic Studies, said that while the country saw short-term resilience, the view going forward is not so good: "Moscow will be much more inward-looking and overly dependent on China," she said.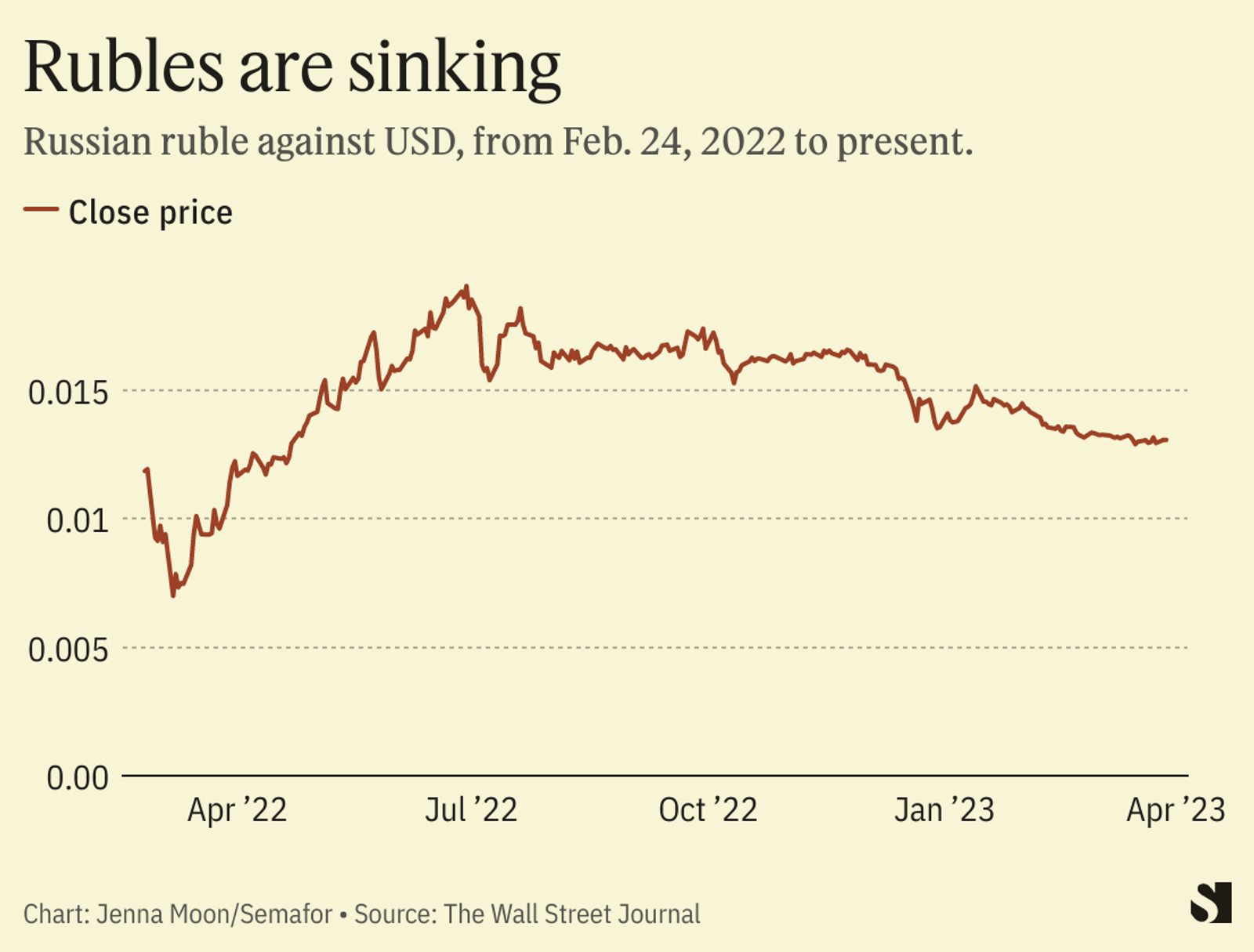 Part of Russia's short-term success can be chalked up to revenue it accrued from the price of oil and gas after the war began. Earlier this year, a European price cap on Russia oil came into effect, meaning the country's revenue has plummeted in the months following. The result is a growing deficit in Russia's budget.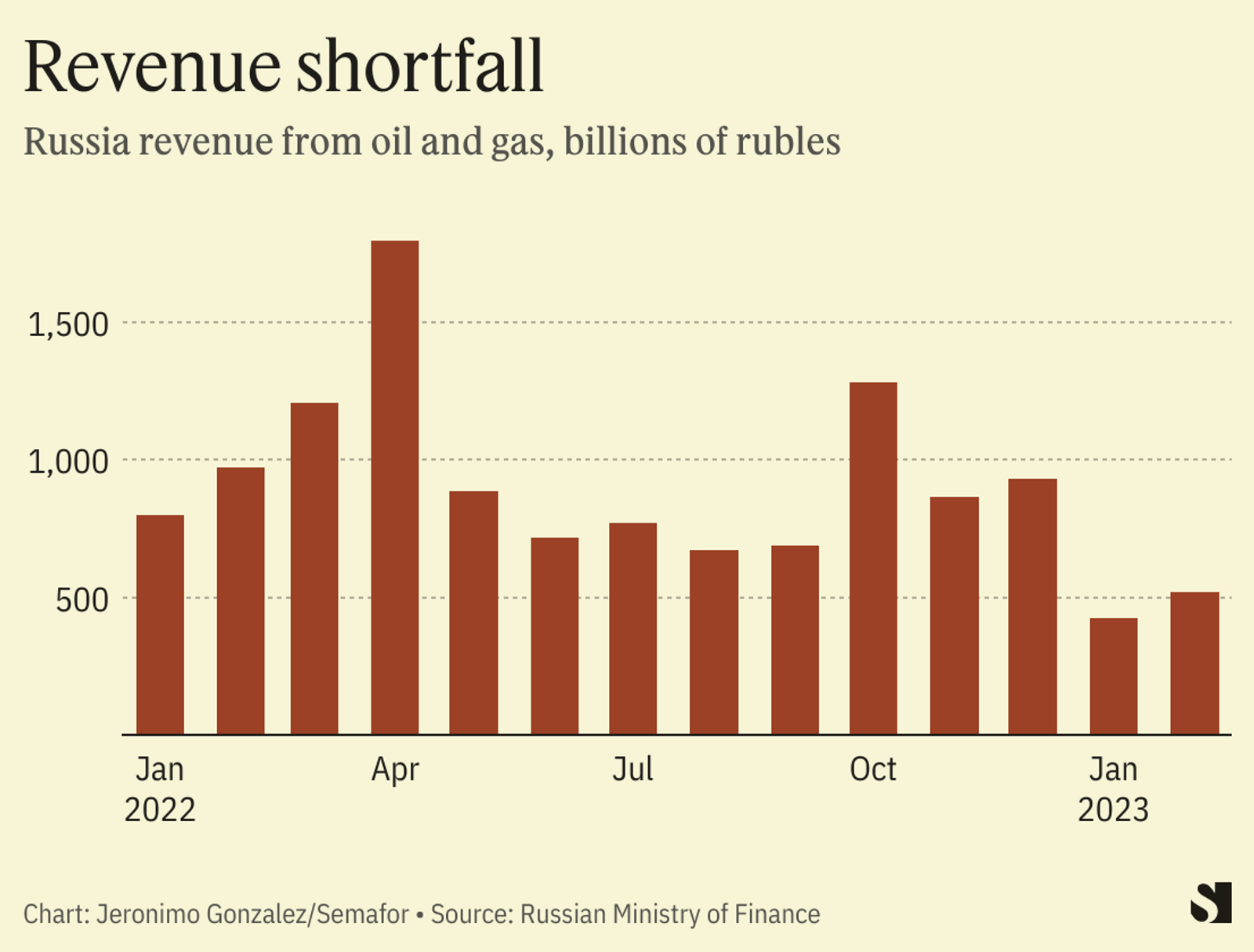 While Russia's government has recently bragged about record-low unemployment, the country does not have enough workers to fill key jobs. Many Russians have been conscripted, while tens of thousands are estimated to have left the country in the wake of Russia's full-scale invasion of Ukraine.
For every unemployed Russian, there are roughly 2.5 job vacancies, data from Russian consultancy firm FinExpertiza shows. The shortage of people to fill roles will hamper Russia's economic growth, Natalia Danina, head of the analytical department at HeadHunter, told Bloomberg. "Either there are no people or they are not seeking to change jobs amid difficult external circumstances," she said.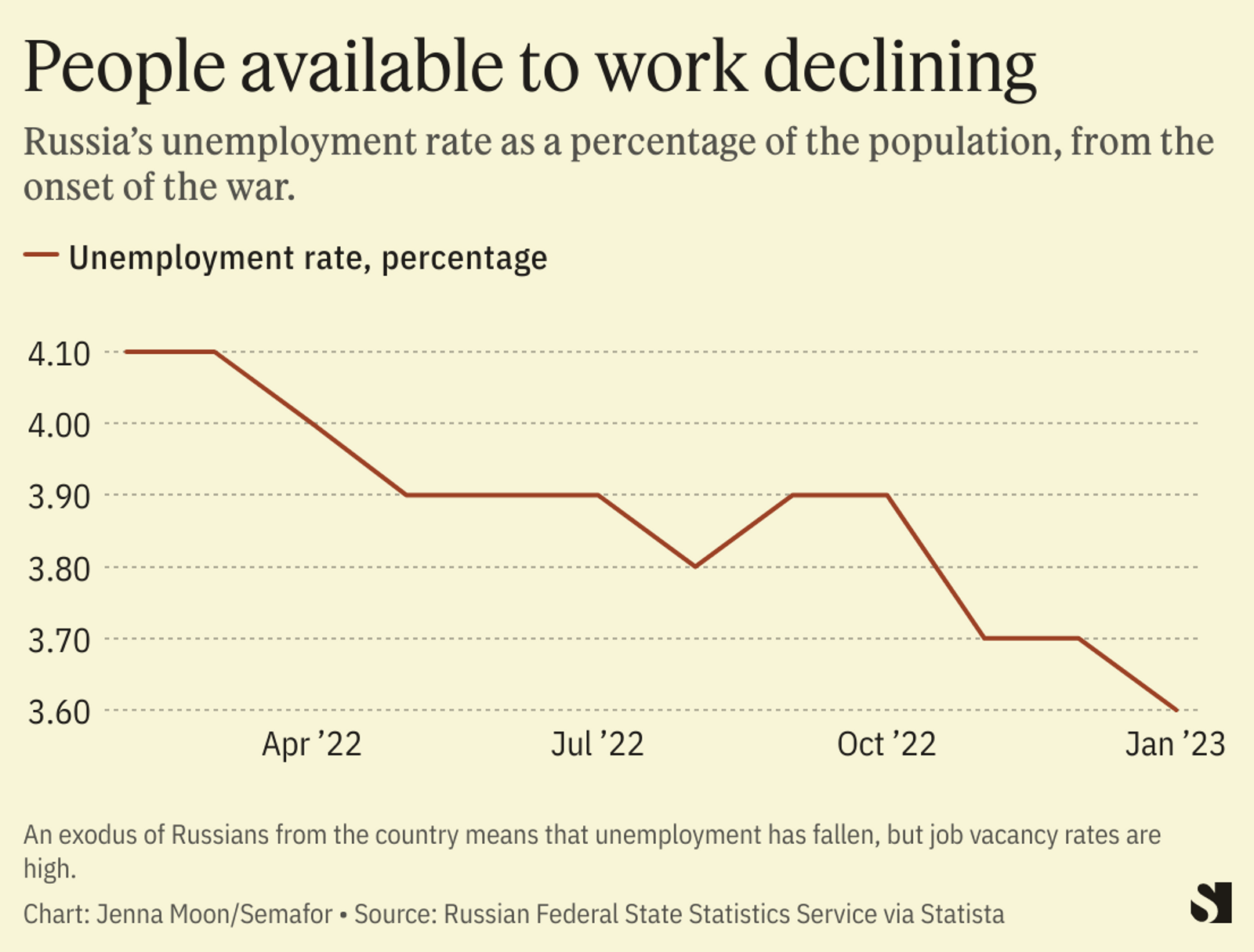 The View From the Kremlin
Speaking to Russian lawmakers in a televised session on Wednesday, Russian President Vladimir Putin said that international sanctions against Russia could have "negative" consequences on the country, AFP reported.
"The sanctions imposed against the Russian economy in the medium term can really have a negative impact on it," he said after months of insisting that Moscow was adapting to the economic consequences of the war.