The News
HARARE, Zimbabwe — Zimbabwe's decision to ban raw lithium exports and encourage local processing is helping Chinese and western companies gain a foothold in its mining industry — but is putting local players at a competitive disadvantage.
Global players have rushed to close deals since the unexpected ban was announced in December. On Wednesday, Chinese battery minerals producer Zhejiang Huayou Cobalt revealed it had started trial production of lithium concentrates at its Arcadia mine, which it bought last year for $422 million. London-listed Marula Mining this month established Muchai Mining, a subsidiary aimed at developing lithium mining and processing opportunities, which include further refining the lithium in the matte format usable in the manufacture of lithium batteries. Last month, China Natural Resource announced a $1.75 billion deal to acquire Williams Minerals, the rightsholder of a lithium mine in Manicaland Province.
As Africa's largest lithium producer, Zimbabwe is keen to take advantage of a rapidly growing global demand for electric vehicle car batteries, which use lithium elements in their production. Analysts at Mckinsey have projected the entire lithium-ion battery chain, from mining through recycling, to grow by over 30% annually to top $400 billion in 2030.
Zimbabwe has been through a period of difficult economic conditions for more than two decades now with hyperinflation, forex shortages, and rampant unemployment ravaging the country.
President Emerson Mnangagwa's government sees moving up the value chain across the mining sector as one of the paths to revitalizing the country, with the ultimate goal of setting up domestic EV battery plants.
Polite Kambamura, Zimbabwe's Deputy Mines Minister told Semafor Africa, the government wants to drive the country towards a $12 billion mining industry by the end of this year, up from about $5 billion grossed by mineral exports in 2021, with lithium mining alone expected to generate about $500 million.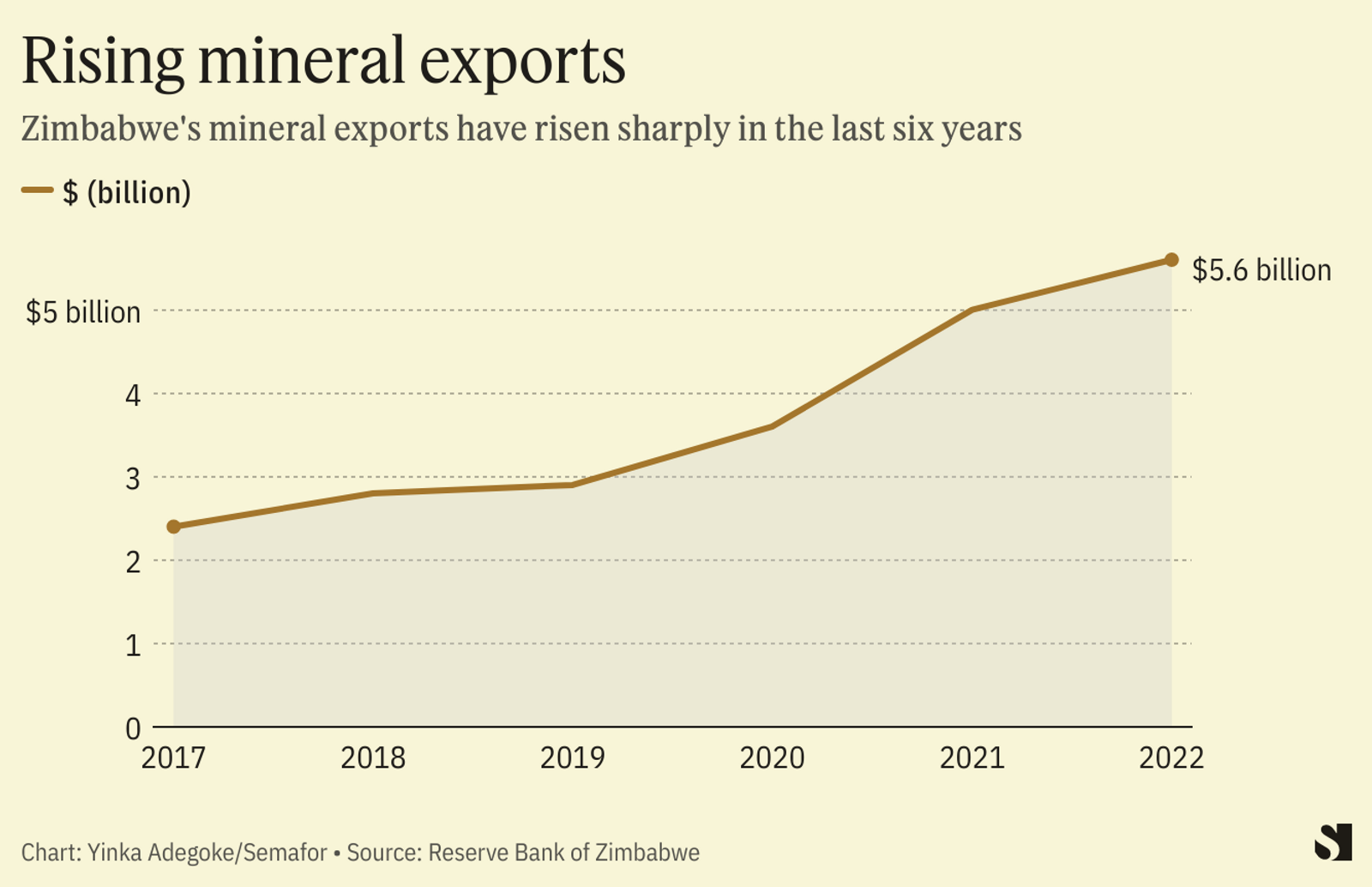 Tawanda's view
The most likely winners of Zimbabwe's push to move up the value chain are Chinese companies, who already control 60% of the world's lithium processing capacity; they are most able to take advantage of Zimbabwe's new push by building production facilities near the mines.
Zimbabwean companies will have much less control over the lithium processing that takes place here. Local producers will find it difficult to take advantage of the opportunities without special dispensation by the government or by working together to access funding, said experts.
Brains Muchemwa, an economist working with the Zimbabwe Indigenous Lithium Miners and Processors Association, said there is a need for the creation of a funding vehicle to support local players in the lithium sector as a way of building up capacity at home.
"Talk of battery manufacturing plants without building capacity in the industry is a long shot… it's just not possible in the short term," Muchemwa told Semafor Africa.
He explained that "holders of lithium claims in Zimbabwe are selling them off because they do not have the capacity for exploration or to fund production so the government needs to set-up a fund" for the local lithium holders to be able to do exploration.
There are also real doubts that Zimbabwe will realize its vision of being home to lithium battery manufacturing plants anytime soon. The approach by players to set up processing plants individually is seen by experts as haphazard and more focused on being in compliance with the new laws rather than any concerted attempt to build a global industry hub.
Muchemwa believes that the government has to take realistic steps, starting off with enabling Zimbabwean lithium miners to be able to undertake exploration and processing. Zimbabwe produced 1,200 tonnes of lithium in 2021, a relatively modest amount in global terms, but with better exploration, production and processing capacity, it can not only mine more lithium but also move up the production chain.
Other local, mostly small-scale miners of lithium in Zimbabwe, say they require access to processors as the first phase of investment to upgrade production of the battery metal in Zimbabwe before "talk of electric vehicle battery production."
"It will take time for us to get those plants to manufacture batteries," said Tendai Mandaza, a small-scale lithium miner, who operates in the Mutoko district of Mashonaland East Province. At the moment, he explained, miners like him "are just mining on a low scale due to constraints" as they "do not have access to machinery and equipment; we are just mining for survival."

Room for Disagreement
Investors and new entrants have expressed long-term commitment to contribute to the potential electric vehicle battery manufacturing ecosystem in Zimbabwe. "We are committed to value-add in-country and work with local partners and industry to make this a reality," said Jason Brewer, chief executive officer for Marula Mining in an interview. "Zimbabwe is a great opportunity and that view is clearly reinforced by the significant investment that Zimbabwe is attracting at the moment in its lithium sector."

The View From London
Zimbabwe needs technological assistance to fully benefit from its lithium endowment, said Stephen Chan of University of London's SOAS college. Chan said "lithium in Zimbabwe has to be exported" mainly because the mineral-rich southern African country "doesn't have sufficient industry or transport" required to move and process the metal at scale.
But with western and Chinese companies increasingly scrambling for access to Zimbabwe's lithium, amid reports of mounting stockpiles of the metal owing to the ban, Chan said that "race for access (to lithium) will become more intense as time passes" nonetheless.

Notable
Zimbabwe's decision to ban lithium ore exports has resulted in nearly 2 million tons of ore being stockpiled, according to Zimbabwe Miners Federation President Henrietta Rushwaya. The industry is calling on the government to review the ban as it "threatens the viability of their operations."
China beat Tesla to Nigeria's lithium mining promise when Kaduna, a state in the country's northwestern region, selected Ming Xin Mineral Separation to build the country's first lithium-processing plant.