The News
Chinese internet users are obsessed with bringing back home Ya Ya, a 22-year-old giant panda currently living in Memphis Zoo, in the southern United States, as China's state-controlled media persistently pushes the narrative that the animal is being neglected.
The conversation is fueling many to publicly voice their opposition to China's so-called "panda diplomacy" at a time when Beijing's relations with the U.S. and other Western nations have deteriorated.
Know More
The internet conversation on Ya Ya took off in December after the Memphis Zoo announced that Ya Ya and Le Le, another panda at the zoo, would be returned to China "within the next few months" as their loan for the animals had not been renewed.
Soon after, Chinese social media users began celebrating the announcement, while sharing videos and photos of what appeared to be the two pandas frail, malnourished, and lethargic at the zoo. Rumors of the pandas' deteriorating conditions and the zoo's overall mismanagement had long been the subject of speculation, with some western animal-rights groups like In Defense of Animals starting petitions in 2021 to return the pandas back home.
But tensions soared further when Le Le died last month after spending more than 20 years at the facility. Many online, including In Defense of Animals, said he had died of neglect, but a necropsy conducted in partnership with Chinese scientists found that he had been suffering from heart disease.
Still, some Chinese state media have continued to fuel theories of neglect, with the Global Times suggesting that the alleged mistreatment of the animals is just another symptom of strained U.S.-China ties.
"As China's national treasure and a 'friendly messenger' symbolizing friendship of the Chinese people, could giant pandas become victims of the 'hysterical neo-McCarthyism?'" it said in an editorial on Thursday. "When even giant pandas are affected and implicated, it indicates that the China-US relations are already quite bad."

The View From Weibo
Dozens of hashtags over the last few months have fueled conversation on Weibo, China's version of Twitter. In recent days, posts tagged #丫丫回国将实现吃喝自由# or "Ya Ya will realize what the freedom to drink and eat is like when she returns home" had over 390 million views.
Many were openly questioning China's panda loan agreements with other countries.
"Since they are a national treasure, they should be prohibited from being exhibited abroad," wrote one user. "If foreigners want to see them, come visit China!"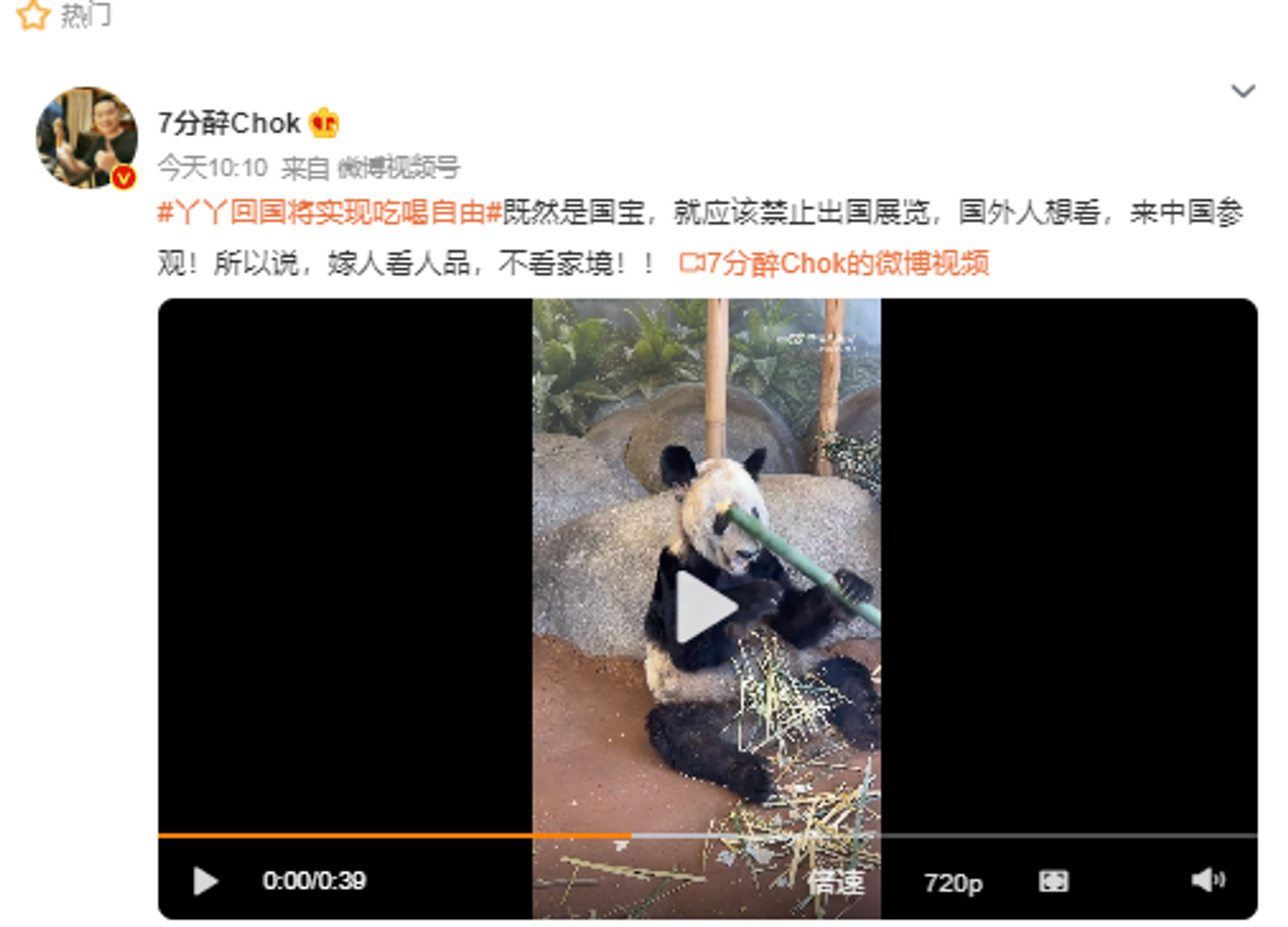 Chinese tourists and Chinese living in the United States have also apparently traveled to check on Ya Ya at Memphis Zoo, with state media sharing their videos of the clearly-aging panda.
"Maybe because she knew her family members were here, Yaya's condition is getting better and better!" wrote state media Xinwen Chenbao on one post of a video of Ya Ya.
Others were angry, outrightly accusing the United States of mistreating the pandas.
"The people in the 'mold country' are unable to raise pandas, so send them back!" wrote one user. "Our cherished national treasure is not their guinea pig!"

Step Back
Chinese law stipulates that all pandas are owned by the central government, and China maintains a level of soft power through so-called "panda diplomacy" in which pandas are leased to worldwide zoos for between $500,000 to $1 million per year.
Leases are typically extended for countries that maintain respectable relations with China. The National Zoo in Washington, D.C. and the Atlanta Zoo are the only two other U.S. institutions that currently house pandas, and there is no word yet on whether China will re-authorize these leases.
In recent years, some have criticized panda diplomacy, saying that China uses the animals to distract the public from its human rights abuses such as the alleged Uyghur genocide and the crackdown on Hong Kong's democracy movement.
A proposed bill sponsored by a Republican representative last year sought to make all pandas born at American zoos property of the United States.