The News
Taiwan is potentially facing its longest egg shortage in history –– with officials saying that the island is experiencing a daily deficit of 500,000 to 800,000 eggs.
Know More
The number of locally-produced eggs began to drop in late December, according to Channel News Asia, falling to 112,000 crates of 200 eggs each in February.
To offset the shortage, Taiwan is set to import close to 5 million eggs from Australia by the end of March, with a batch of 360,000 eggs coming in last week.
Taiwan's agriculture council official, Chiang Wen-chuan, said the shortage stems from changes in temperature, molting hens, and cases of avian flu wiping out millions of birds.
Chiang told Channel News Asia that he hopes the egg shortage will end by late March, as temperatures rise.
Taiwan also plans to import around 300,000 chickens in 2023, a more than 50% increase from the previous year, according to Radio Taiwan International.
This has inevitably affected egg prices. The cost of wholesale eggs has risen for a second time this month to an average of $1.80 USD (NT$55) per catty. Wholesale eggs were originally sold for $1.19 USD (NT$36.5) per catty before the shortage.

The View From Weibo
On Weibo, users from mainland China mocked Taiwanese people for complaining about the egg shortage.
"Taiwan frogs always laugh at us for not being able to afford tea eggs, but now Taiwanese people cannot afford tea eggs themselves," one user wrote.
Tea eggs are a savory snack made from boiling eggs in a salty concoction of soy sauce, bay leaves, and Sichuan pepper –– leaving eggs hard-boiled with a marble exterior.
Originating from Zhejiang province in mainland China, tea eggs became a popular snack among immigrant communities along coastal Chinese territories like Hong Kong and Taiwan; both places now have their own variation of the dish.
Taiwanese users on Weibo also posted a viral notice saying that a popular oyster omelet stand at Taipei's Liaoning Night Market would temporarily stop selling fried eggs, egg drop soup, and marinated eggs.
Another user posted a photo of a notice from a McDonald's announcing that it was out of eggs, with a caption saying: "You know the egg panic in Taiwan is bad when McDonald's is out of eggs."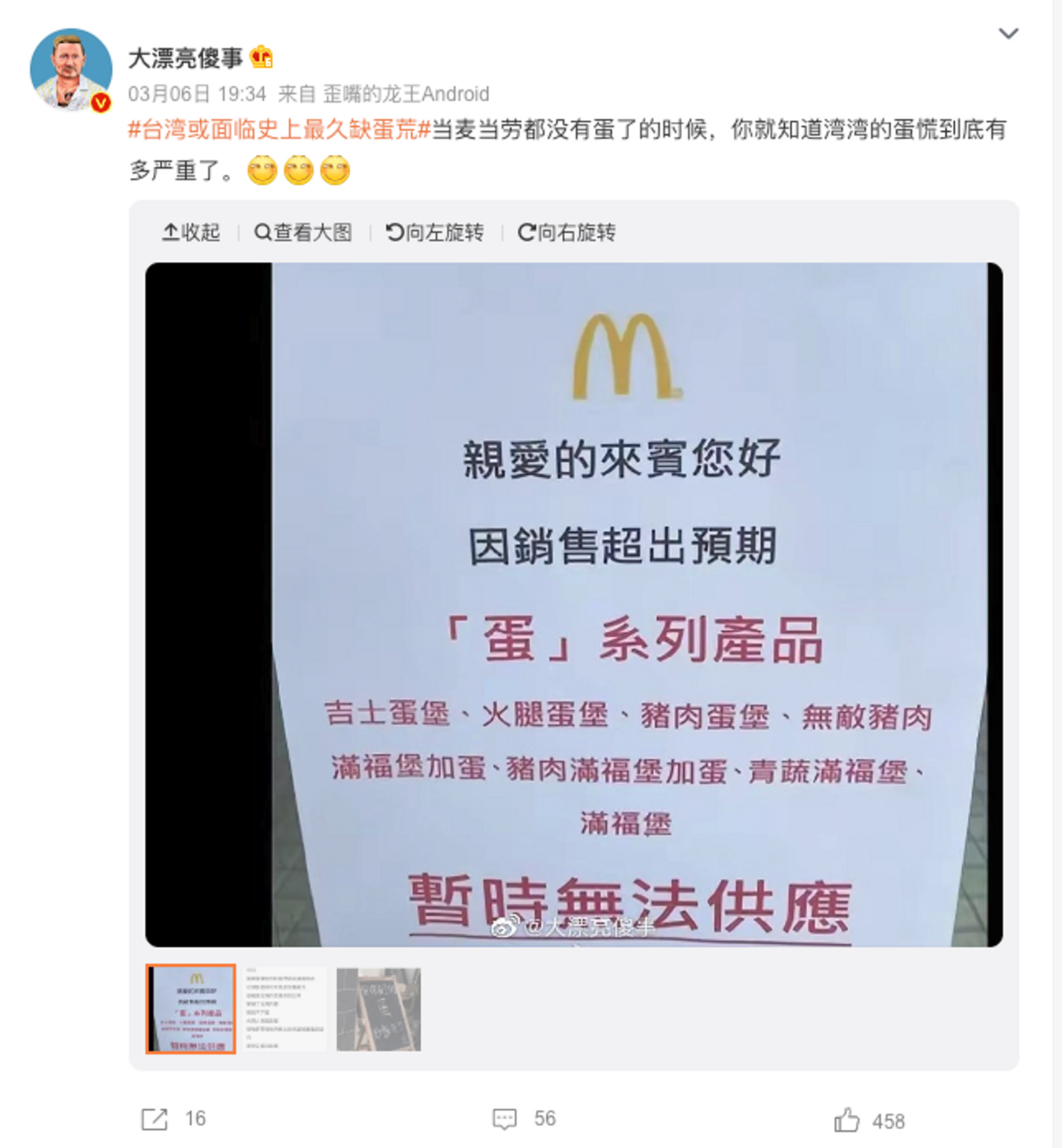 The View From the US
The Biden administration is considering vaccinating chickens to stop the spread of avian flu which has killed millions of birds across the country and driven up egg prices since early last year, the New York Times reported.
The average price for a dozen eggs was nearly $5 in U.S. cities in January, compared to just under $2 a year ago. But egg prices dropped 50% in February –– meaning that relief could soon hit customers.
Experts previously told Semafor that the demand for eggs has decreased over the months and that has cut prices.

The View From India
India is expected to export more than 50 million eggs this month, boosted by an unexpectedly large order from Malaysia. Usually one of Southeast Asia's largest exporter of eggs, Malaysia is also currently facing an egg shortage due to the spread of avian flu and rising feed prices from the war in Ukraine.
The shipments from India have helped Malaysia cool down its egg prices, which peaked in late December last year.
In India, egg prices have shot up to a new high of $6.96 (565 rupees) per 100 eggs.