The News
LAGOS — Bola Tinubu's victory in Nigeria's presidential election with just 37% of the vote has received a mixed response in the country.
In his home state of Lagos, residents curbed expectations in the wake of the political veteran's win, announced on Wednesday in the wake of the Feb. 25 poll. A 45-year-old taxi driver in the upmarket Lekki district, who asked to be referred to only as Adebayo, said he did not expect Tinubu to be transparent with his actions when in office. At The House restaurant, where patrons relaxed to gentle Amapiano music, 26-year-old luxury watch vendor Mary Oma-Williams doubted that Tinubu will stop the rapid depreciation of Nigeria's naira currency against the dollar that has harmed her business for two years.
Oma-Williams, and Adebayo shared one other expectation for the 70-year-old Tinubu: that he will physically struggle to do his job due to age and poor health, leaving gaps in governance that will define Nigeria during his tenure. Analysts say the president-elect's track record could foreshadow his approach to leading the country.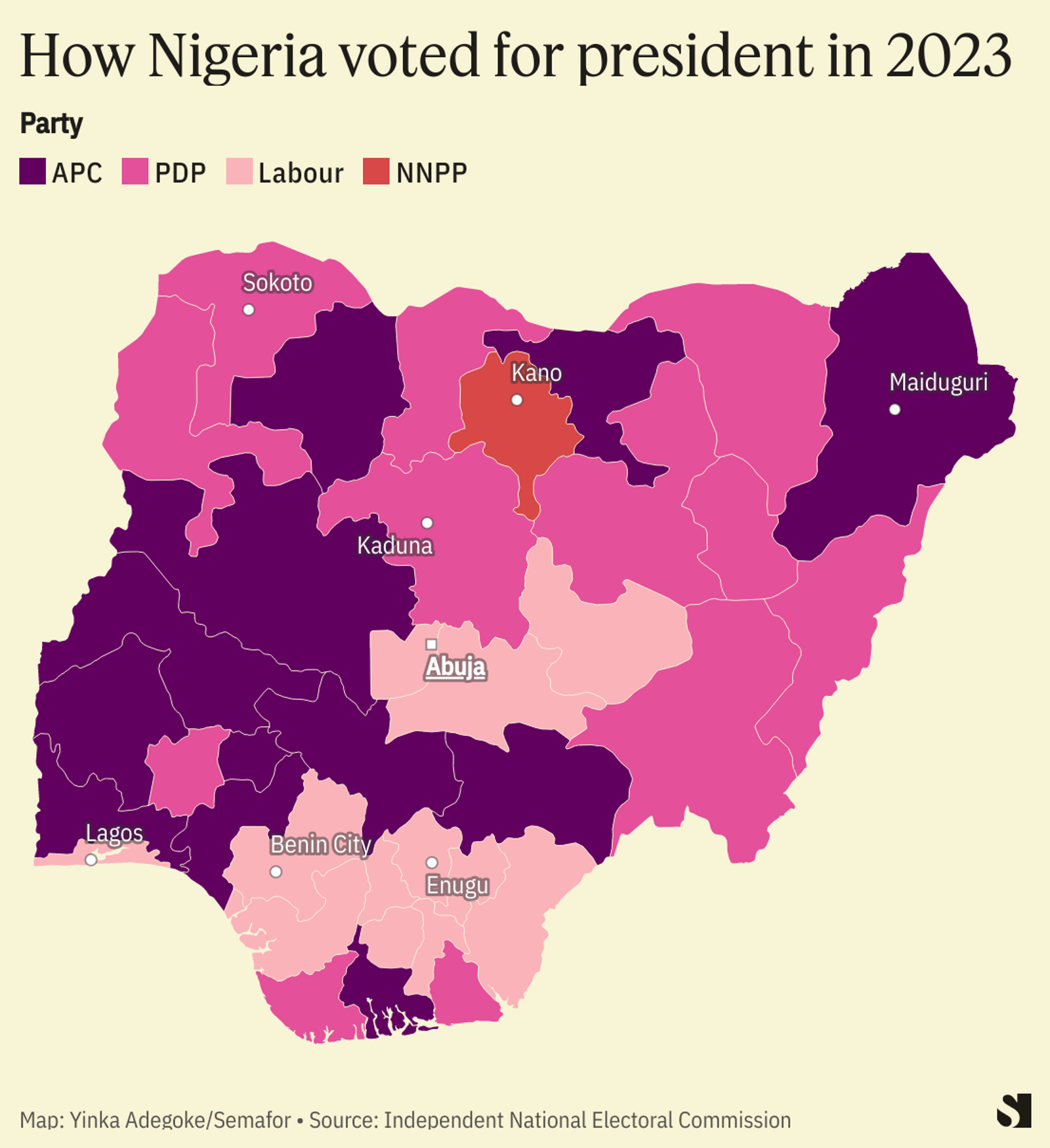 Know More
Who is Tinubu?: Bola Ahmed Tinubu was elected as a senator in 1992, later taking up pro-democracy activism. In 1999 he was voted in as governor of Lagos state when Nigeria returned to full civilian rule. Tinubu is said to have built a vast fortune that funds a powerful political patronage network but details of his exact net worth are unclear.
Leadership style: Market women and bus driver unions are integral to Tinubu's power base in the Yoruba-speaking southwest region. A higher cadre of lieutenants are technocrats drawn from academia and business. Protegés, like outgoing vice president Yemi Osinbajo, tend to stay loyal for decades.
On the Economy: Tinubu is more investment-conscious than the outgoing president, Muhammadu Buhari, which could see him go in a different direction on key issues. He wants to drive economic growth by basing annual budgets on expected spending, not projected oil revenue.
On Security: Nigeria's security challenges, which include kidnap gangs in the south and militant insurgents in the north, may be Tinubu's weak spot. But his manifesto promised to create specialist military units and hire more police officers.
Record in Lagos: Lagos has been Nigeria's commercial center since before independence, but Tinubu is credited with expanding the state's revenue generation capacity by ten-fold to $32 million per month in 2006. All Lagos governors since he left office have been his former aides who largely stick to his masterplan.
Jagaban:  A traditional title meaning "chief of warriors" that was conferred upon Tinubu by a northern Nigerian emir. The moniker is often used to describe him since it's synonymous with his long-term political influence.

Alexander's view
Tinubu has shown a willingness to delegate throughout his career that is likely to be a defining characteristic of his presidency. That management style was evident during his tenure as Lagos state governor between 1999 and 2007 when he devolved some key responsibilities to aides and cabinet members, say analysts. He was criticized for diverting questions directed at him to aides during this election campaign — an approach his spokesman said was taken because Tinubu "wanted to show the caliber of his team."
Feyi Fawehinmi, author of Formation, a book on Nigerian history, expects that Tinubu will assemble an economic management team to handle the details of dealing with high unemployment, soaring inflation, and $100 billion public debt stock in Africa's biggest economy.
A heavily-delegated presidency raises the prospect of a jostle for state control by officials at cross-purposes with one another due to conflicting ethnic and religious priorities. There could be a battle to take advantage of their principal's low-touch approach to shape policy based on self-serving parameters.
Concerns over Tinubu's physical frailty was a hot-button topic during the election campaign when he slurred words in speeches and sometimes needed a friendly arm to walk or climb stairs. None of that stopped him from leaning into a powerful political base built over three decades to win Saturday's vote. But it raises the prospect that a diverse country of 200 million people could be left rudderless if his health worsens in office, as was the case with two recent predecessors.
Elected in 2007 while nursing a kidney condition, Umaru Musa Yar'Adua died in office three years later. Buhari, who will hand over to Tinubu at the end of May, spent nearly half of 2017 in Britain receiving treatment for an undisclosed ailment. His absence evoked tensions where de facto executive power gyrated between his chief of staff, the vice president, and his wife.

Room for Disagreement
Tinubu's reputation for picking successors in Lagos and building a nationwide political coalition will count in his favor, according to Ebenezer Obadare, a senior fellow at the US-based Council on Foreign Relations think tank.
"If he tries to govern from the middle and hew to the business community... Tinubu can be a decent to very good president," Obadare said.

The View From Washington D.C.
Tinubu's actions as president over the next four years could be pivotal, helping to negotiate Africa's role in international financial and political bodies. "Expectations have never been so high," Rama Yade, senior director of the US-based Atlantic Council's Africa Center, wrote.

NOTABLE
Tinubu has been dogged by allegations of wrongdoing throughout his political career. He forfeited $460,000 to the US government in September 1993 in a drug trafficking lawsuit but was never indicted. Tinubu has repeatedly denied the charges.
Winning the vote as the candidate of the ruling All Progressives Congress party means Tinubu's presidency is already being viewed by some as a continuation of the Buhari administration. Analysts predict Tinubu will aim to use the central bank as a money printing facility to fund higher budget deficits in keeping with Buhari's approach in the last eight years.