The News
Ukraine marked one-year of Russia's full-scale invasion on Friday with pride and defiance. "We are strong. We are ready for anything," said Ukrainian President Volodymyr Zelenskyy.
As Kyiv and the world observe the anniversary, we look at some standout moments.

The View From Kyiv
Ukrainian government officials and members of the armed forces gathered for a ceremony in Kyiv on Friday morning.
As he has done throughout the war, reported Reuters, 45-year-old Zelenskyy showed his emotions, holding back tears as he handed out awards to troops and crying when the band played the national anthem.
"We are strong. We are ready for anything. We will defeat everyone. This is how it began on February 24, 2022. The longest day of our lives. The most difficult day in our recent history. We woke up early and haven't slept since," he said.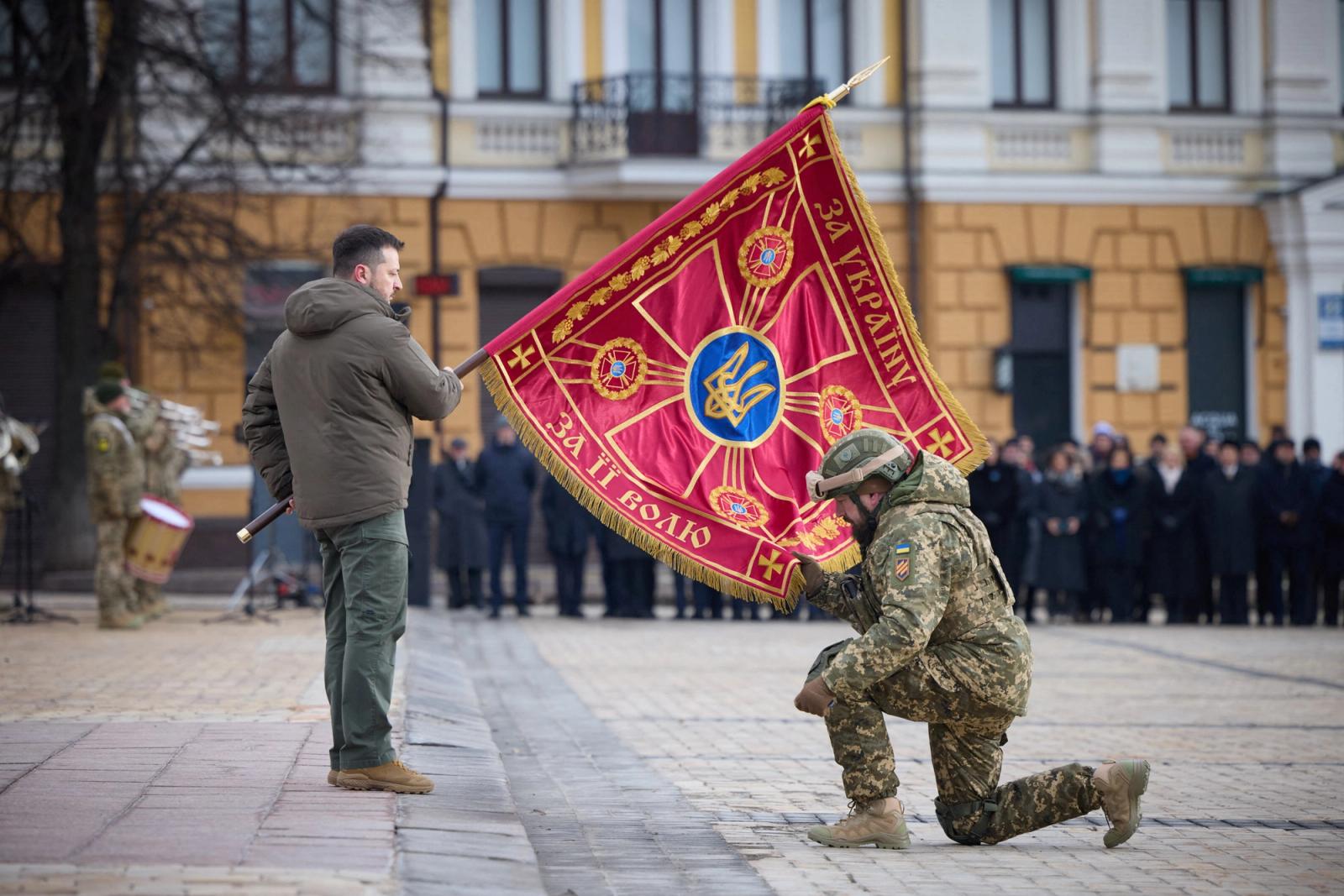 The View From London
On the eve of the anniversary, the British activist group Led By Donkeys painted the road outside the Russian embassy in London in the colors of the Ukrainian flag. Police arrested at least four people.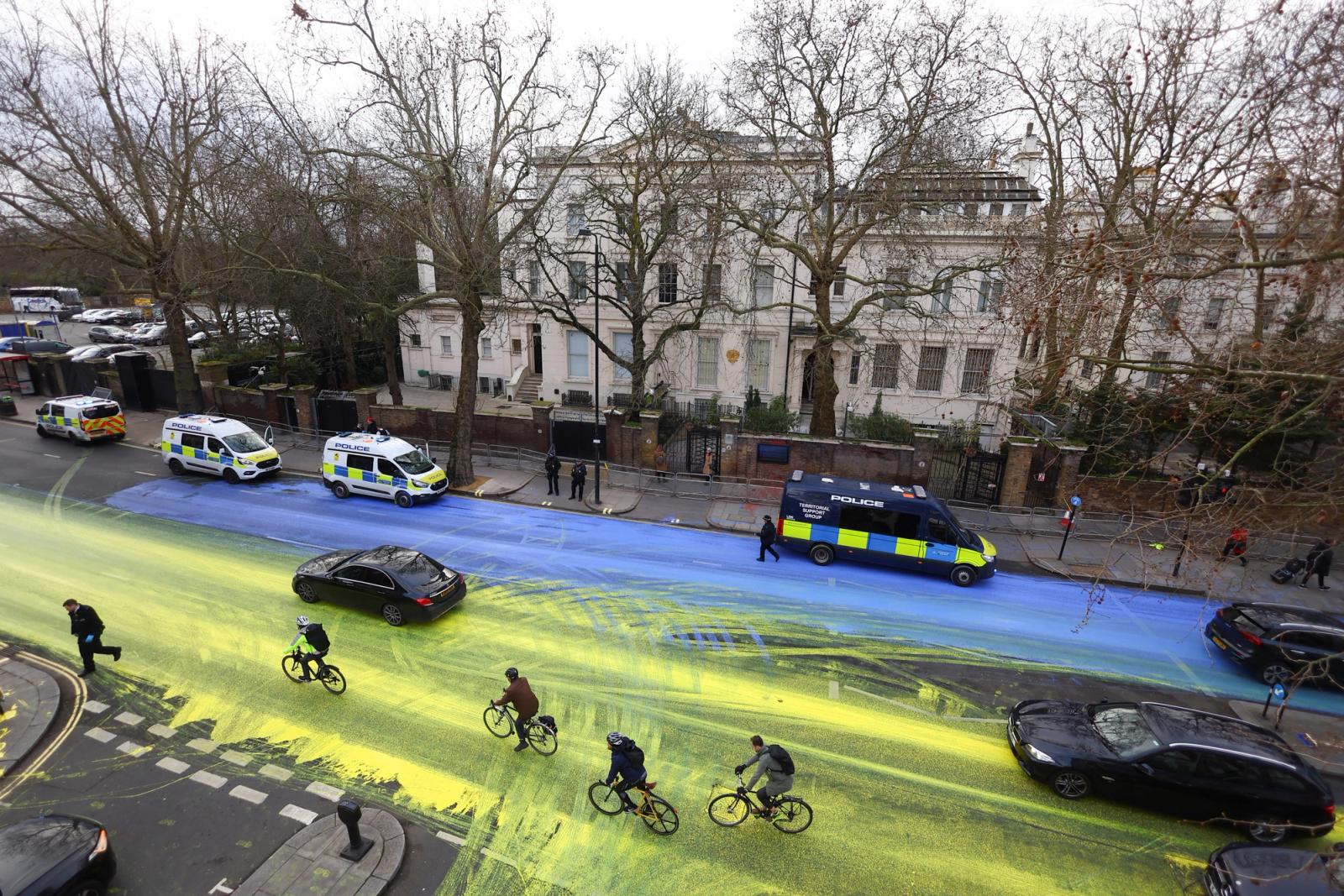 In a tweet, the protesters said that they wanted to remind Russian President Vladimir Putin of Ukraine's "right to self-determination."
The group used 170 liters of paint to create the huge Ukrainian flag.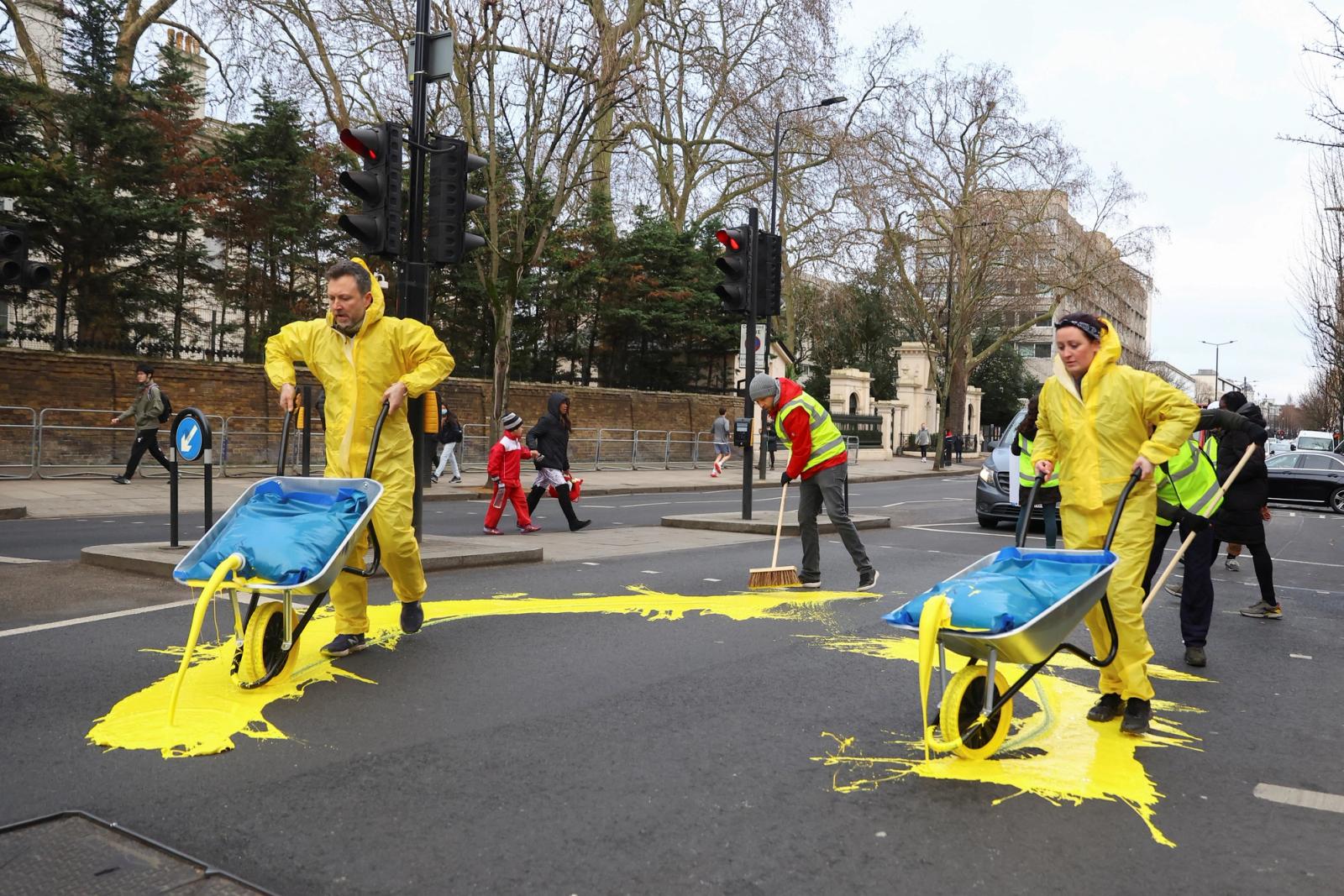 The View From Berlin
German activists Enno Lenze and Wieland Giebel placed a destroyed T-72 Russian tank from Ukraine in front of Moscow's embassy in Berlin.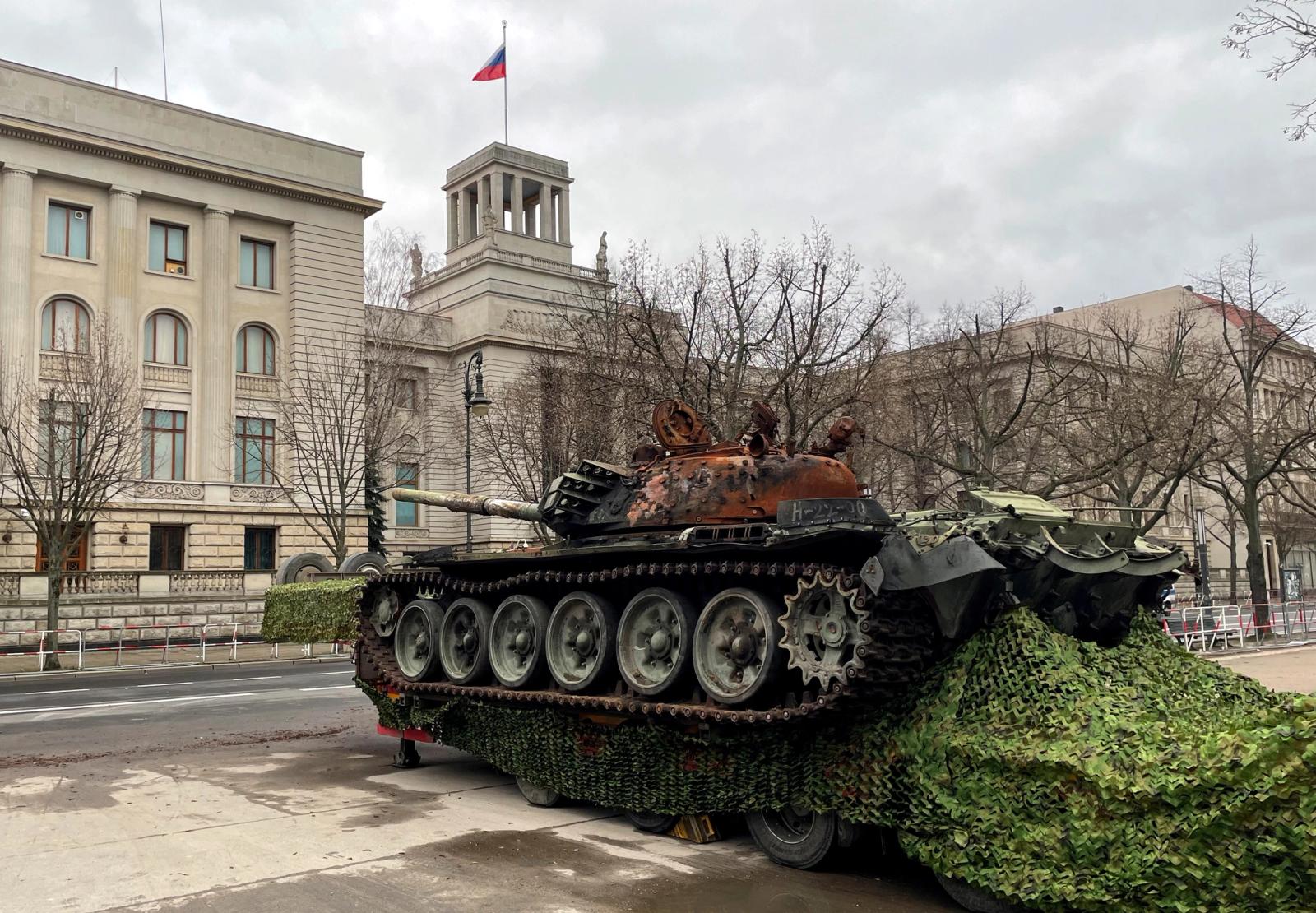 The duo initially faced resistance from the Berlin government, which did not want to grant approval for the display because of a potential violation of a traffic law. An administrative court later overturned the ruling.
"We want to put the junk in front of the terrorists' doors again," Giebel told newspaper Tagesspiegel.

The View From Paris
Paris lit up the Eiffel Tower in blue and yellow, the colors of the Ukrainian flag, on Thursday. It will stay lit in these colors throughout the weekend.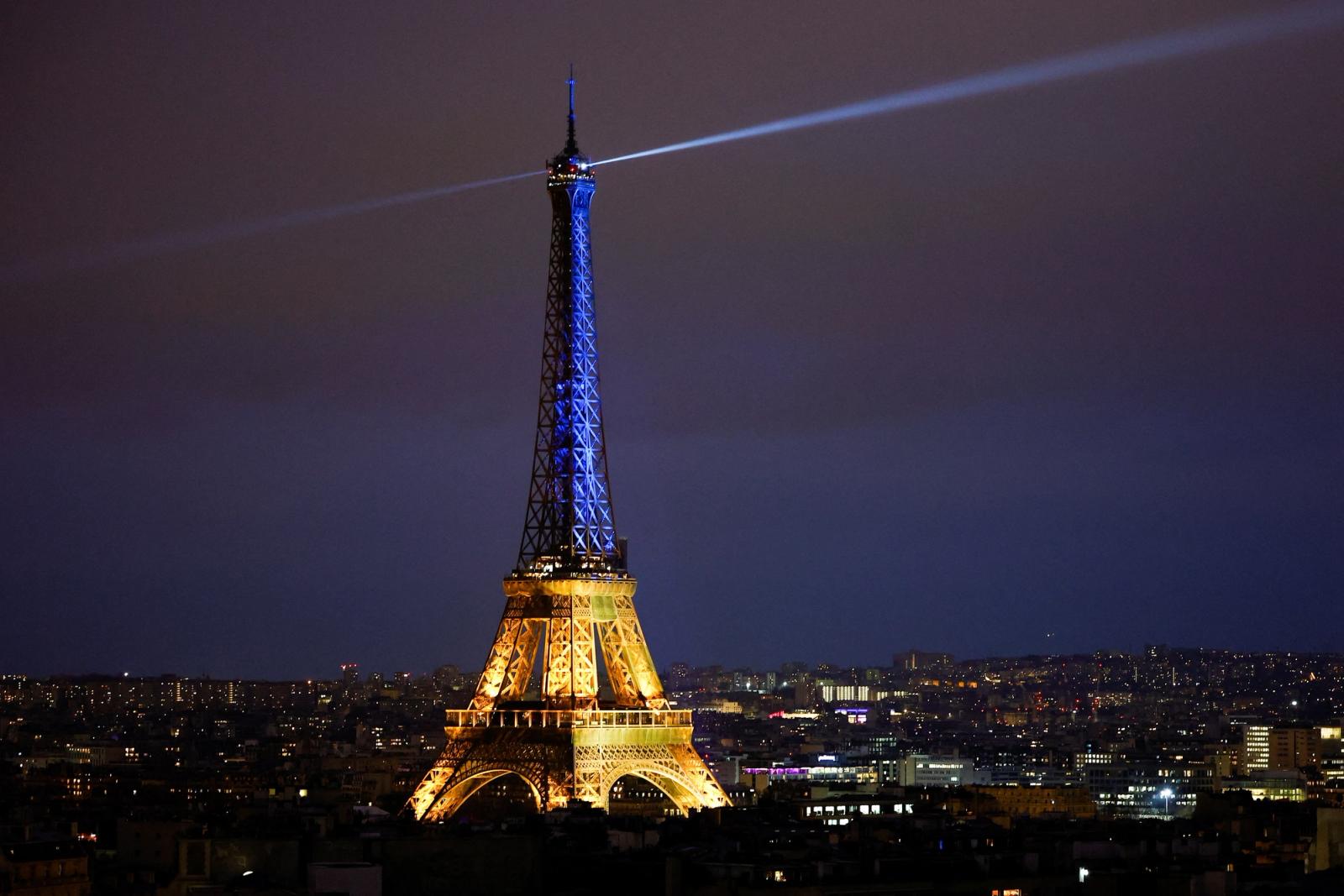 The Paris landmark had previously been lit this way last year at the onset of the war. Notably, however, the Parisian government in September ordered the lights to shut off an hour earlier at night in order to conserve electricity as the conflict deepened the energy crisis in Europe.

The View From Washington, DC
While candlelight vigils outside the Russian embassy were planned in D.C. for Friday, some earlier demonstrators in the city protested for another reason, demanding the U.S. stop providing military funding to Ukraine.
Dozens of demonstrators gathered at the National Mall on Sunday in what was dubbed the "Rage against the War Machine" rally. Some conservative politicians, like former U.S. Congressman Ron Paul, were in attendance and gave speeches.