The News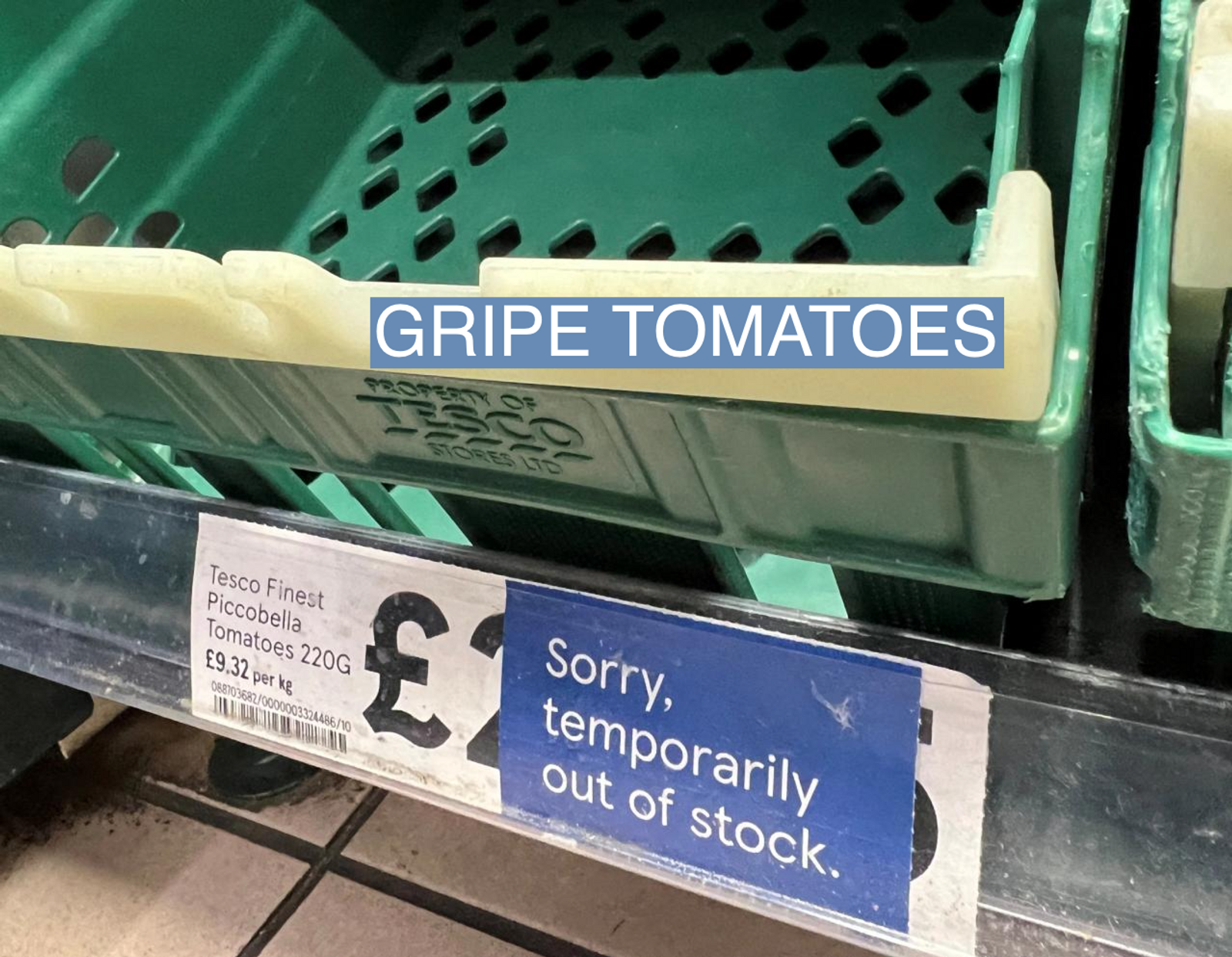 A shortage of tomatoes in British supermarkets has led to consternation among shoppers and politically-charged debates about whether Brexit played a part in the food supply issues.
But there's no dearth of very British reactions to the news — which were only amplified after the country's environmental minister suggested that Brits should eat turnips instead of tomatoes to make it through the shortage.

The Reactions
Some equated the quest for tomatoes to a bloody battle.
Major supermarkets including Tesco, Aldi, Asda, and Morrisons have all placed limits on the number of tomatoes and other veggies shoppers can buy. People who were lucky enough to have tomatoes joked that they were willing to swap them for villas or tickets.
A BBC News presenter said there may be "riots as staff come on for brekkie" in the BBC cafeteria, as traditional English breakfasts lacked tomatoes and eggs.
Thérèse Coffey, the U.K.'s Secretary of State for Environment, Food and Rural Affairs, made headlines Thursday for saying that Brits should "cherish the specialisms that we have in this country," and presented turnips as a seasonal alternative to tomatoes.
Naturally, that generated its own wave of reactions and memes. Many joked about traditional tomato-based dishes that would not be as good with a turnip substitute.
Others compared Coffey's remarks to the Blackadder sitcom, in which turnips are a recurring comedic bit.

The View From Ukraine
Shoppers — and journalists — in Ukraine pointed out that even in cities like Kherson, which is on the frontline of the war, had tomatoes in stock.
It was a similar scene in Kyiv, where British reporter John Sweeney provided a war diary from a supermarket. "In Kyiv, there are no food shortages whatsoever," he said.

The View From The European Union
U.K. government officials have blamed extreme and unseasonal weather in southern Spain and Morocco for the shortages.
But reports of fully stocked tomato sections came in from across Europe — including Spain, France, Portugal, and Denmark — sparking a social media debate called #Tomatogate about whether Brexit was to blame for the shortages in the U.K.
The U.K.'s environment and food office said the country still has a resilient food supply chain, and providers have made it clear that weather problems are causing the shortages.
But local growers have also said that high energy costs led fewer British producers to grow tomatoes in greenhouses over the winter.

Notable
In his newsletter Material World, Sky News economics editor Ed Conway explores how energy permeates and impacts every sector of the global economy, including tomatoes. He writes that "while Brexit is rarely the only explanation for our economic underperformance, it's invariably part of the explanation."