The Facts
Economists are hotly debating whether the world's biggest economy is in a recession. But white-collar workers clearly are.
For the first time since 2002, the wealthiest households got poorer last year, while the poorest ones got richer, according to Federal Reserve data, which goes through the third quarter of 2022. The drumbeat of Silicon Valley layoffs won't make a dent in the Federal Reserve's fight to cool an economy in overdrive, but they are a harsh reckoning for the office set.
For the first time in decades, their labor — rewarded for a decade in bidding wars and escalating workplace perks — is less valuable than the hourly workers who make their companies (and lifestyles) function. And the net worth of billionaires have taken a hit as part of the market downturn.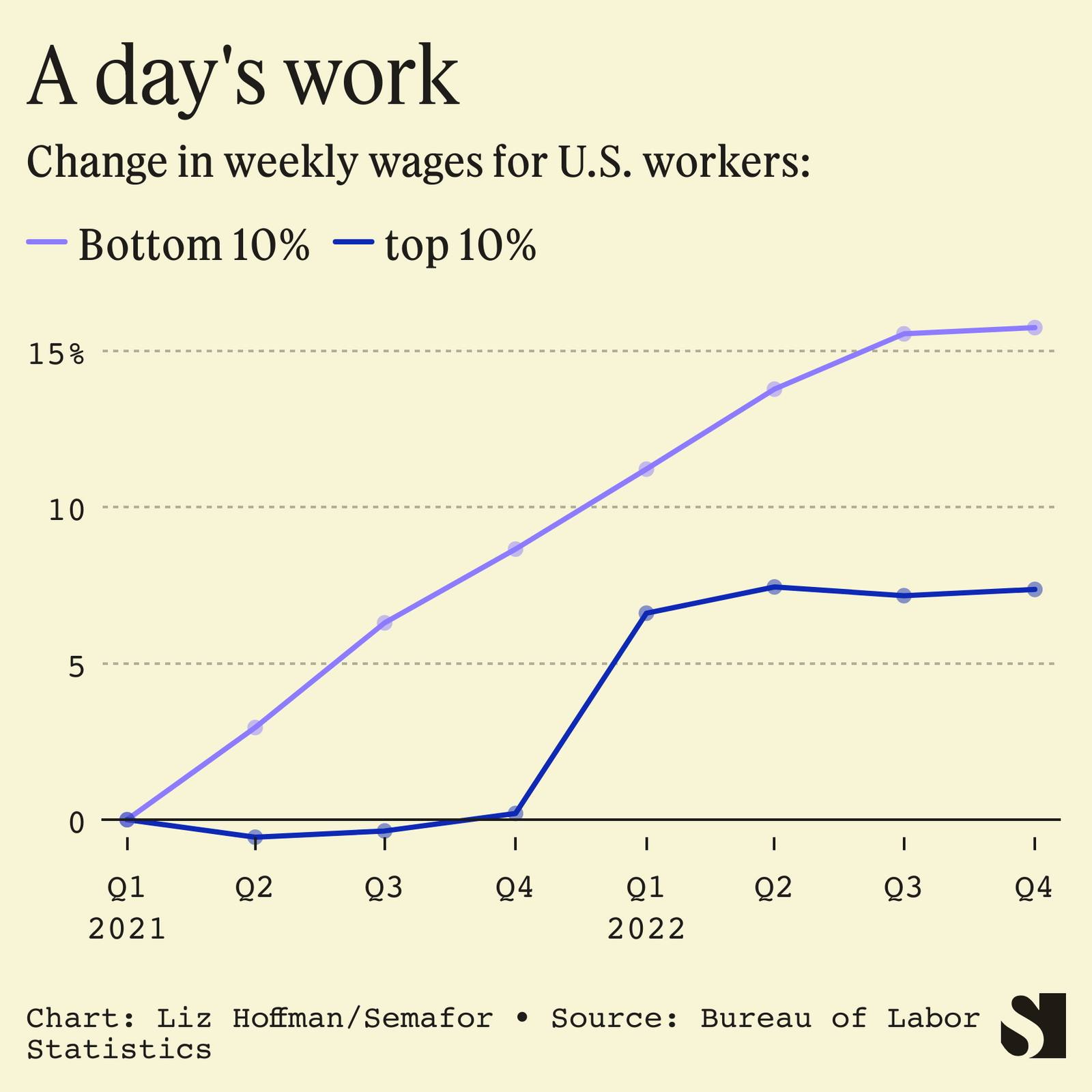 The biggest wage gains in 2022 went to the lowest-paid employees, whose work  — cleaning hotel rooms, sanitizing airplanes, manning checkout lines, caring for kids in daycare and home-bound seniors — has been in high demand as the economy emerged from its hibernation into a consumptive frenzy.
The bottom 10% of U.S. earners, who make $28,000 a year on average, saw their wages rise 10% in 2022, while the weekly pay of the top decile, whose income averages $130,000 (though that may feel like middle class to New Yorkers), has flatlined since last summer in the face of rising inflation, according to Labor Department data
A tougher white-collar job market is stalling salary gains for the Allbirds' set and also limiting the options for those looking to join their ranks. Florian Smeritschnig, a former McKinsey consultant who now advises Ivy Leaguers looking to join his former employer and its peers, said hiring is slowing and interviews are being pushed back a year.
"I have a call later today with a client who has not been able to land anywhere and is now thinking of going into real estate," he said.

Liz's view
Essential workers, extolled during the pandemic, are now getting their share of the post-pandemic upswing. Labor is ascendant in ways big and small. Close to 1,200 unionizing workplaces won their elections last year, a 57% increase from 2021 and the most since 2005. Even the professional class are winning a tug-of-war with their bosses about returning to the office.
Over the past year, the richest 10% of Americans lost at least $1.5 trillion in wealth, and the bottom 50% gained a roughly equal amount.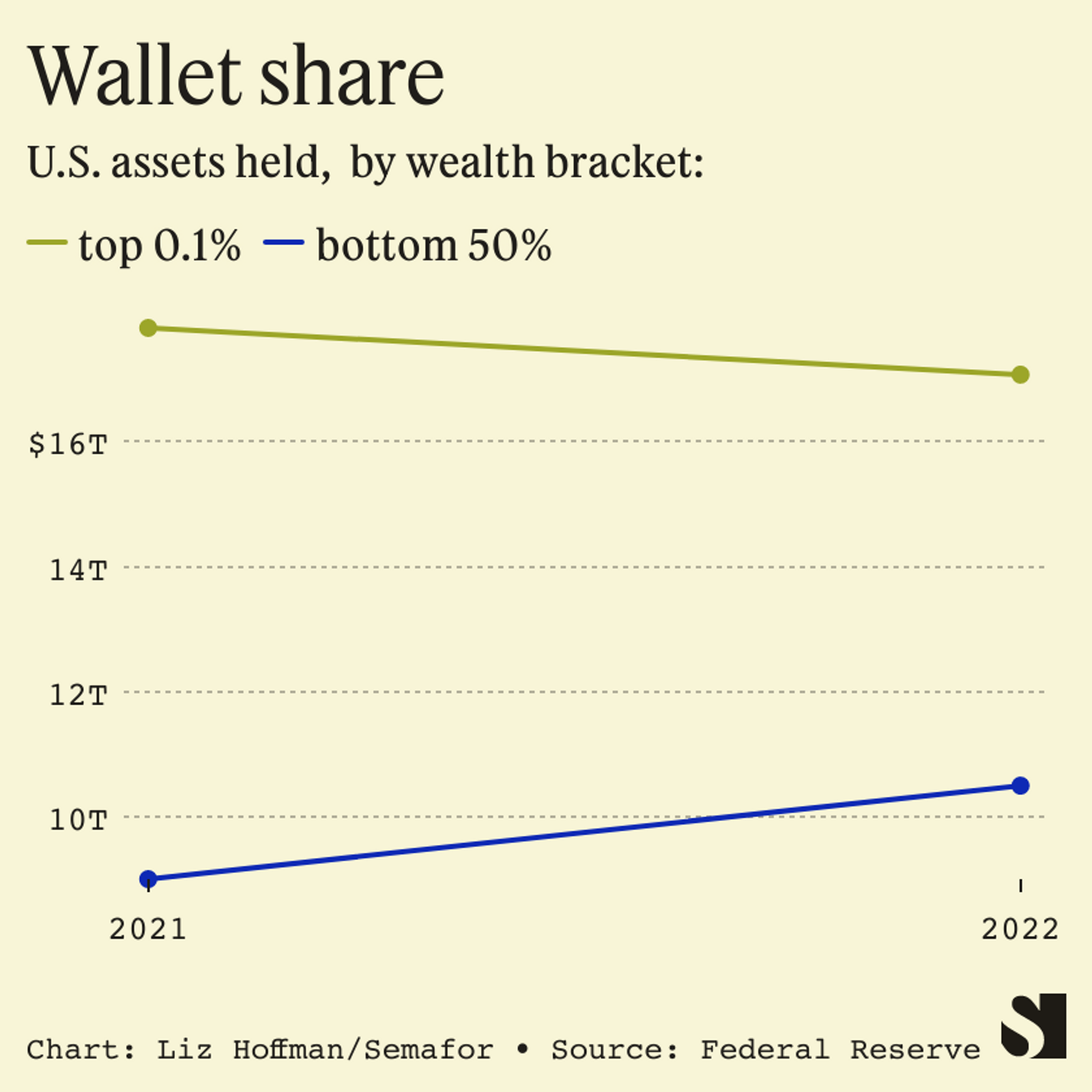 This wealth transfer comes down to two things: higher wages and falling asset prices. The vast majority of stuff — stocks, bonds, homes — is owned by the wealthy, and their values have been falling. (Welcome to a world where money isn't free.) Meanwhile, the value of a day's honest work is soaring. Despite the Fed's efforts, the job market remains red-hot, and companies like Amazon and Target are one-upping each other on wages for hourly workers.

Room for Disagreement
The temporary wealth transfer is likely just that — temporary. Financial assets will likely rally, and those who were able to "buy the dip" and front-load their 401(k)s, a perk unavailable to nearly half of Americans working in the private sector, will reap the rewards when the market rebounds.
And inflation has largely outpaced the rate of wage gains, making the higher pay go less far, while savings built up thanks to pandemic stimulus payments are being spent rapidly.

The View From Paris
If the 0.1% is feeling the pain, they aren't spending like it. At LVMH, the French luxury conglomerate that owns brands like Tiffany, Moët, Louis Vuitton, and more, revenues hit an all-time high last year despite a massive drop in sales in China.
"We've just bought a collection of pink diamonds in an Australian mine that is shutting down, a fantastic collection, worth a certain price, but I think it's almost all pre-sold," said CEO Bernard Arnault, the world's richest man, about consumer demand on the company's January earnings call.

Notable
"Call it the richcession," The Wall Street Journal wrote, noting that if there is a recession, the recovery may begin on more egalitarian footing.