The News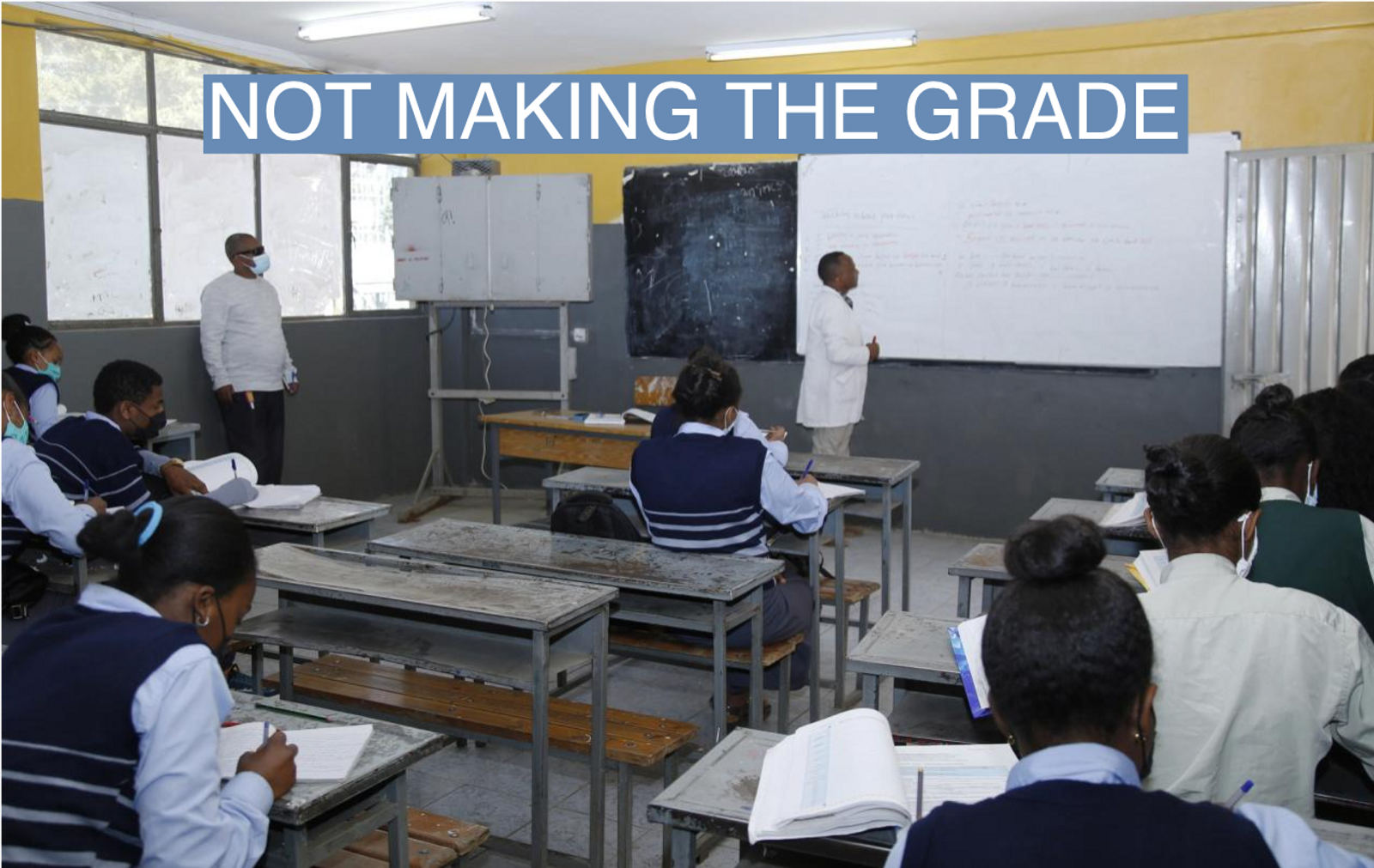 ADDIS ABABA — Ethiopia is taking drastic measures — including dropping entrance standards sharply — to fast-track tens of thousands of failing students into universities as an ambitious policy to expand higher education in Africa's second most populous country falters.
The goal is a central plank of Prime Minister Abiy's long-term economic growth plans and had received a huge funding boost in recent years.
The education ministry on Monday announced it had set up a remedial program as a "one-time solution" for thousands of students after only 3.3% passed the entrance exam for admission to any of the country's 42 public universities. It also lowered the pass mark to 30%, down from 50%, in order to be able to admit more students in the next academic year.

Samuel's view
Ethiopia, which has had one Africa's fastest growing economies over the past decade, has prioritized improving access to education to make itself a regional manufacturing hub with an expanded service sector. The goal is to develop a workforce whose skills and education give it a competitive advantage in attracting foreign investors who can help create more jobs.
The two-year war in the northern Tigray region has thrown Ethiopia off course in its attempt to meet its economic goals. And the problems in its education system means the government needs to reappraise its long term development aspirations.
The government has pumped money into its education program. Ethiopia's education budget has steadily increased in recent years, although it was cut last year as funds were allocated to the war. The number of public universities in Ethiopia has quadrupled in the last two decades. But attainment levels haven't kept up with the pace of investment, forcing the government to choose between lowering standards and leaving newly built universities largely bereft of students.
Only 29,909 students scored the 50% pass mark in the exam for public universities out of the 896,520 who took the paper in October 2022, according to the country's examination board. It means public universities, which can accommodate up to 150,000 students, would be nearly empty.
One reason for the poor results: the war in Tigray. Many students across the country had their education disrupted at some point. Students in Tigray were effectively out of school for two years.
The education ministry has also been cracking down on widespread cheating in the exams. Officials stopped online exam leaks and only used university compounds to supervise those taking exams.
There are signs of a deeper malaise within the country's tertiary education system. University degrees can allegedly be purchased from public universities and instructors have reportedly failed to pass their own qualifying exams on the subjects which they teach.

Room for Disagreement
Woube Kassaye, an associate professor of curriculum at Addis Ababa University, agrees that the Ethiopian public education has myriad problems but thinks it can be improved through targeted interventions.
"The deterioration of the quality of education has become obvious. Quality of education is affected by various factors such as curriculum, teacher's qualification, professionalism and politics", he said, adding that the poor quality of education is a failure of the overall system.
These problems in the public sector have forced many youngsters to look for places in one of Ethiopia's 306 private higher education institutions.
"If students cannot get the opportunity to go to university, there are other practical options," Abdiaziz Ali Hussein, an education expert in Jijiga, capital city of the country's Somali region, told Semafor. "These are in the private sector in the vast private schools, colleges, technical and vocational institutions that can give them targeted skills that can benefit them when they join the labor market."

The View From Nairobi
Kenya's government last month said it had entered into talks with foreign investors to take over some of its public universities as part of its drive to tackle its unsustainable debt. The country's trade minister said Kenya can no longer ignore the ballooning debts of its higher learning institutions. But labor unions representing the staff of public universities rejected the government's plans. They argued that privatization of education on the scale proposed would make it impossible for poorer students to afford higher education.
Christopher Odhiambo, a drama professor at Moi University, the second largest in Kenya, told Semafor Africa the government was wrong to contemplate reducing the pool of public universities. "Education in Kenya is already semi-privatized because most subsidies have been withdrawn and students are taking loans to pay for it," arguing that this had contributed to a deterioration in the quality of Kenya's education system in recent years.
"Since opening up to privately sponsored students and lowering university entry grade, our universities have witnessed an increased number of students in admissions each year," said Odhiambo. But, he added, teaching staff numbers had remained steady over the same period, making it difficult to have enough contact hours with students.
— With Muchira Gachenge in Nairobi

Notable
Ethiopia's Education Minister Professor Berhanu Nega has been clear that the terrible results from this year's examinations show just how many challenges the Horn of Africa country is facing as it pursues its expansionist ambitions. The drive, which has been going for two decades, has meant the country has had one of the fastest-growing education systems in the world, writes University World News.