The News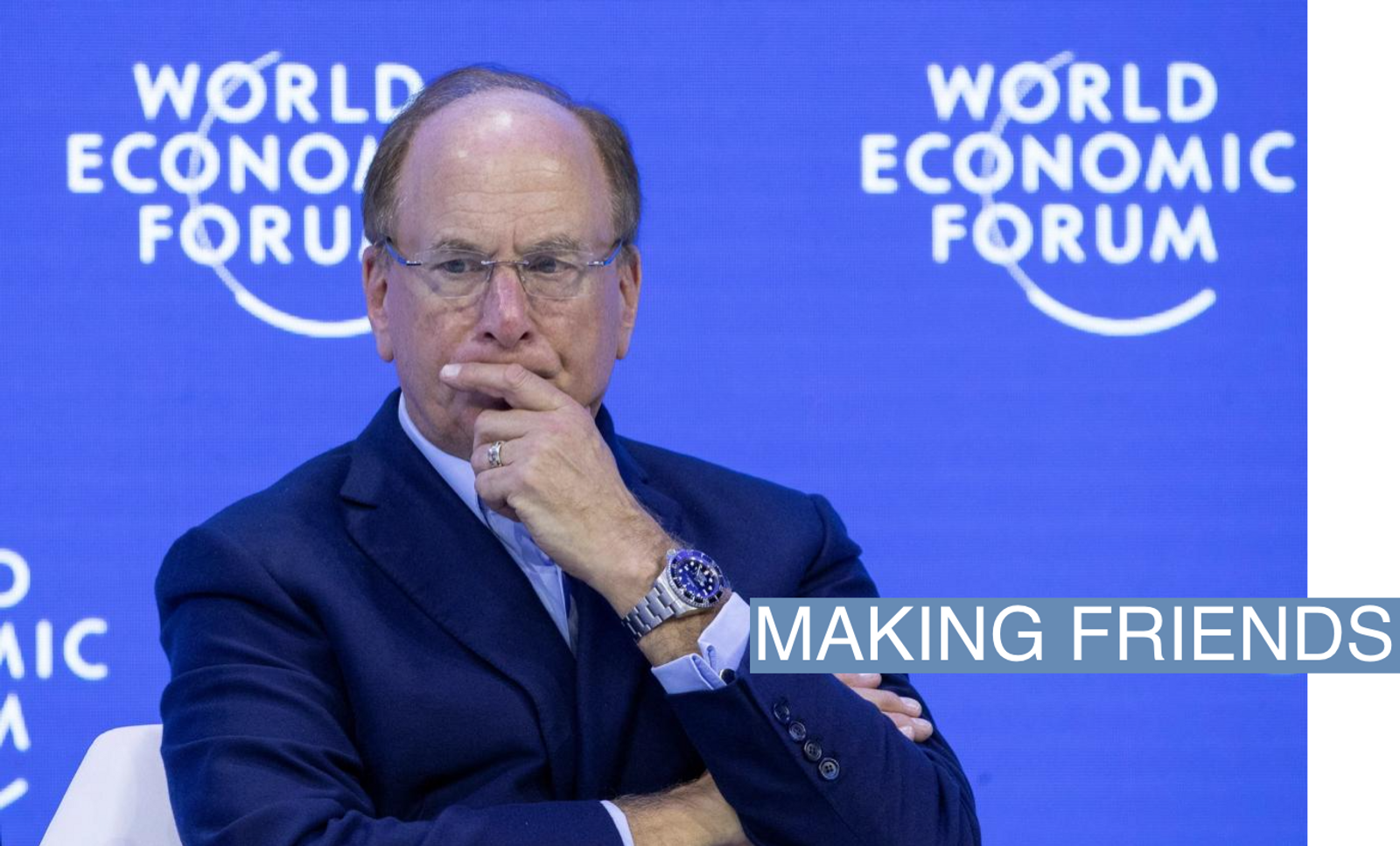 In the culture wars over sustainable investing, we've arrived at the backlash to the backlash.
Last year, Republican-controlled legislatures began passing laws blacklisting state investment funds from doing business with money managers that pushed what they deemed to be liberal agendas, like boycotting gun manufacturers and mining companies. BlackRock, run by Larry Fink, an outspoken supporter of so-called ESG principles, has taken the brunt of the pressure, with at least 10 states pulling their money from his firm or threatening to.
"If Larry or his friends on Wall Street want to change the world — run for office," Florida's chief financial officer said in December, when he announced the state would pull $2 billion out of BlackRock, which he accused of running a "social-engineering project" with clients' cash. A chorus of state governors, treasurers, and attorneys-general joined in, and the American Legislative Exchange Council, a test kitchen for conservative legislatures, outlined model bills that statehouses could propose.
In recent months, though, several campaigns have failed even in conservative strongholds, and studies have calculated the financial cost to these ideological stances. They include:
Indiana's budget office found that a bill forcing state pension funds to divest from "woke" money managers would cost $6.7 billion over the next decade in sub-market returns, forcing retirees to increase their paycheck contributions.
Executives in charge of one of Kentucky's retirement funds sent a letter last week to the state's treasurer, arguing that a recent law requiring them to pull money from BlackRock and 10 other firms deemed hostile to the energy industry would violate their duty to get the highest returns for pensioners. BlackRock manages one-third of the fund's international stock holdings, according to Ed Owens III, CEO of the $10.8 billion County Employees Retirement System.
A 2021 Texas investment blacklist cost municipalities an additional $303 million to $532 million in bond interest, according to a study by University of Pennsylvania's Daniel Garrett and Federal Reserve researcher Ivan Ivanov. JPMorgan, Citigroup, and other big banks left the state after the law was passed, leaving less competition for the underwriting deals and pushing interest rates about 40 basis points higher in the eight months that followed, they found.
The board of the American Legislative Exchange Council ended up rejecting a proposed model bill that would have required states to stop doing business with companies considered to be boycotting fossil fuels.
North Dakota last week voted down, 90-3, a Texas-style bill that would have required the state treasurer to prepare a blacklist of financial firms that have committed to reducing carbon emissions. but would have stopped short of banning state investment funds from doing business with them.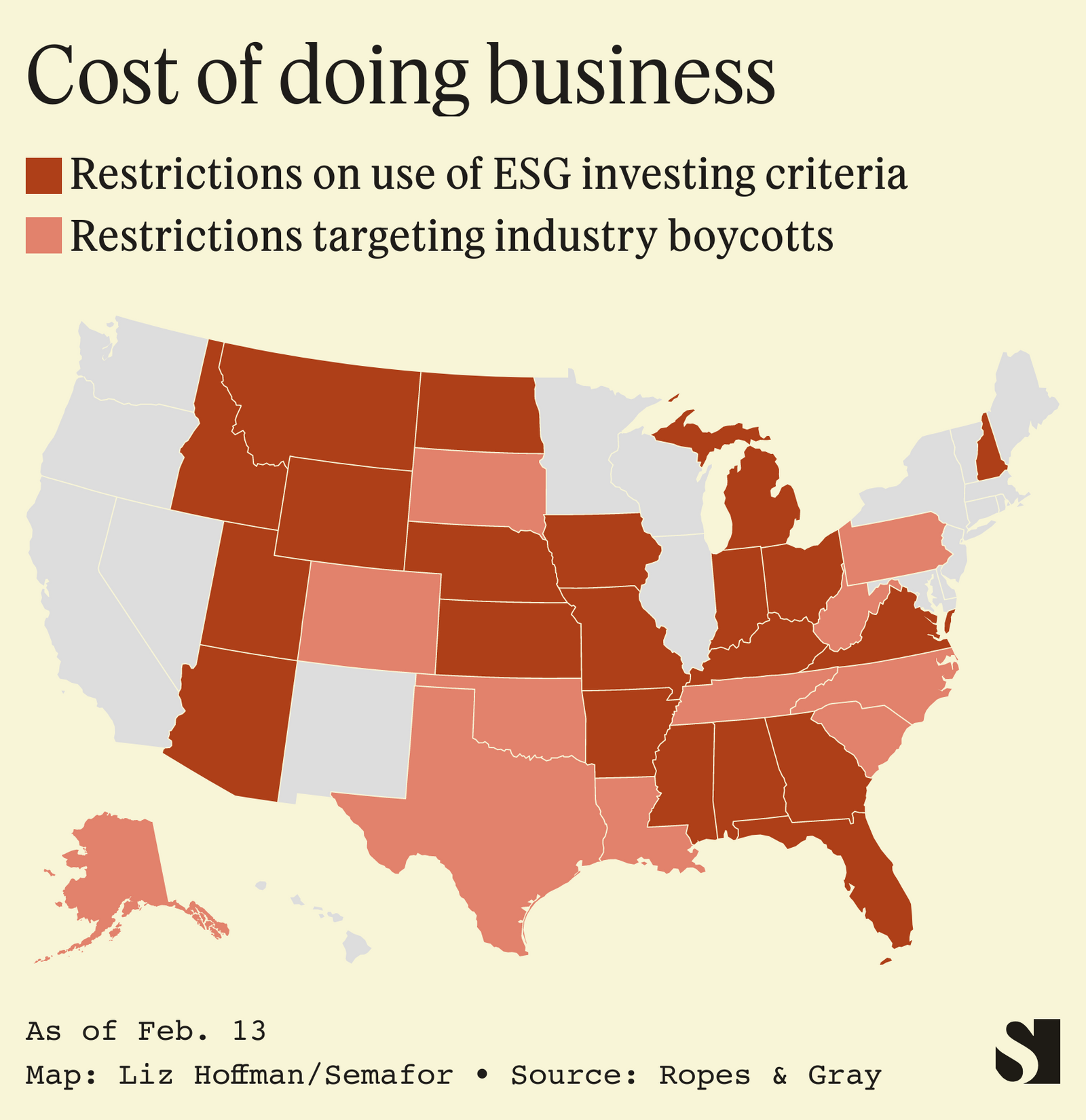 Liz's view
Owning the libs turns out to be expensive.
Whether politicians decide the political value of these stances more than compensates for the lost profits is another question. So too is whether voters, who are also taxpayers and pensioners, will punish them for it.
And as my colleague Bradley wrote in the fall on a different investing conundrum, that of Catholic funds, there are trade-offs all across the moral spectrum between principles and profits. But the fact remains that limiting choice in money managers will lead to less choice, worse returns, and higher costs.
And the political gains have already been wrung from the fight. BlackRock is beating a hasty retreat from the front lines of ESG, touting its investments in fossil fuels and rolling out technology that will let investors cast their own ballots in corporate elections instead of outsourcing their votes to the firm. The move would blunt criticism that BlackRock is using its $8.6 trillion in assets to push a progressive agenda.

Room for Disagreement
Yesterday brought one sign that the political juice may not have been wrung from this sacrificial stone. Politico reported that Vivek Ramaswamy, the "anti-woke" investor and corporate crusader, is planning to run for president in 2024. The 37-year-old grabbed headlines last year for campaigns urging companies such as Disney and Chevron to keep politics out of the boardroom and simply focus on making money.

The View From Bismarck, N.D.
The North Dakota bill, which was aimed at kicking out banks that had signed on to global emissions-reduction targets, failed when, upon closer examination, it turned out it would hamstring local banks' ability to lend, its sponsor, Rep. Bernie Satrom, told me this week.
"That's the danger in some of this. Everything is black and white until you look closely," he said. "You can't stand on principle and then freeze to death."