The News
The price of eggs at United States grocery stores went up again in January, according to new data from the Bureau of Labor Statistics.
The average price for a carton of a dozen eggs was nearly $5 in U.S. cities in January, compared to just under $2 a year ago. But there's reason for hope, as the wholesale price of eggs has started to drop, experts say.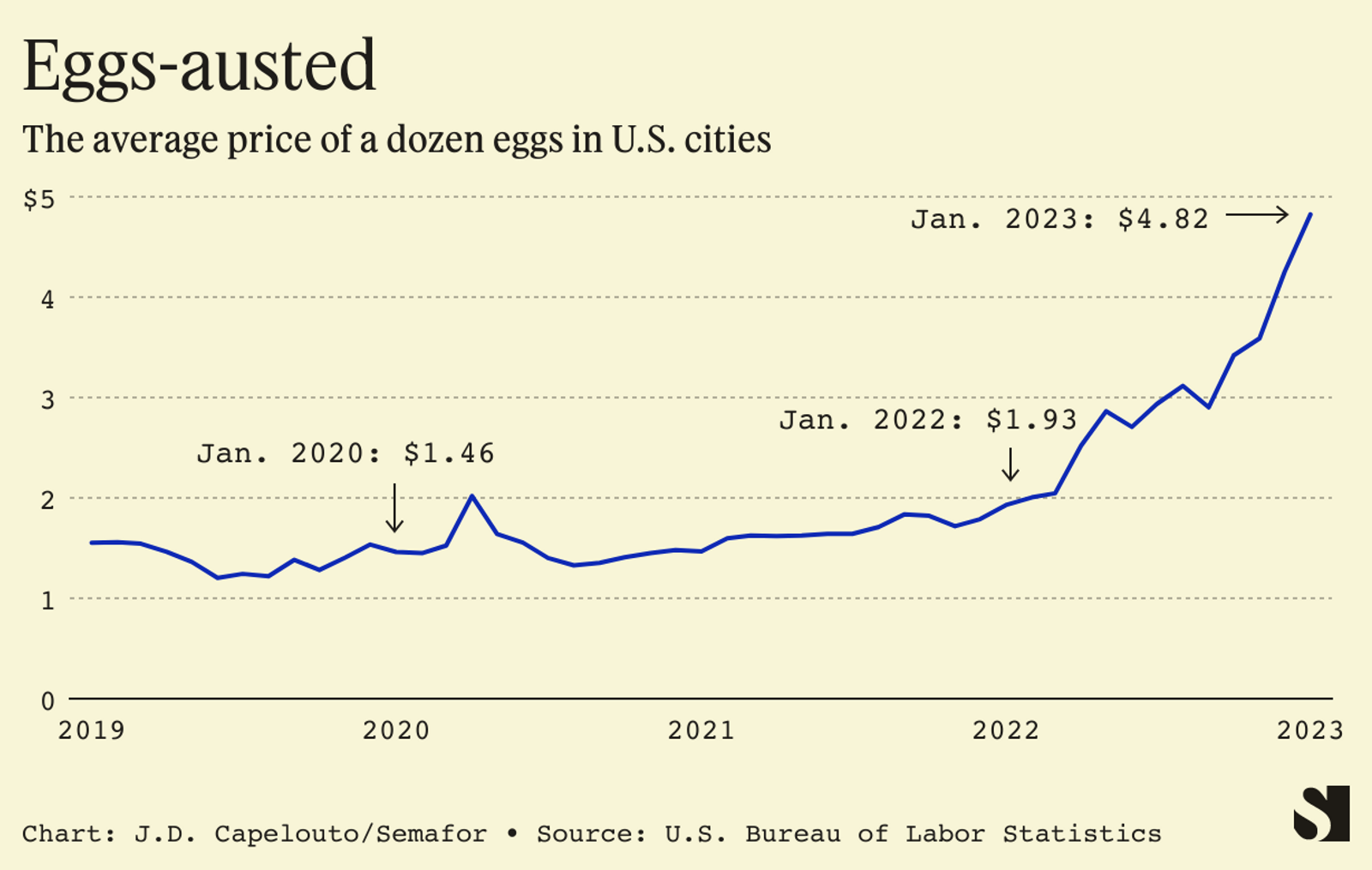 Know More
The overall Consumer Price Index for eggs increased 70% from January 2022 to January 2023. Prices jumped 8.5% in the last month alone.
Costs have been on the rise for the last year, spiking at the end of 2022, after an avian flu outbreak wiped out millions of birds and reduced egg supply.
But Robert Frick, corporate economist at Navy Federal Credit Union, tweeted Tuesday that egg prices are no longer an "eggsistential" threat.
That's because the price of wholesale eggs — which retailers purchase in bulk before they are sold to customers — have begun to drop, according to recent data.
CNBC reported that wholesale egg prices were down about 50% in February after peaking in December 2022, meaning relief could soon hit customers.
"The reason for that isn't that they solved the avian flu crisis yet. It's because people have backed off buying eggs because they're so expensive," Frick told Semafor. "The demand is down and that has cut prices."
He predicted customers will start seeing prices drop over the next few months.

Step Back
Some have accused large egg producers of taking advantage of the avian flu to price gouge.
The advocacy group Farm Action sent a letter to the Federal Trade Commission last month, asking officials to investigate what they described as a "a collusive scheme ... to turn inflationary conditions and an avian flu outbreak into an opportunity to extract egregious profits."
It specifically called out Cal-Maine Foods, the largest egg producer in the country, which reported a ten-fold increase in profits, but said in a recent investor report that it had no reported cases of avian flu at its facilities.
The FTC declined to say whether they are launching an investigation.