The News
Some of San Francisco's tech reporters were planning on attending a happy hour at House of Shields on Monday night, but organizers had to cancel it because so many of the guests were headed to Seattle.
It's been eight years since Microsoft captured journalists' and consumers' imagination like this (With the HoloLens). We all flew north to see the unveiling of Prometheus, Microsoft's specialized version of the artificial intelligence that powers the wildly popular ChatGPT. Prometheus will be integrated into the software giant's Bing search engine, its Edge browser, and eventually, its entire line of business products.
In an address to a crowd of about 100 journalists and industry analysts, Microsoft executives demonstrated how Prometheus could instantly plan an itinerary for a family vacation to Mexico City, or tell you how to substitute an egg in a recipe, all without ever having to visit a web site.
Microsoft expects its new browser and search engine to instantly compete with Google, which rolled out its own answer to Prometheus, named Bard. Bing, which has never been able to steal significant market share from Google search, will become more powerful with the Prometheus artificial intelligence.
"The race starts today," Microsoft CEO Satya Nadella said.

Reed's view
Tuesday's news wasn't really a product announcement. To me, it was a complete reorientation of Microsoft around this new breed of AI that has taken the world by storm, the same way Bill Gates pivoted to the internet in the 1990s.
In that sense, the event is broader than just Microsoft, which makes the bulk of its revenue selling services like Office products and cloud hosting to other companies. The entire technology industry is about to be upended.
Microsoft is uniquely positioned to benefit from the shift. Many of the applications of these AI "large language models," which are capable of digesting seemingly infinite sources of data, will be more valuable to companies than they are to individuals. And serving companies is in Microsoft's wheelhouse, more so than it is for Google.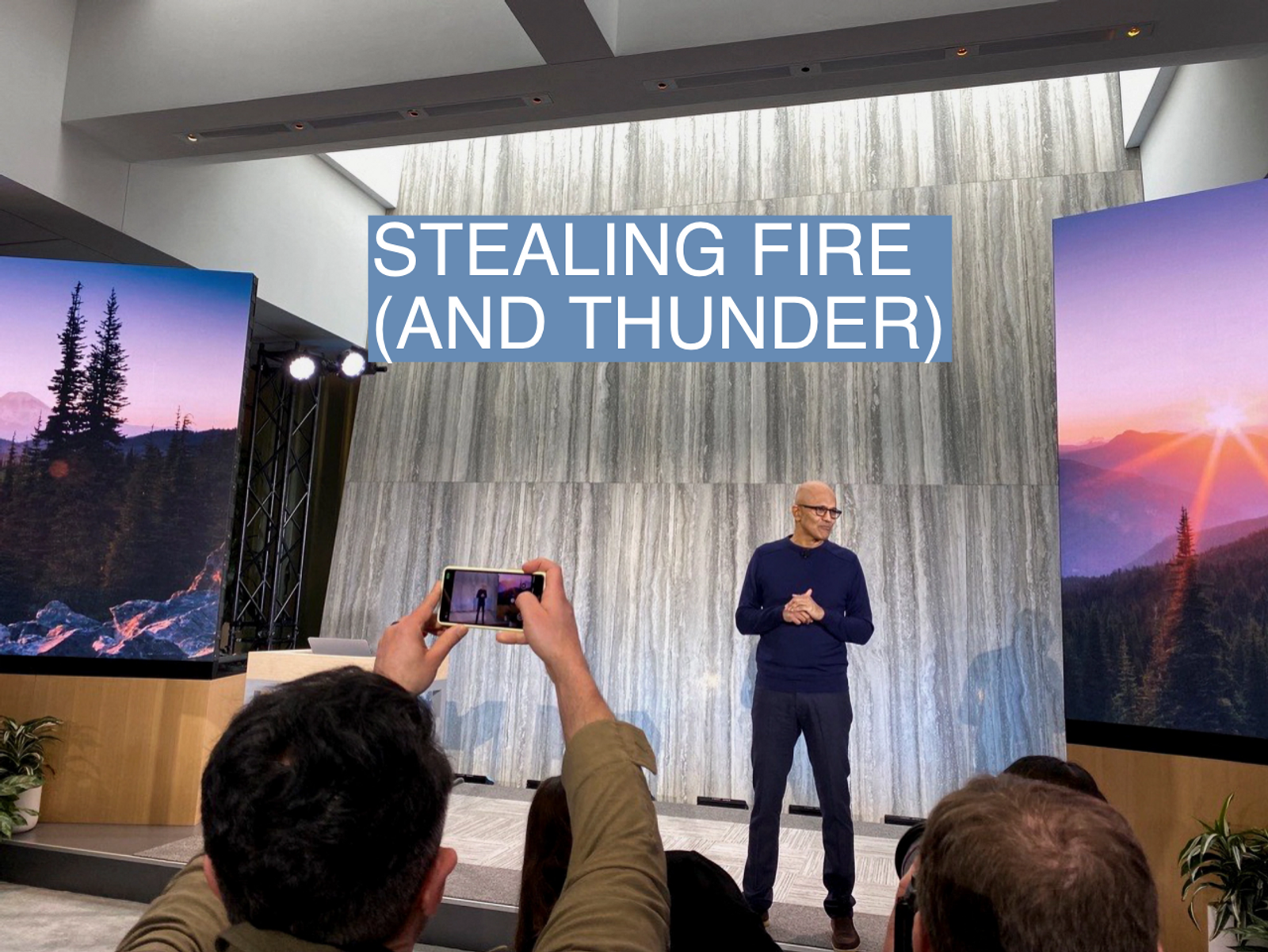 It's clear that this transition has been in the works for years and that Nadella saw this AI revolution coming and played the long game. By the time Microsoft first invested in ChatGPT creator OpenAI in 2019, it had already begun to build the institutional muscle necessary to capitalize on the breakthrough, investing in the safety guardrails for the technology as far back as 2017.
OpenAI brought Microsoft a key ingredient: Cutting edge AI research that broke through the previous limits on how much data these models could digest.
Microsoft has now spent years building highly specialized servers optimized to run OpenAI models for millions of users. And the number of users is really the key to making this technology practical.
Mind blowing AI product demonstrations are one thing. But if that technology can't be run efficiently on servers, it isn't going to make it to market. Microsoft's advantage may not be the AI technology itself. It's all the infrastructure needed to make it work in an economical way. Whether that takes weeks, months or years is the key question.
Microsoft's competitors — led by Google — are now playing catch-up. On Wednesday, Google showed off its Bard technology at an event in Paris, but it was not the main focus of the event, which included other new product announcements.
Facebook is also a big player in the AI game and has released its own chatbots. But it's unclear how it can profit from it in the same way that Microsoft and Google can.
And then there's Apple and Amazon, which seem to be left behind in the AI arms race. This isn't to say they can't catch up. This revolution will take years to play out. Nobody really knows where it's headed.
In fact, the very nature of this technology is not well understood by Microsoft, Google or the researchers who have pioneered the underlying models.
One example: Prometheus, which I got early access to and have been playing around with, seems to have multiple personalities. The same question won't always result in the same answer the next time you open up a browser window and begin a new chat.
The reason for this isn't completely understood, but it may have something to do with the way the work is divided up among the hundreds of thousands of central processing units searching for the answer. In essence, each time you open the window, you're chatting with a new, unique entity.
A lot is unknown, but one thing is certain. Microsoft has already beaten its competitors in at least one area. It came up with the best name for its AI. Bard, Claude and Ernie just don't compare to Prometheus, who stole fire from Zeus to give to humanity, which he created out of clay.