Joe Manchin still won't say whether he'll run for reelection (or president)

The News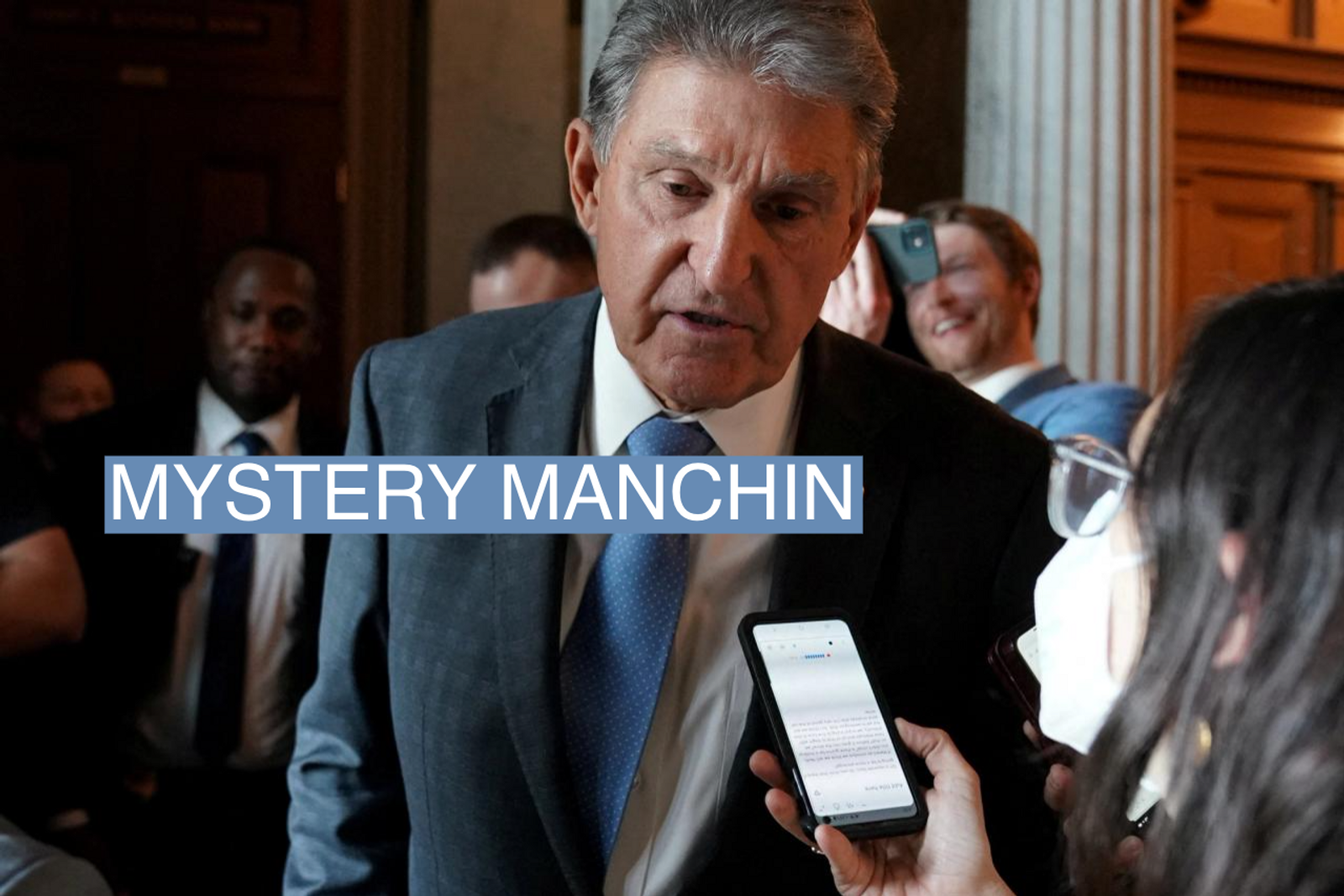 Sen. Joe Manchin, D-W.V. sat down with Semafor's Steve Clemons in a wide-ranging virtual discussion Tuesday about the economic and environmental challenges facing the US.
Manchin remains an influential centrist in the Democratic-led Senate, maintaining an unflappable faith in bipartisanship and dealmaking that has recently put him at odds with the White House on whether his party should negotiate on lifting the. debt ceiling. Here are some highlights from the chat.

ON 2024
Manchin didn't rule out a 2024 presidential bid. "The only thing I'm considering is what can I do to bring the country together," he said. "I don't know what the next chapter will be."
Manchin also still hasn't decided whether he's running for reelection in West Virginia. But he said he was focused on establishing a centrist space in American politics at the moment."I feel like most Americans, we've got to come together. Americans want to be united. They want to be together and right now they're further apart."

ON ENERGY
Manchin chided the Biden administration for slow-walking new regulations on electric vehicle tax credits until March. He also swung back against criticism from the European Union that clean energy subsidies under the Inflation Reduction Act puts them at a competitive disadvantage.
"We're not harming anybody in Europe, any of our greatest allies," Manchin said. "What we're doing is basically making ourselves strong enough to help them."
Manchin also argued a reliable source of natural gas was key for energy independence, and strongly defended gas stoves from a possible ban. "Just don't tell me you're coming after my stove. You want to piss me off? Come after my stove," Manchin said.

ON THE DEBT CEILING
Manchin has previously advocated the idea of calling a fiscal commission focused on finding ways to keep the Medicare and Social Security trust funds solvent, and suggested it could be part of a deal to raise the debt ceiling. The White House recently derided the idea a "death panel" for the entitlement programs.
On Tuesday, Manchin pushed back.
"We're in a death spiral right now," Manchin said, referring to the programs' finances. Though critical of the $31 trillion national debt, he also rejected the idea of putting entitlement programs up for spending cuts as part of a debt ceiling deal. Manchin reiterated he doesn't "want to scare the bejesus" out of people who rely on them for benefits.
But he didn't use the same language when asked whether the idea of adding work requirements to Medicaid, which some Republicans have recently discussed, should be taken off the table in debt ceiling negotiations. "Everybody's asking about what's basically the Bill Clinton welfare to work. I support it then, I support it now," he said.