The News
Beijing said Friday that a suspected surveillance balloon spotted flying over the U.S. was a Chinese civilian airship that had unintentionally entered American airspace.
"It is a civilian airship used for research, mainly meteorological, purposes," said a Chinese Foreign Ministry spokesperson, adding that the government "regrets the unintended entry of the airship into US airspace due to force majeure."
The ministry said the unmanned airship lost control after it was affected by westerly winds and blown off course. "China will continue to maintain contact with the US to properly handle the unexpected situation," the statement said.
In a briefing Friday, Pentagon press secretary General Pat Ryder said that the U.S. was aware of China's assertion that it was a weather balloon, but reiterated, "We know that it's a surveillance balloon."
"It has violated U.S. airspace and international law which is unacceptable. We have conveyed this directly to PRC," Ryder said.
While Beijing said the balloon has "limited self-steering capability," the Pentagon said the balloon is maneuverable.

Know More
Officials in the U.S. confirmed Thursday that they had been tracking the balloon for several days as it passed over the U.S., and briefly considered shooting it down before backing off because of possible safety risks.
The balloon is currently floating eastward, and is in the "centre of continental United States," Ryder said, without providing more details. The balloon is currently at 60,000 feet, he said, adding that it does not pose any immediate risk to Americans.
Security officials in the U.S. identified the balloon as originating from China. It passed over Montana, a state which houses approximately 150 intercontinental ballistic missile silos.
The balloon entered American airspace shortly before Secretary of State Antony Blinken was set to travel to Beijing to meet with Chinese officials. His trip was postponed Friday as administration officials said it would "send the wrong message."

The View From Weibo
Chinese social media users supported the government's claims the balloon's drift to U.S. airspace was merely an accident. Online, some poked fun at how Americans responded with fear and alarm.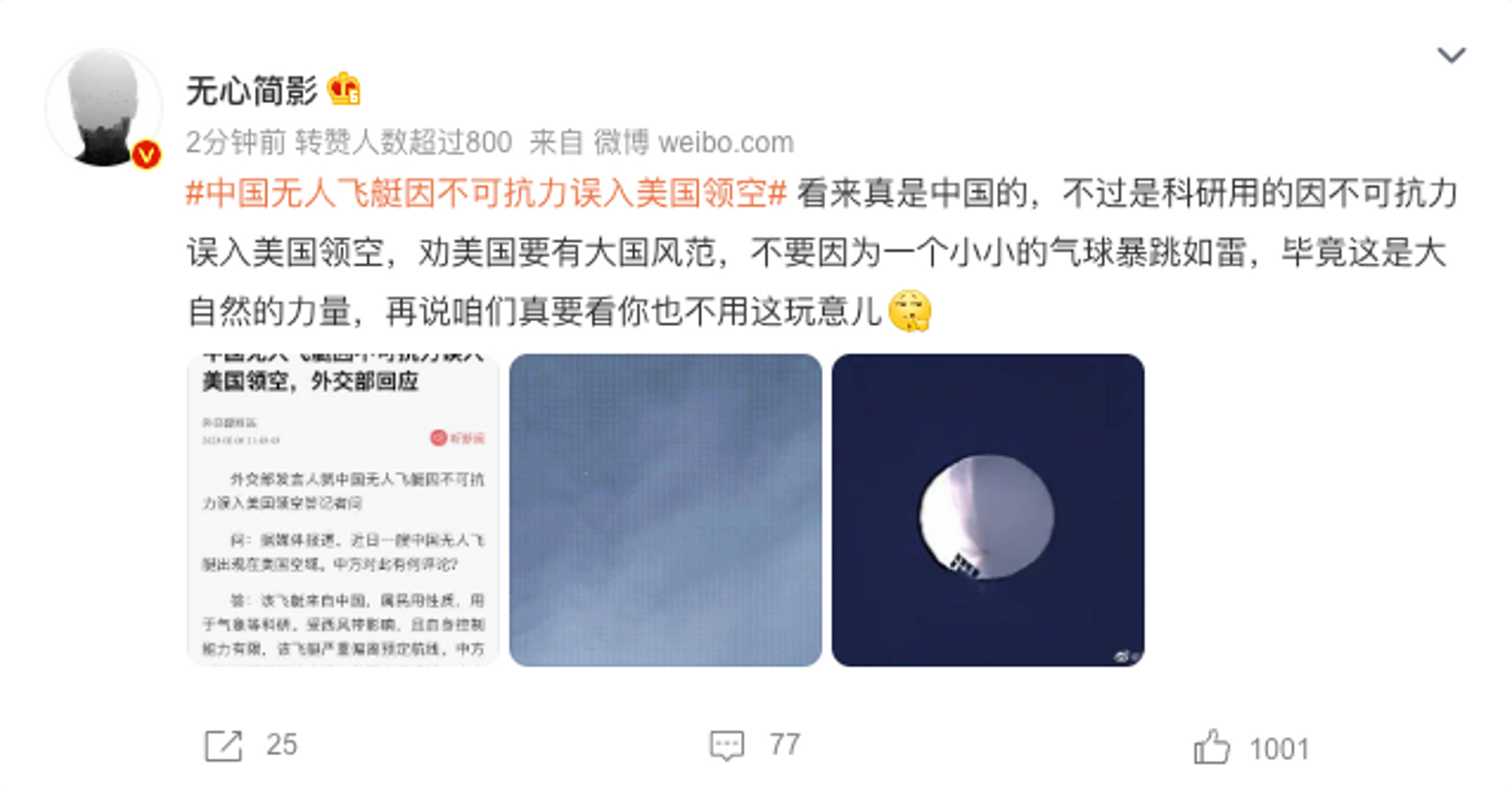 "I advise the U.S. to act like the 'bigger country' and not be so alarmed by a small balloon," one user wrote.
"Please tell Blinken to return the balloon when he comes to visit," another one joked.