The Scoop
Private-equity giant Carlyle Group is in talks to hire Harvey Schwartz, the former No. 2 at Goldman Sachs, as its new chief executive, according to people familiar with the matter, ending the most closely watched CEO search on Wall Street.
The negotiations aren't complete, and it wasn't clear if other candidates are still in the mix. But if finalized, Schwartz's hiring could be announced as soon as next week, the people said.
Schwartz and a representative for Carlyle couldn't immediately be reached for comment.
The firm, which manages $370 billion, has been looking for a new CEO since an acrimonious split with Kewsong Lee in August.

Liz's view
Schwartz, who left Goldman in 2018 after losing a two-man race to replace Lloyd Blankfein as CEO there, brings a three-decade resume that's heavy on trading and markets expertise, regulation and financial operations. It's light on what Carlyle actually does — Schwartz never ran an investing business — but he brings management and operational experience to a firm that needs it.
Carlyle has lost ground to rivals like Blackstone and Apollo, which have expanded well beyond their buyout roots into credit, infrastructure, and real estate, and seen their assets and stock prices grow. Though Carlyle is the world's biggest manager of collateralized loan obligations, a complex debt instrument, it is still heavily reliant on private equity and has largely sat out the explosion in private credit over the past few years.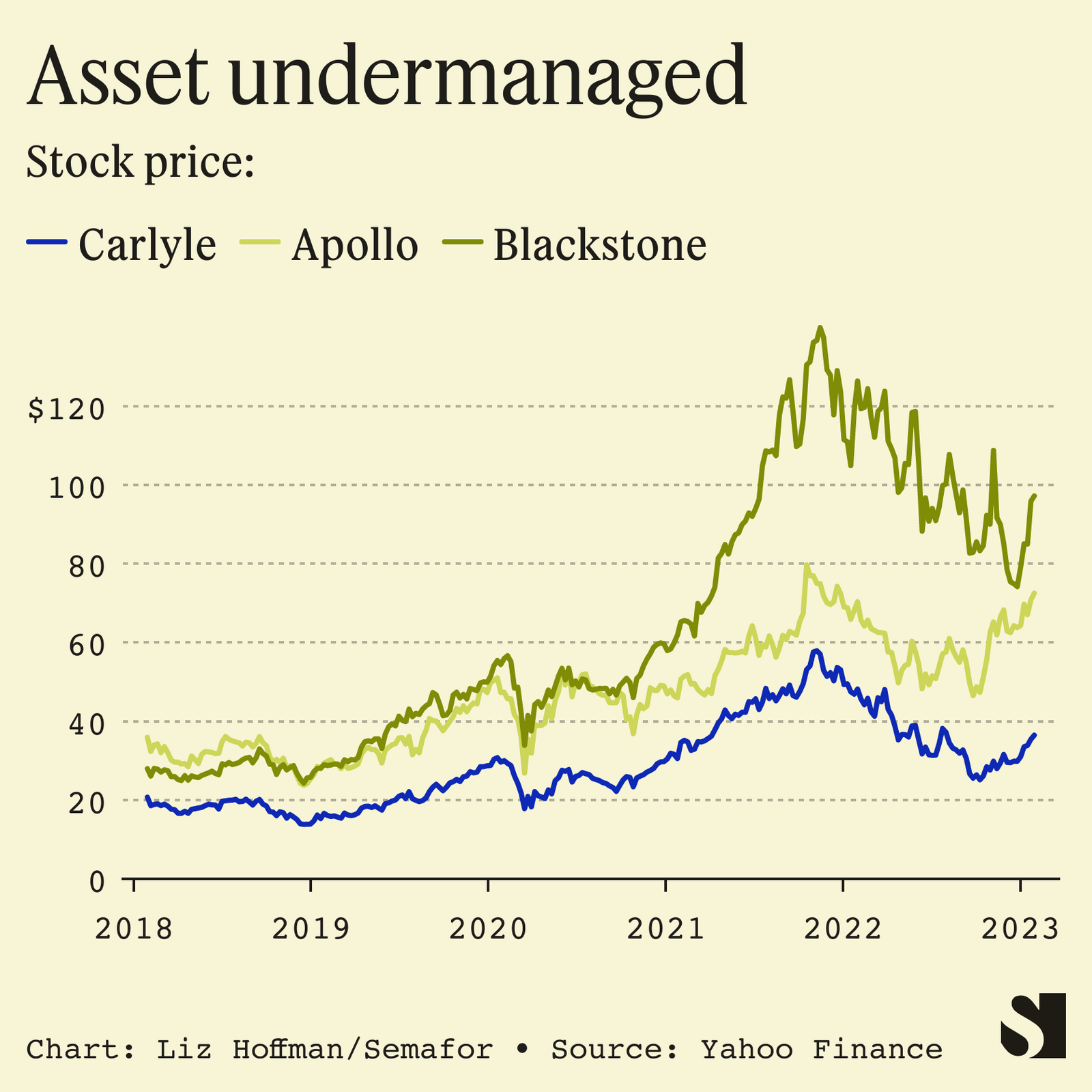 Blunt and broad-shouldered, Schwartz came up in Goldman's fixed-income trading arm, ran its giant securities division, and spent four years as its chief financial officer, overseeing a shrinking of its balance sheet and a crackdown on risk in the years after the 2008 financial crisis.
A career spent navigating big personalities should help in what would be a key challenge of the Carlyle job: managing a relationship with the firm's hands-on founders, who still own more than a third of the company and felt inadequately consulted about day-to-day operations by his would-be predecessor.
In an interview with The New York Times, one of them, David Rubenstein, said Lee hadn't consulted often enough with them: "If you are the new CEO of an organization and the people that built it own a third of the company, you'd say, Well, why would you not spend time listening to them? Or at least asking their advice?" (Rubenstein is an investor in Semafor.)