Updated Feb 2, 2023, 5:21pm EST
In honor of Canada's groundhog who died, a list of the world's best animal oracles

The News
Quebec's Groundhog Day celebration was rocked Thursday when organizers made the surprise announcement that its beloved 9-year-old groundhog, Fred la marmotte, was found dead. (A child was lifted instead, and cast a shadow.)
In Fred's memory, here are more animals around the world (both living and dead) that have been used to predict everything from election results to stock investments.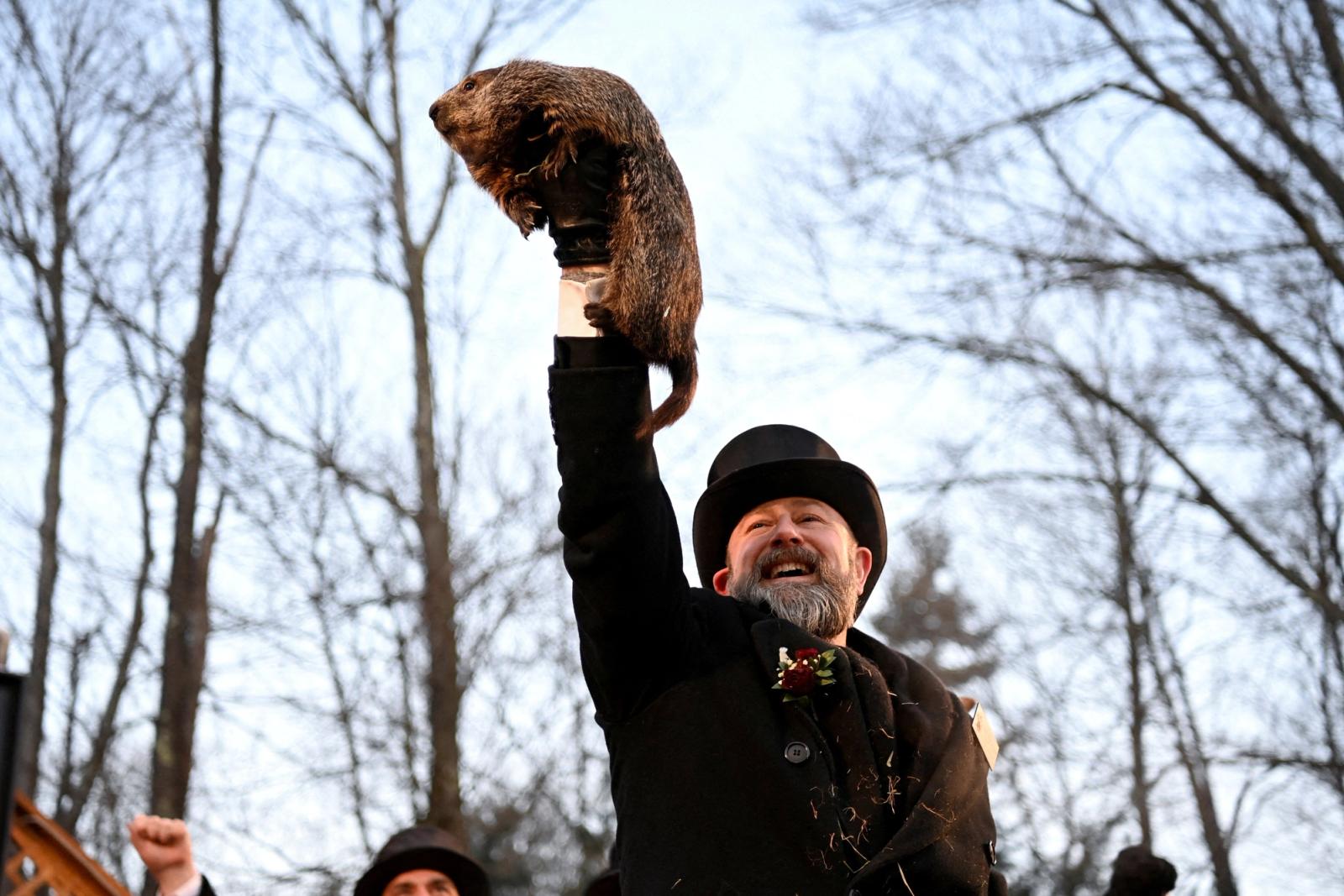 The View From Germany
Paul the Octopus is perhaps the most iconic of the predictive animals — he even has his own Wikipedia page.
He was kept at an aquarium in Oberhausen, Germany, and was known for a perfect record in predicting the outcome of eight matches in the 2010 World Cup.
Sadly, he died shortly after the World Cup that year. But his legacy lives on through the next generation of animal oracles.

The View From The United States
The U.S. loves to make random creatures predict the weather. In addition to numerous groundhogs, like Punxsutawney Phil of Punxsutawney, Pennsylvania, awakened on Groundhog Day, there's a chicken named Clucksatawney Henrietta in Katonah, New York, who predicts an early spring if she lays an egg on Feb. 2.
And in Connecticut, Scramble the Duck is marched out to determine if he sees his shadow.
And in Texas, an armadillo named Bob stands in for the groundhog.
Then there's the Super Bowl predictions. Jimmy Fallon usually has puppies predict the winner, while zoos across the country use giraffes, lions, and manatees to pick the winner.

The View From India
In India, especially the southern state of Tamil Nadu, parakeets are used in fortune-telling. Parrot astrology is a centuries-old practice in which the parakeets draw tarot cards from a deck for passers-by who pay for a reading.
The custom has also been used in Singapore.
In 2016, a fish from Tamil Nadu's capital city of Chennai accurately predicted what many polls in the U.S. could not: That Donald Trump would become president. Chanakya III chose to eat fish feed from a boat that had Trump's picture on it around seven times, instead of the boat with Hillary Clinton's photo.

The View From Japan
Ahead of the 2022 World Cup in Qatar, many animals tried to be the next Paul by predicting each game's winner. A Japanese otter named Taiyo became a viral sensation after correctly predicting that Japan would notch a surprise win over Germany.

The View From Dubai
An indoor ski resort in Dubai used a penguin named Toby to make World Cup predictions.

The View From Australia
Australia is home to some of the world's most dangerous animals as well as several political oracles. In 2016, a "psychic" crocodile named Burt predicted that Prime Minister Malcolm Turnbull's party would win the election that year. (Burt was right.)
And last year, a sea cow named Pig predicted that Labor leader Anthony Albanese would win the federal elections. (Pig was also right.)

The View From Siberia
At a Siberian zoo, a brown bear named Buyan was presented with two watermelons, carved with the faces of Joe Biden and Donald Trump. He correctly predicted that Biden would win the 2020 U.S. presidential election, after also predicting a Trump win in 2016.
Two tigers at the same zoo were not as clairvoyant in 2020, picking the Trump watermelon.

The View From South Korea
In 2009, a 5-year-old parrot finished third in a Korean online stock investment competition, beating out seven humans.
Ddalgi, which is Korean for strawberry, used its beak to select blue chip stocks from a pool of 30 companies. The human investors averaged a 4.6% loss, while Ddalgi finished with a 13.7% return on investment.