The News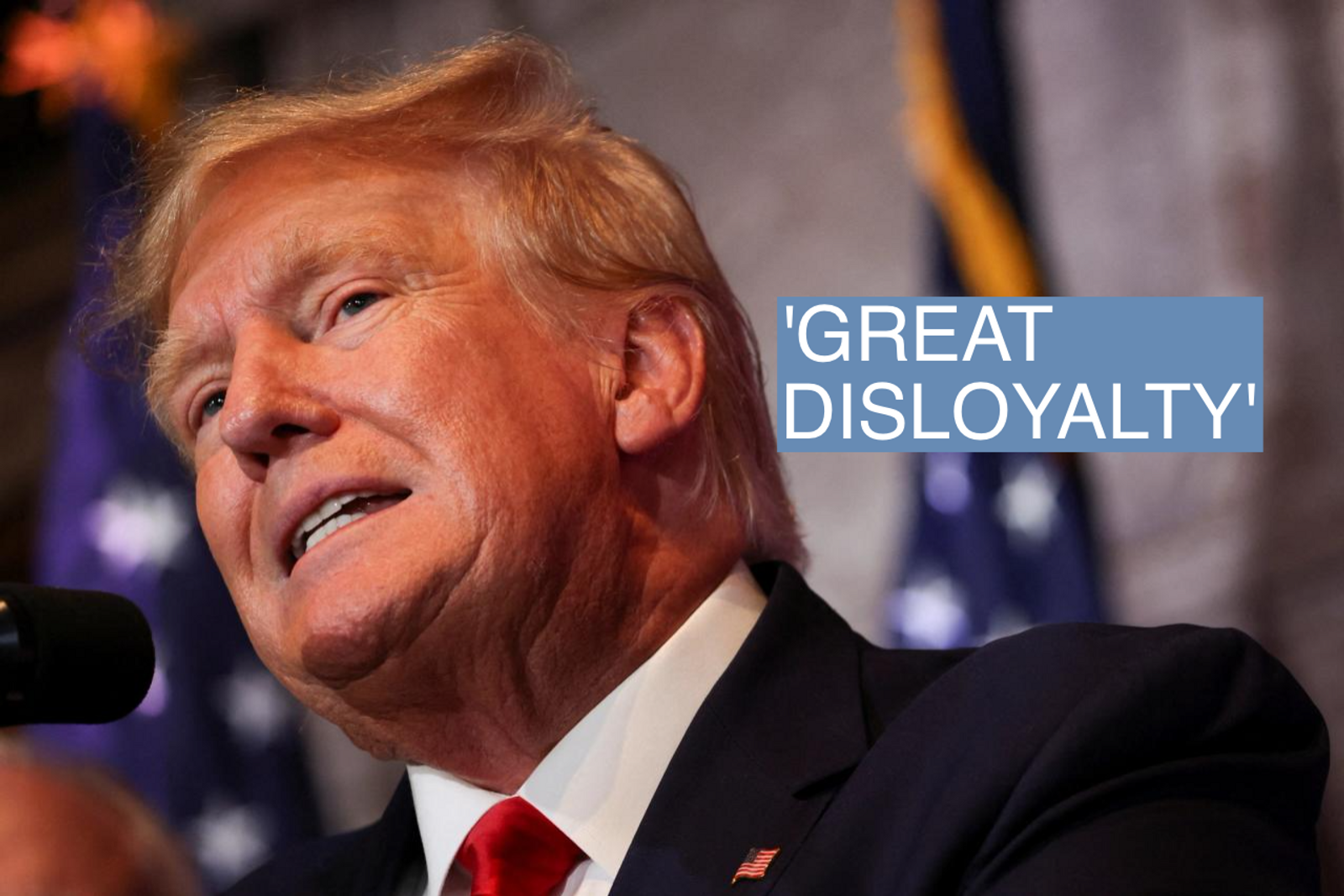 Republicans opposed to Donald Trump are complaining that a massive pile-up in the 2024 presidential field is set to hand him the nomination. But you won't see Trump, who has publicly and privately groused about the many onetime allies now challenging his hold on the party, celebrating the news.
For Trump, the expectation was that he'd face a largely uncontested path back to the nomination after "six years of people sucking up to him," one source familiar with the campaign said, "because all the people who are likely to contest him have been saying that he was the greatest president ever."
Trump said last year "it would be very disloyal" if former Vice President Mike Pence as well as former cabinet members like former U.N. Ambassador Nikki Haley and former Secretary of State Mike Pompeo entered the race. On Thursday, he told Hugh Hewitt that Haley was "overly ambitious," that he "took Mike out of nothing," and that both had reneged on claims they would not run against him (Pompeo said on the same program last year that Trump wouldn't affect his decision).
As for Ron DeSantis, who Trump keeps arguing was a nobody until he endorsed him in a competitive primary for governor, a run would be "a great act of disloyalty," he told the Associated Press over the weekend.
He also complained last month that many of his high-profile evangelical supporters have shown "great disloyalty" by refusing to endorse his campaign this time.
Trump has been told by advisers that voters are unlikely to care about his rivals' personal fealty, another source close to the former president said. But he's continued anyway, which suggests his message isn't primarily for voters.
"From my perspective, the loyalty message is a personal one," the source said. "It's the one that the president is saying directly to the potential candidate."
Meanwhile, polls continue to suggest Trump benefits from a divided field given his strong base of support. There's little sign he or his campaign aides are concerned about a real challenge from the non-DeSantis candidates and, until proven otherwise, anyone who gets into the race is considered unlikely to draw many votes from his base.
Morning Consult's 2024 GOP Primary Tracker has Trump with a comfortable 48% of the vote, if the election were held today. DeSantis sits behind him at 31%, with other votes divided between potential candidates like Pence and Haley.
"I would view a crowded primary to be much like a repeat of 2016. I think the worst case for the Trump team would be if everyone else coalesced around one candidate," one GOP strategist told Semafor.

Shelby's view
Trump famously prized loyalty within his inner circle before coming to Washington (even if it wasn't expected of him in return) and has taken onetime allies considering runs more personally as a result, sources say.
"It's just a little surprising for someone like that, who isn't necessarily a traditional politician, to see people being disloyal," another source close to Trump said.
It's a problem that's followed him into his political career. Since his early days in the White House, he has disowned — or been disowned by — numerous senior officials from his own administration, fueling a sense of betrayal. It's only gotten worse since his failed attempt to overturn the 2020 election, which led the famously loyal Pence to break with him and additional cabinet members to resign in protest or publicly condemn his behavior.
Some of his closest current supporters were also once brutal critics and even presidential rivals in 2016, which means there's always suspicion over who might be the next to turn.

Room for Disagreement
While he's not happy about it, some Republicans close to Trump believe he is aware that more candidates splitting the opposition is a net benefit and is capable of using it to his advantage.
Trump suggested as much during his interview with Hewitt, noting that while he still doesn't believe candidates he's helped should run against him, he understands that it's "how politics works."
"Politics is a microcosm, but even more vicious, of life," he said.
The tension between head and heart has also been visible in Trump's reaction as Haley, an on-again/off-again critic, plans a presidential campaign. Trump told reporters on his plane over the weekend that he gave her his blessing to run in a phone call — an uncharacteristically generous response that perhaps suggested the campaign was happy to see her in the race.
At the same time, he reminded the press she had previously said in 2021 she'd stand aside if he ran again. Later, he shared a clip of the moment on Truth Social after news broke of her impending announcement.
"Nikki has to follow her heart, not her honor," Trump wrote. "She should definitely run!"