The News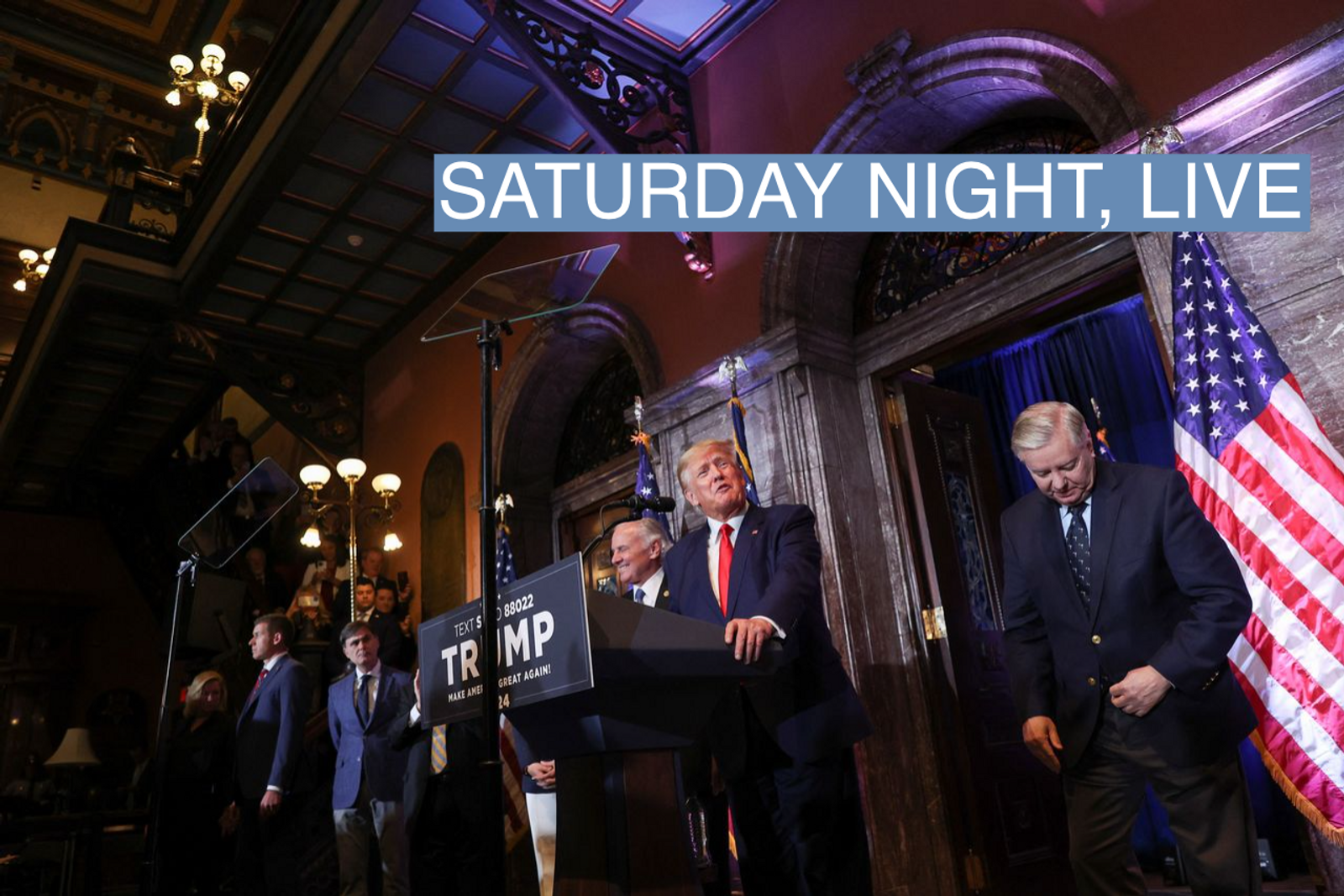 COLUMBIA, S.C. — They weren't the sort of raucous, stadium-sized rallies that used to be his staple. But Donald Trump finally hit the campaign trail this weekend, with stops in the early primary states of South Carolina and New Hampshire, where he delivered speeches heavy on culture war fodder in front of some adoring voters.
"We're going to stop the left-wing radical racists and perverts who are trying to indoctrinate our youth, and we're going to get their Marxist hands off our children," the former president said in South Carolina. "We're going to defeat the cult of gender ideology and reaffirm that God created two genders, called: men and women. We're not going to allow men to play women's sports."
The settings were relatively modest. In Salem, New Hampshire, Trump spoke at a high school auditorium.
Hours later in South Carolina, an invite-only audience of about 200 crammed into an uncomfortably warm, lobby-like room beneath the State House's rotunda. The crowd included local and national politicians as well as Trump superfans — one woman told me she drives a 32-foot RV with "Trump Girls" painted on the side and has organized Trump-themed cruises — some of whom sat on the floor as they waited for him to arrive, or spilled into the press pen, which had been haphazardly thrown into the center of the hall. Other spectators found breathing room on a balcony above the action.
The addresses functioned as proof of life for a campaign that was regularly criticized for its low-energy launch and lack of events after Trump officially announced his candidacy shortly after the 2022 midterms. Trump, seemingly responding to the doubters, said in New Hampshire that he's "more angry now" and "more committed now than ever."

Shelby's view
The events also underscored Trump's latest reality: His support in these two key states isn't a sure thing, and on some issues that invigorate the base, he's playing rhetorical catchup with his competition.
His speeches touched on many of his favorite longtime topics — border security, the menace of "windmills" (aka wind turbines), and his refusal to concede the 2020 election. He even repeated the infamous line from his 2015 campaign launch that Mexico is "sending rapists."
But the candidate earned his biggest applause when he leaned into more recent culture war topics, like when he promised to "eliminate federal funding for any school that pushes critical race theory or left-wing gender ideology."
In those moments, he sounded noticeably like the man everyone expects to be his chief rival: Ron DeSantis. The Florida governor has in many ways usurped Trump's old role as the GOP's chief culture warrior. While the ex-president has spent the past couple of years focused on his legal woes and litigating the 2020 election, DeSantis has enacted red-meat policies that included everything from barring critical race theory and conversations about sexual orientation in schools to probing public schools in his state on gender-transition services.
Trump did target some of the culture war issues that now preoccupy much of the GOP as president. But on hot-button topics like gender and schools, DeSantis is clearly setting the pace. That could complicate Trump's efforts to cast him as a second-rate imitation of his own political style.
Even Trump supporters on hand in South Carolina had positive things to say about the governor, though they'd prefer him to sit this race out.
"DeSantis is a young man, and there's no reason why he can't wait around until 2028, right?" Pamela Godwin, who directs a chapter of South Carolina Women for Trump, told me. "So I say: Stay governing Florida, you're doing a good job, and let Trump take this turn."
Trump avoided taking on DeSantis directly during his speeches, but swiped at his rival while talking to reporters — accusing him of "trying to rewrite" the history of how he handled the pandemic by posing as a vaccine skeptic after eagerly promoting them early on. He also tweaked the governor for initially shutting down Florida in the pandemic. "When I hear that he might [run], I think it's very disloyal," Trump told reporters aboard his newly refurbished plane on Saturday. "He won't be leading. I got him elected. I'm the one that chose him."

Room for Disagreement
Trump may no longer be the drum major in the GOP's culture war. But he still leads in some early polls of the potential GOP field and commands immense devotion within the party. His expected 2024 rivals are also noticeably wary about criticizing him so far. As Yvette DeMaria, a realtor and president of Sea Island Republican Women, told me: "He's not gone. He still has a huge following. I've been a follower of his since I was 18 years old."

The View From The Balcony
Trump used his speeches to unveil some key local support. In New Hampshire, he announced outgoing GOP chair Stephen Stepanek would join his team as a senior advisor, while in South Carolina, he welcomed Gov. Henry McMaster and Sen. Lindsay Graham to his leadership team for the state. The latter led to a bit of awkwardness: During his remarks, Graham was heckled by a group of women on the balcony after he declared that Trump "did it once and he can do it again." The comment prompted shouts that Trump had won twice, and the women then turned their backs on Graham as he continued to speak.