The News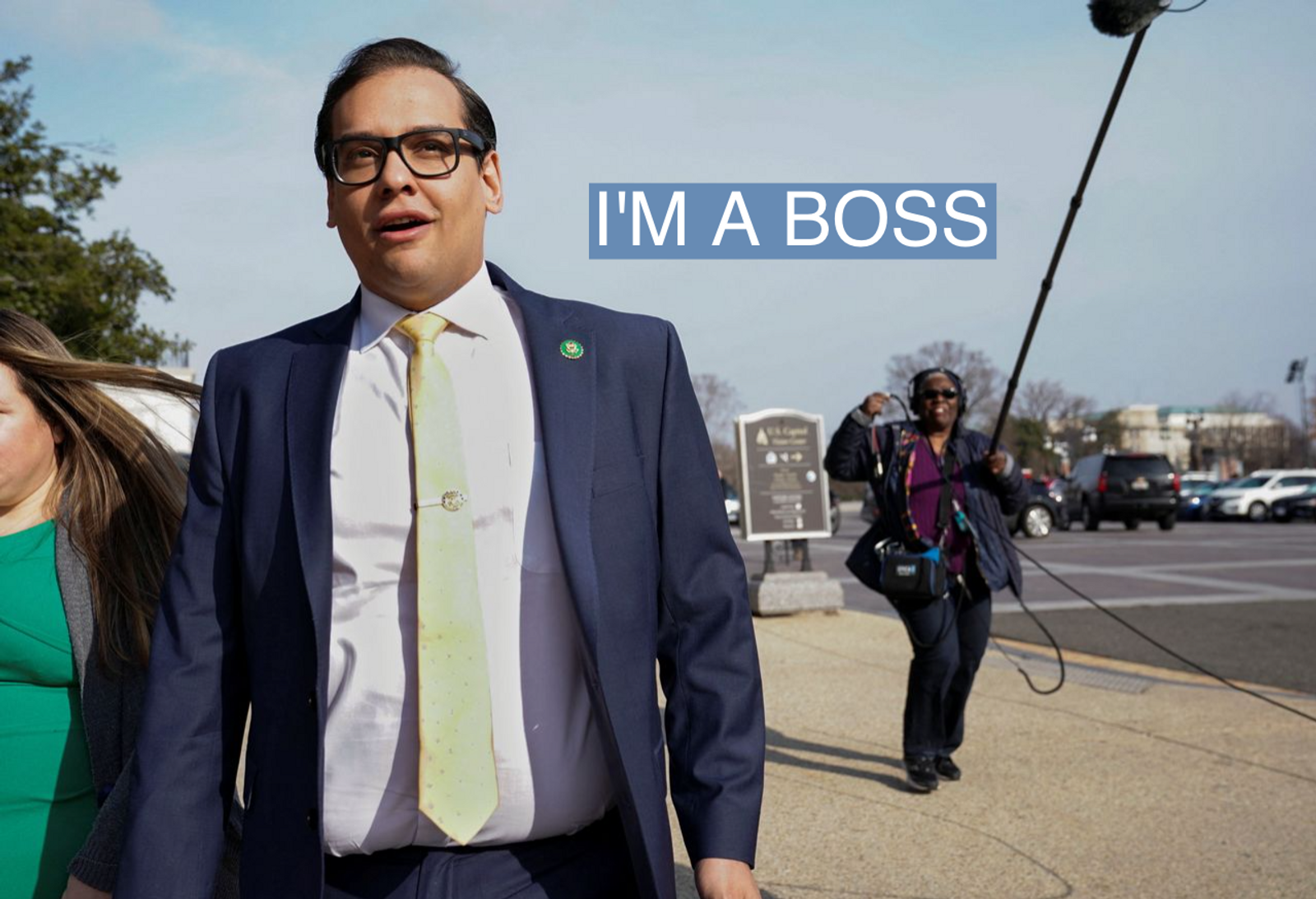 Congressman George Santos, R-N.Y. is facing ever-louder calls to resign amid a series of pending investigations, but his situation also presents tough choices for the skeleton crew running his Washington office.
Staying on is a daily decision that requires them to weigh loyalty to their boss, service to their district, and the implications for their future employment prospects. And they're not likely to get much help from new hires anytime soon.
"It's just about the constituents of the third congressional district and making sure that they're actually being represented in Washington D.C. — whether it's for federal funding for infrastructure projects down to anything as simple as a flag request," a Santos aide, who asked for anonymity to speak freely, said in an interview.
Some staffers in Santos' office already have a history of working with members facing a combination of personal, legal, and political crises.
Viswanag "Vish" Burra, the operations manager, worked for Rep. Matt Gaetz, R-Fla. while he was allegedly under investigation for violating sex-trafficking laws — the probe has since reportedly stalled. Burra previously worked for Steve Bannon and helped launch "War Room." Sources say he has a natural affinity for controversial figures and relishes the opportunity to work with Santos.
"He gravitates towards the spotlight as a moth soars towards a flame, unaware that the glamor may burn him," one source familiar with Burra said.
In his brief career, Santos staffer Rafaello Carone has worked for former Congressman Madison Cawthorn for 6 months, who was effectively ostracized by leadership after claiming to have been invited to a cocaine orgy with lawmakers. He went on to lose his next primary. After a short stint with Rep. Greg Steube, R-Fla. he landed with Rep. Paul Gosar, R-Ariz. for a single month, according to Legistorm. Gosar, a longtime far-right member, was censured and removed from his committees not long after for posting an animated video of himself murdering Rep. Alexandria Ocasio-Cortez, D-N.Y. and McCarthy rebuked him for addressing a white nationalist conference.
Others have more conventional backgrounds. Press Secretary Gabrielle Lipsky, and Chief of Staff Charley Lovett worked on Santos' campaign and are new to Washington, D.C. Naysa Woomer, the communications director, returned to the hill after working in Massachusetts politics and government for nearly five years. She previously worked as a scheduler for Rep. Thomas Massie, R-Ky.

Kadia's view
Working for a scandal-plagued member is not an automatic strike against staffers around Capitol Hill, who often perform critical work on the public's behalf while their bosses handle their personal struggles.
But the story around Santos is different, veteran staffers say. The crisis around him began before he even took office and is so all-encompassing as to make it impossible to realistically do much useful work.
Some have a clear warning: save yourself and get out.
"If I were the Santos team, I would be running for the exits right now because they're not going to be able to put that on their resume," said Ron Bonjean, a former spokesperson for House and Senate leaders.
While aides are not primarily judged by their bosses' behavior, repeated work with fringe figures can stand out on a resume.
"When a staffer works for one controversial member it's a coincidence, two it's a trend, and if they work for a third it's a career," one former hill staffer told Semafor.
Finding a perfect parallel to Santos is difficult. But staff in former Sen. Larry Craig's, R-Idaho office started to leave two months after news broke of his arrest for soliciting sex from an undercover cop in an airport bathroom, according to an aide who worked in the office at the time. Craig refused to resign and served out the rest of his term. His longtime chief of staff Michael Ware stayed on and the two later co-founded a consulting firm.
In situations where a member is becoming politically radioactive, leadership sometimes lends a hand to aides looking to leave.
"The Chiefs of Staff for the leadership are keeping their ears on the ground and will be willing to help members of his office that are seeking to leave a sinking ship," Jim Manley, a former leadership spokesperson under Harry Reid, told Semafor.

Room for Disagreement
Some argue that staffers who execute their jobs successfully under pressure without engaging in any wrongdoing themselves could emerge as battle-tested.
"If you comport yourself with integrity there will be plenty of opportunities," Risa Heller, a former communications director for Sen. Chuck Schumer, D-N.Y. who specializes in crisis management, told Semafor.
Abandoning an office in crisis is not always an automatic boost to a resume either.
"Loyalty is a big part of politics and if you're seen as disloyal that could hurt you," John Feehery, a former spokesperson for Speaker Hastert, told Semafor.

Editor's Note
An earlier version of this story misstated the state that Rep. Greg Steube, R-Fla. represents.