The News
A May 7 shooting at an outdoor mall in Texas that left nine people dead, including children and the gunman, is the 196th mass shooting in the U.S. this year.
There have been a total of 202 mass shootings in the country in 2023 alone — amounting to 10.6 shootings a week.
The shooting, which took place in the city of Allen, an affluent northern suburb of Dallas, is the second-deadliest mass shooting in the country this year, and part of a string of deadly gun-related attacks since the start of the month.
On May 3, five people were killed in a small town in Cleveland, Texas. The day after, a convicted sex offender fatally shot six people, including his wife and children, before killing himself in Oklahoma.
Authorities identified the suspect in the Texas mall shooting as 33-year-old Mauricio Garcia. He was armed with an AR-15-style rifle and at least one other weapon, senior law enforcement officials said. Garcia also had multiple other weapons in his car.
Details of the victims have yet to be released by authorities, but local media outlet WFAA reported that a 27-year-old Indian engineer named Aishwarya Thatikonda and Christian LaCour, a 20-year-old security guard, were among the deceased.
More than 14,500 people in the U.S. have died from gun violence this year alone, and mass shootings in the U.S. — an event where at least four people were shot or injured — have cost the lives of 276 people in 2023, according to Gun Violence Archive.

The Data
Since Jan. 1, 2023:
202 mass shootings
276 people killed
792 suffering gun-related injuries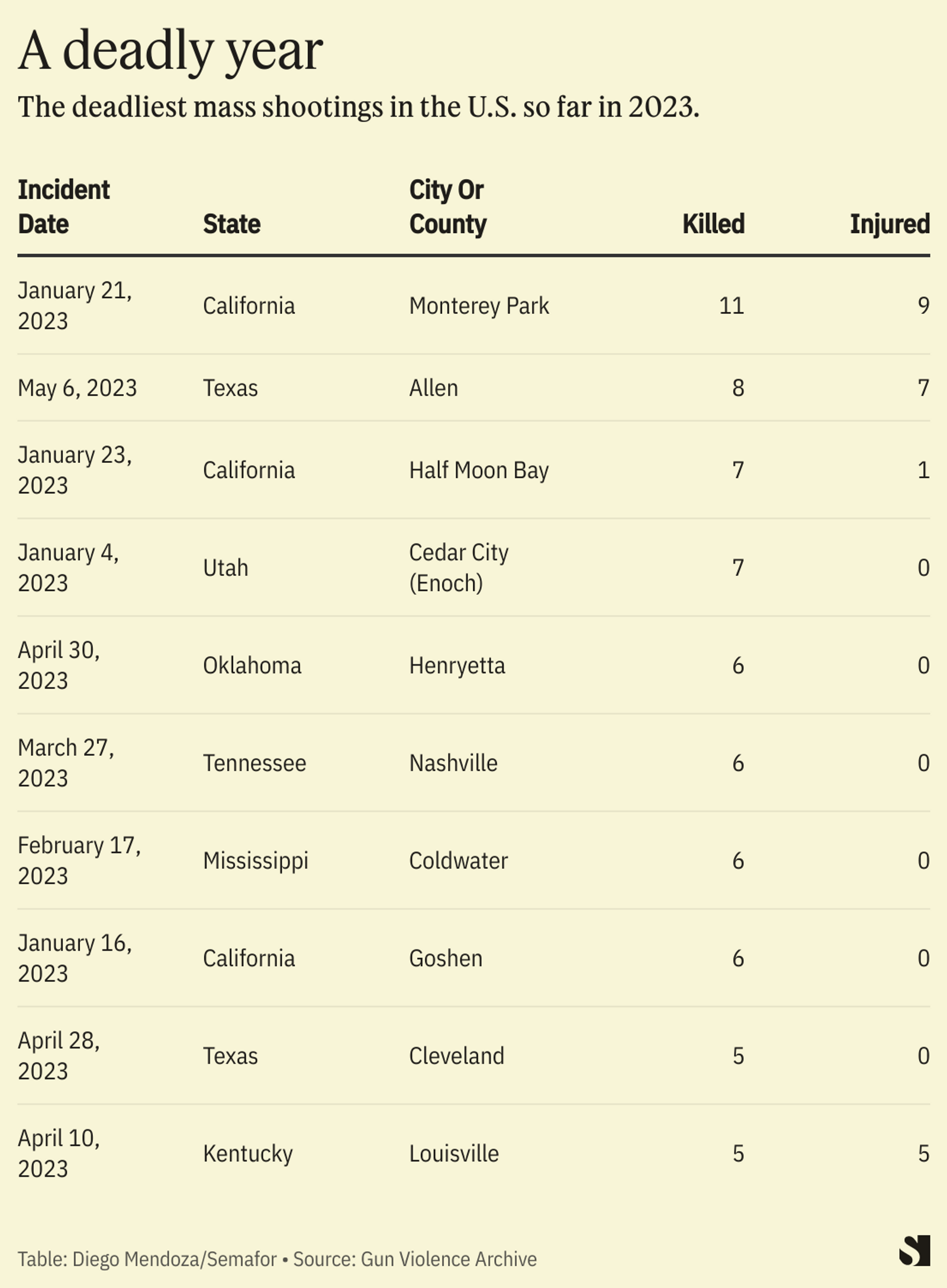 Know More
A motive for the attack has not been determined, though some reports say officials are investigating the shooter's possible link to white supremacy. Garcia was found with a patch on his clothing that read "RWDS" or "Right Wing Death Squad" — a patch that has also been worn by members of the far-right group Proud Boys.

Step Back
The Monterey Park attack at the end of January is so far the country's deadliest shooting since a massacre at an elementary school in Uvalde, Texas last year, where 19 children and two teachers were killed.
In 2022, the U.S. experienced more than 600 mass shootings — nearly double the number from four years ago, according to Gun Violence Archive. In 2021, there were nearly 700 mass shootings across the country.
Analysts say that shootings have been on the rise since the COVID-19 pandemic. But mass shootings accounted for a small percentage of the 40,000 firearm-related deaths last year. Half were by suicide, the group found.
According to Small Arms Survey, there are 393 million privately-owned firearms in the U.S. — that's 120 guns per 100 Americans.

The View From Canada
Gun-related deaths have increased 40% in Canada since 2011, while the number of handguns in the country has increased by 70%, according to a report by the CBC.
Last October, the Canadian government announced a controversial freeze on the sale of handguns, except to exempted individuals. In December, the proposed legislation was amended to include some long-guns, including rifles or shotguns capable of firing more than five rounds at a time.

The View From New Zealand
Less than a month after a gunman live-streamed himself killing 51 people at a mosque in Christchurch, New Zealand, in 2019, the country's parliament introduced sweeping reforms of gun laws, including a nationwide ban on semi-automatic weapons and assault rifles.

Notable
In a Substack post in December last year, political scientist Brian Klaas compared gun crime data from the U.S. to that in the U.K. His conclusion? It's the guns that are the problem, and which set the U.S. apart from other wealthy nations when it comes to the frequency of mass shootings.

Contact
Want to pass along a tip or feedback? Write to Karina at ktsui@semafor.com, Jenna at jmoon@semafor.com, and Diego at dmendoza@semafor.com.