There have been 36 mass shootings in the U.S. since the start of 2023

The News
A mass shooting in Monterey Park, California, which has left at least 11 people dead, is one of 36 mass shootings the U.S. has seen since the start of 2023. On Sunday, another shooting left 12 people injured at a nightclub in Baton Rouge, Louisiana.
Mass shootings refer to incidents of gun violence where four or more people are shot at one time, according to Gun Violence Archive, an independent research group.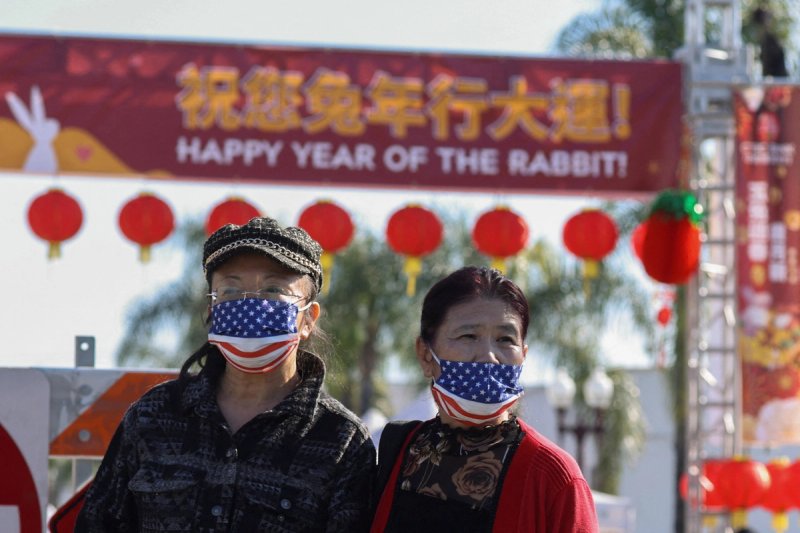 The Data
Since Jan. 1, 2023:
36 mass shootings
59 people killed
157 suffering gun-related injuries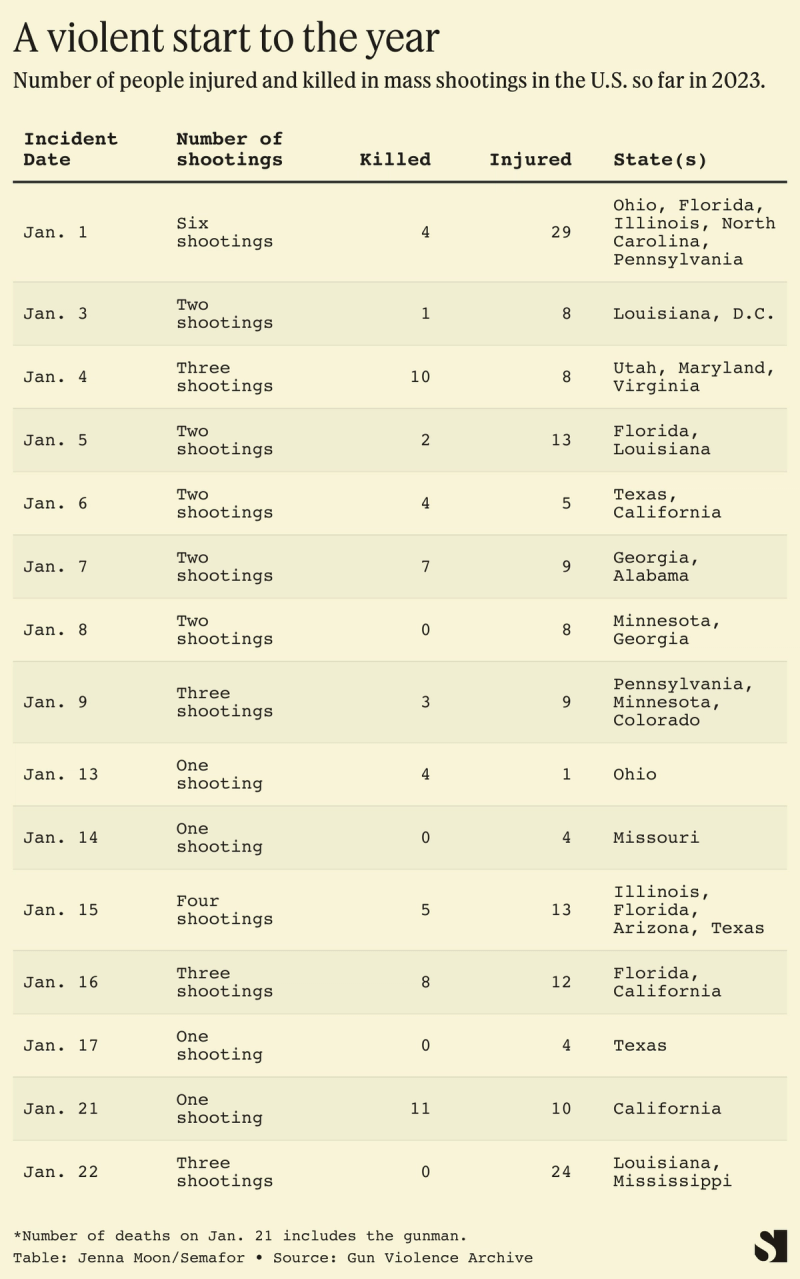 Know More
It is the second major gun-related attack in California in less than a week. Last Monday, six people were killed in a shooting in Tulare County, which authorities believe to be gang-related.
Saturday's shooting took place at Star Ballroom Dance Studio in east Los Angeles during a Lunar New Year celebration. The New York Times reported that the dance hall was considered a "refuge" for its older Asian American patrons.
At 10 p.m. local time, the suspect, now identified as Huu Can Tran, strode into the ballroom and fatally shot five men and five women who were reportedly in their 50s and 60s. He proceeded to a second dance studio in Alhambra, where residents were able to disarm him.
Tran was later found dead of a self-inflicted gunshot wound in a white van 30 miles from Monterey Park, local police said. The motive for the attack remains unknown.
California has among the strictest gun laws in the country, and the weapon identified by the police — a semi-automatic assault pistol — was likely illegal to possess in the state, according to multiple media reports.

Step Back
The Monterey Park attack is now the country's deadliest shooting since a massacre at an elementary school in Uvalde, Texas last year, where 19 children and two teachers were killed.
In 2022, the U.S. experienced more than 600 mass shootings — nearly double the number from four years ago, according to Gun Violence Archive. In 2021, there were nearly 700 mass shootings across the country.
Analysts say that shootings have been on the rise since the COVID pandemic. But mass shootings accounted for a small percentage of the 40,000 firearm-related deaths last year. Half were by suicide, the group found.
According to Small Arms Survey, there are 393 million privately-owned firearms in the U.S. — that's 120 guns per 100 Americans.

The View From Canada
Gun-related deaths have increased 40% in Canada since 2011, while the number of handguns in the country has increased by 70%, according to a report by the CBC.
Last October, the Canadian government announced a controversial freeze on the sale of handguns, except to exempted individuals. In December, the proposed legislation was amended to include some long-guns, including rifles or shotguns capable of firing more than five rounds at a time.

The View From New Zealand
Less than a month after a gunman live streamed himself killing 51 people at a mosque in Christchurch, New Zealand, in 2019, the country's parliament introduced sweeping reforms of gun laws, including a nationwide ban on semi-automatic weapons and assault rifles.

The View From China
Coverage of the shooting from Chinese state media was notably subdued, with the Communist Party outlet, People's Daily, and the country's flagship daily news broadcast, China Central Television's Xinwen Lianbo, both silent on the issue Monday.
Other smaller state media news agencies reported developments from the scene, but there were little or buried mentions that the shooting took place during a Lunar New Year celebration.
While China state media has used violent incidents in the past to paint a narrative that the U.S. is a lawless, dangerous society, some China observers like Isaac Stone Fish, the CEO of Strategy Risks who has studied state media coverage of mass shootings, told Semafor that China is too focused on its internal struggles to push provocative narratives on the shooting.
"I think one of the reasons we're seeing less attention here is because China is so preoccupied with its COVID mess," Stone Fish said. "The shout that often accompanies this in Chinese state media may feel too flimsy because of where China is and has been over the last two months."

Notable
In a Substack post in December, political scientist Brian Klaas compares gun crime data from the U.S. to that in the U.K. His conclusion? It's the guns that are the problem, and which set the U.S. apart from other wealthy nations when it comes to the frequency of mass shootings.

Contact
Want to pass along a tip or feedback? Write to Karina at ktsui@semafor.com, Jenna at jmoon@semafor.com, and Diego at dmendoza@semafor.com.