Roll call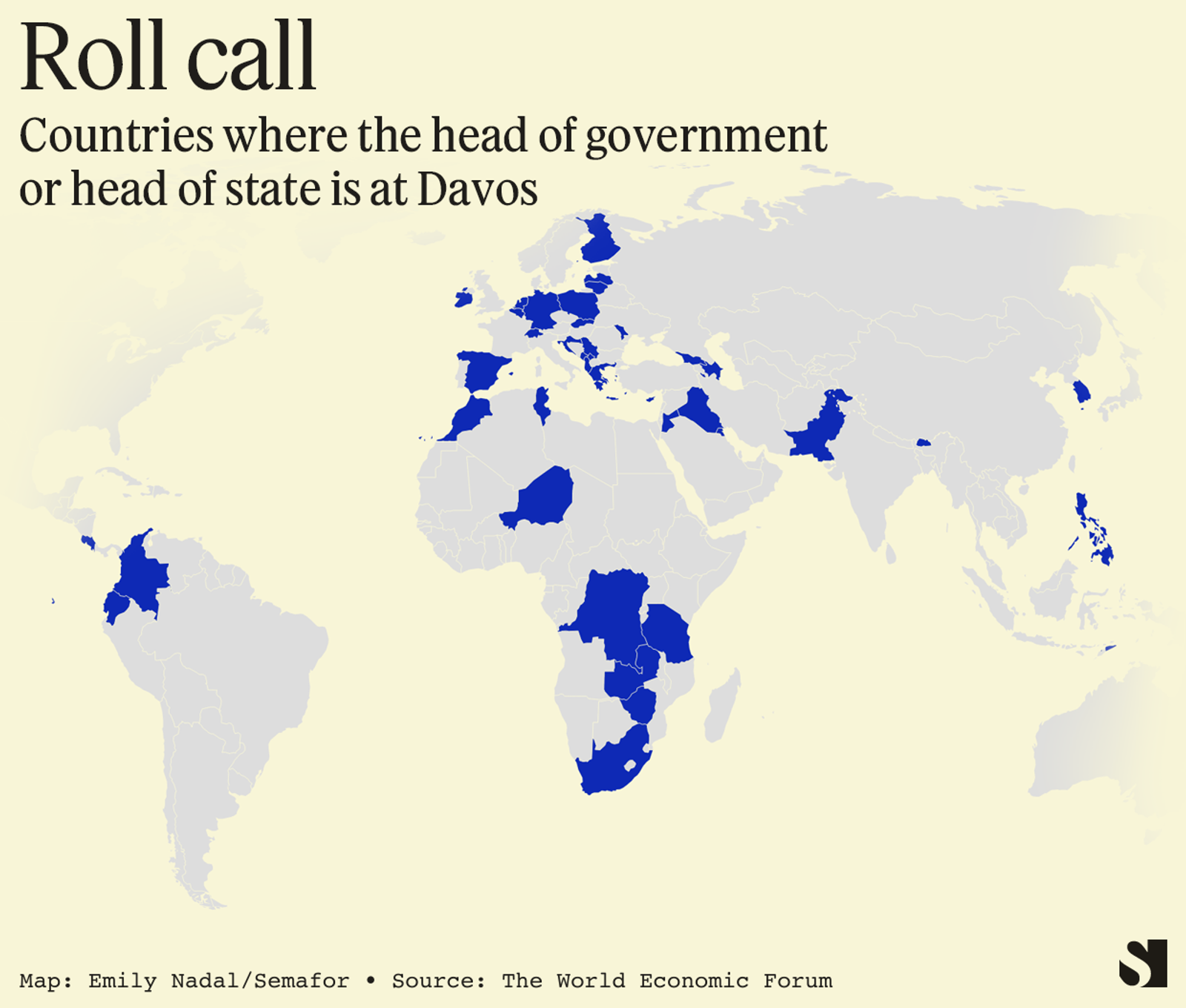 Required reading
In the newsletters: Politico noted an attempted rebrand by the Philippines, which "turned up with military precision to push a message of stability harking back to the golden era of globalization." Quartz carried comments from Neal Stephenson, the science fiction writer who coined the term "metaverse." Stephenson's warning? "A lot of the time, it seems like the internet and the web are just a big machine for finding incredibly ingenious ways to screw artists. What I'm hoping is that we can find a way to support the people who are needed to do the creative work that will surprise us all and create a metaverse that millions of people will want to visit."
Heads up: Coming up in our business newsletter later today, my colleague Bradley Saacks talks to Wall Street's Washington watchers and — Ken Rogoff's view (below) notwithstanding — they've never been more worried about the possibility of an actual, unprecedented, U.S. debt default.
Sign up for Semafor Business, and read the story when it comes out.

Wednesday's quotes
"Tragedies are outpacing life. The tyranny is outpacing democracy." — Ukrainian President Volodymyr Zelenskyy
"Today, fossil fuel producers and their enablers are still racing to expand production, knowing full well that their business model is inconsistent with human survival." — U.N. Secretary-General António Guterres
"Microsoft is opening up access to new AI tools like ChatGPT." — Microsoft CEO Satya Nadella, tacitly acknowledging the mega-investment his firm is about to make in the chatbot.
"We're encouraging them to make similar investments. Game on!" — U.S. Climate Envoy John Kerry, to Semafor, on European complaints about energy policy.

Thursday's agenda
10:15 a.m.: U.S. FBI Director Christopher Wray will appear on a panel discussing how to ensure that "the ever-expanding domain of dual-use technologies, services and products does not stifle human progress."
11:30 a.m.: South Korean President Yoon Suk Yeol, a major player in the global chip race, speaks at the Congress Center.
Also: Activist Greta Thunberg will meet International Energy Agency Executive Director Fatih Birol.
6 p.m.: Politico party at the Schatzalp.
7 p.m.: JPMorgan party at the Kirchner museum. Come for the receiving line, headed by Jamie Dimon himself, stay for one of the finest collections of German impressionist art.
10:00 p.m.: Wall Street Journal nightcap at the Belvedere.
10:00 p.m.: Salesforce nightcap & Microsoft nightcap; true elites are invited to both

One Good Text ...with Ken Rogoff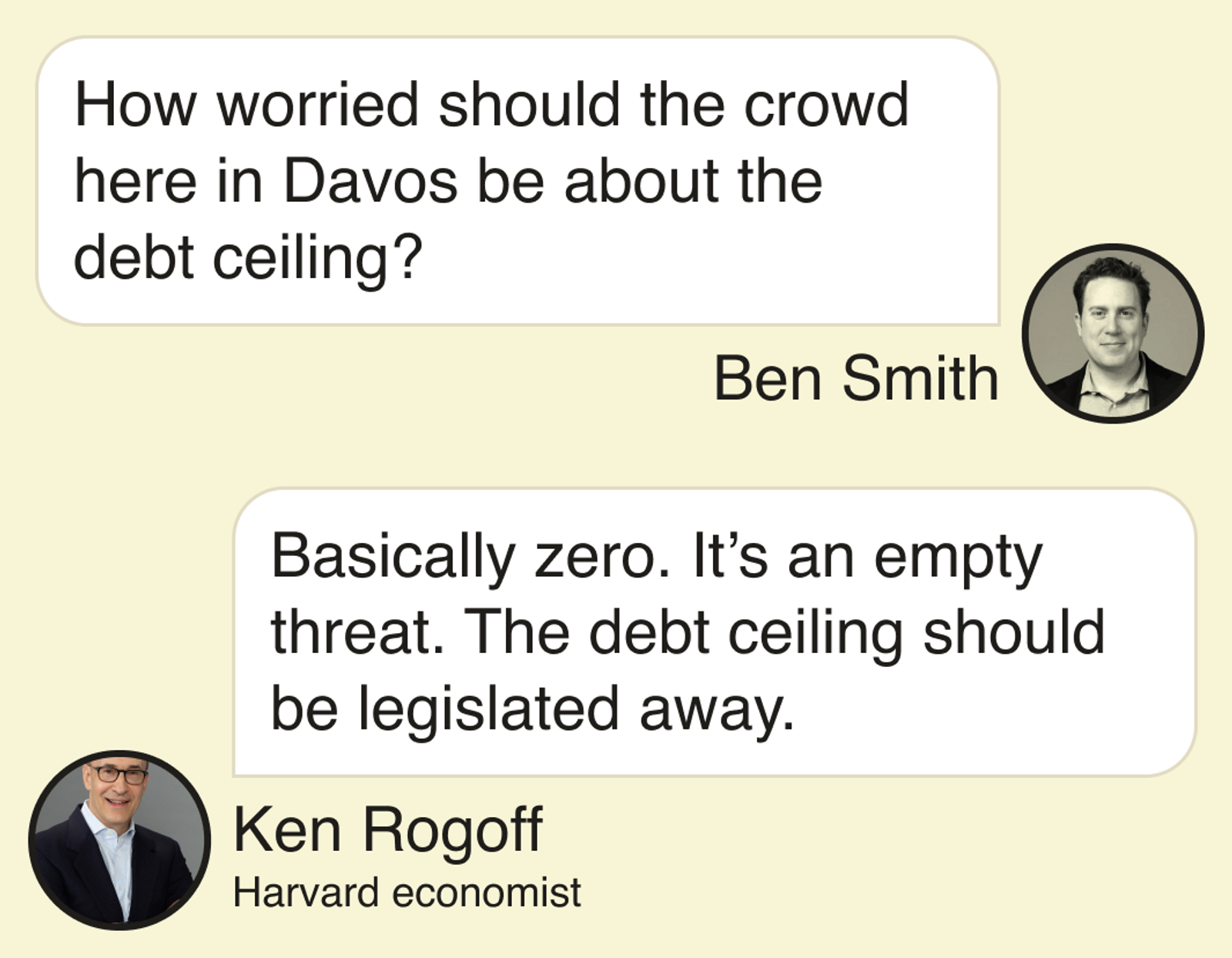 Monopoly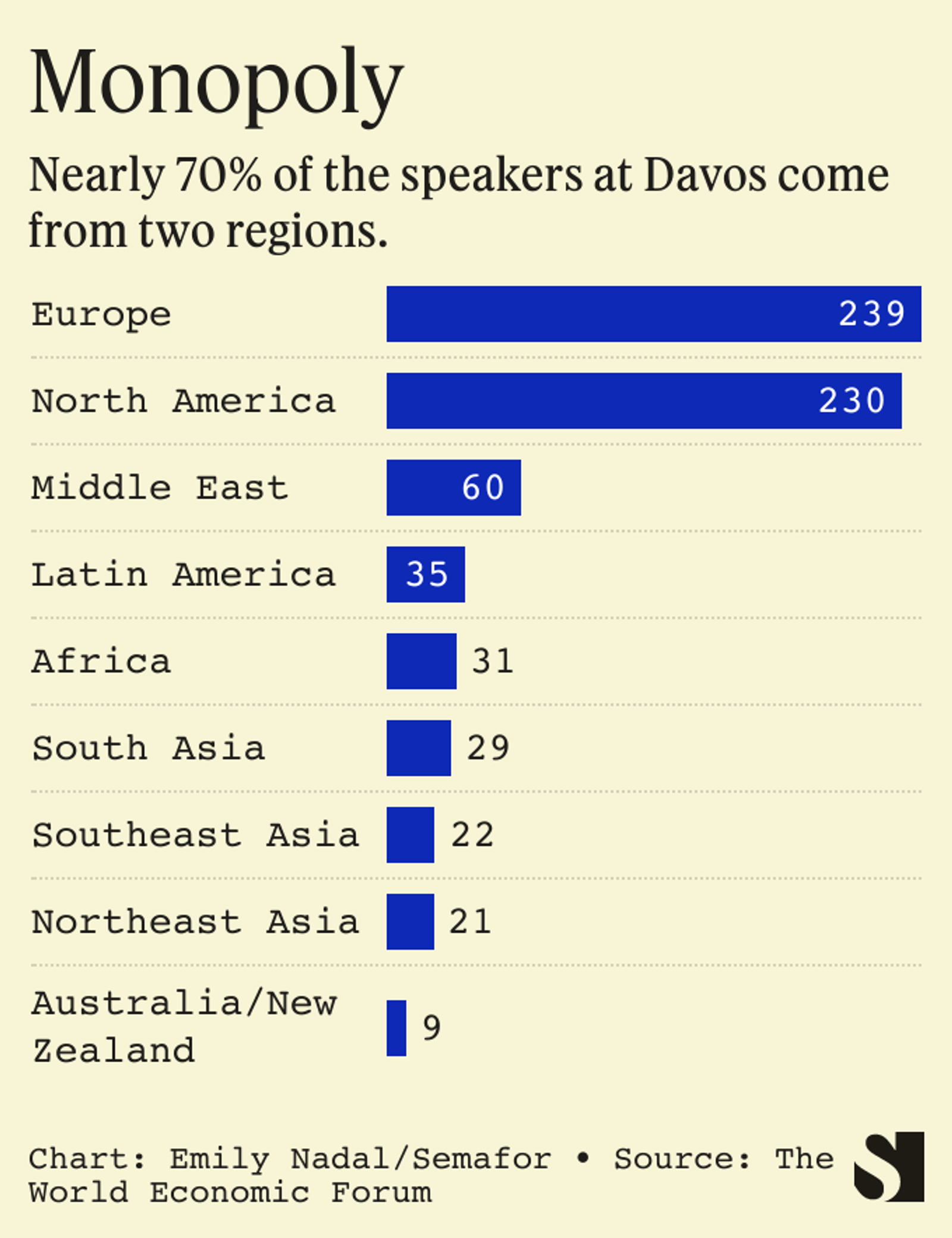 Scene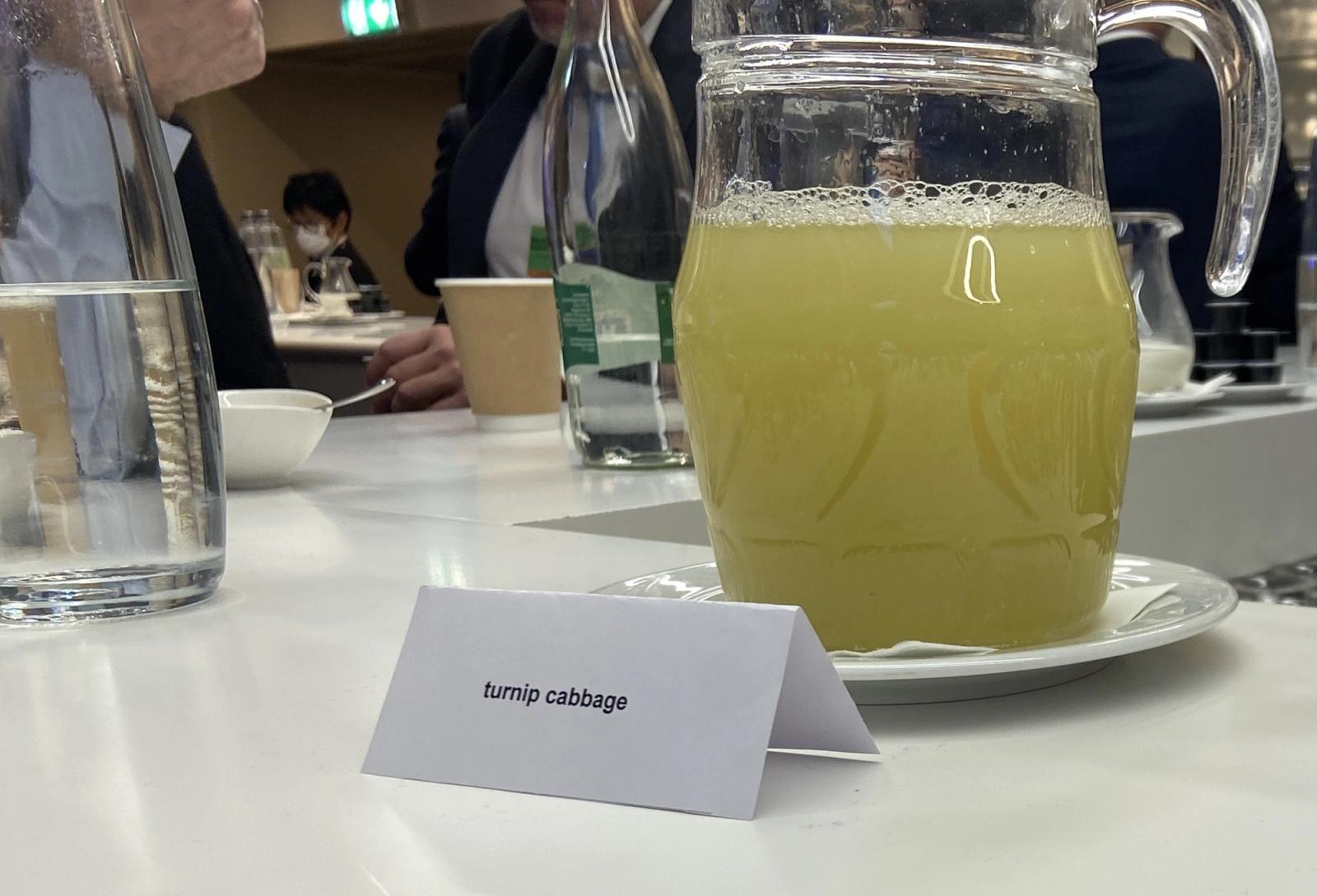 Marc Benioff scrutinizing the invitation list for Thursday's Salesforce party … Benioff deep in conversation with Paul Ryan at Matthew Freud's Goals House … Freud holding court beside his Fox Labrador, Vincent …. Dow Jones CEO Almar Latour alternately addressing Nielsen CEO David Kenny as "Kenny," "Kevin," and "Denny" … Blackstone's Stephen Schwarzman holding court at an out-of-the-way table at the Hilton and receiving actual royalty, King Philippe of Belgium … Georgia Governor Brian Kemp schmoozing at Korea Night … WEF chief Klaus Schwab, 85, joking that he looks forward to hosting attendees in 2045…

Flagship Briefing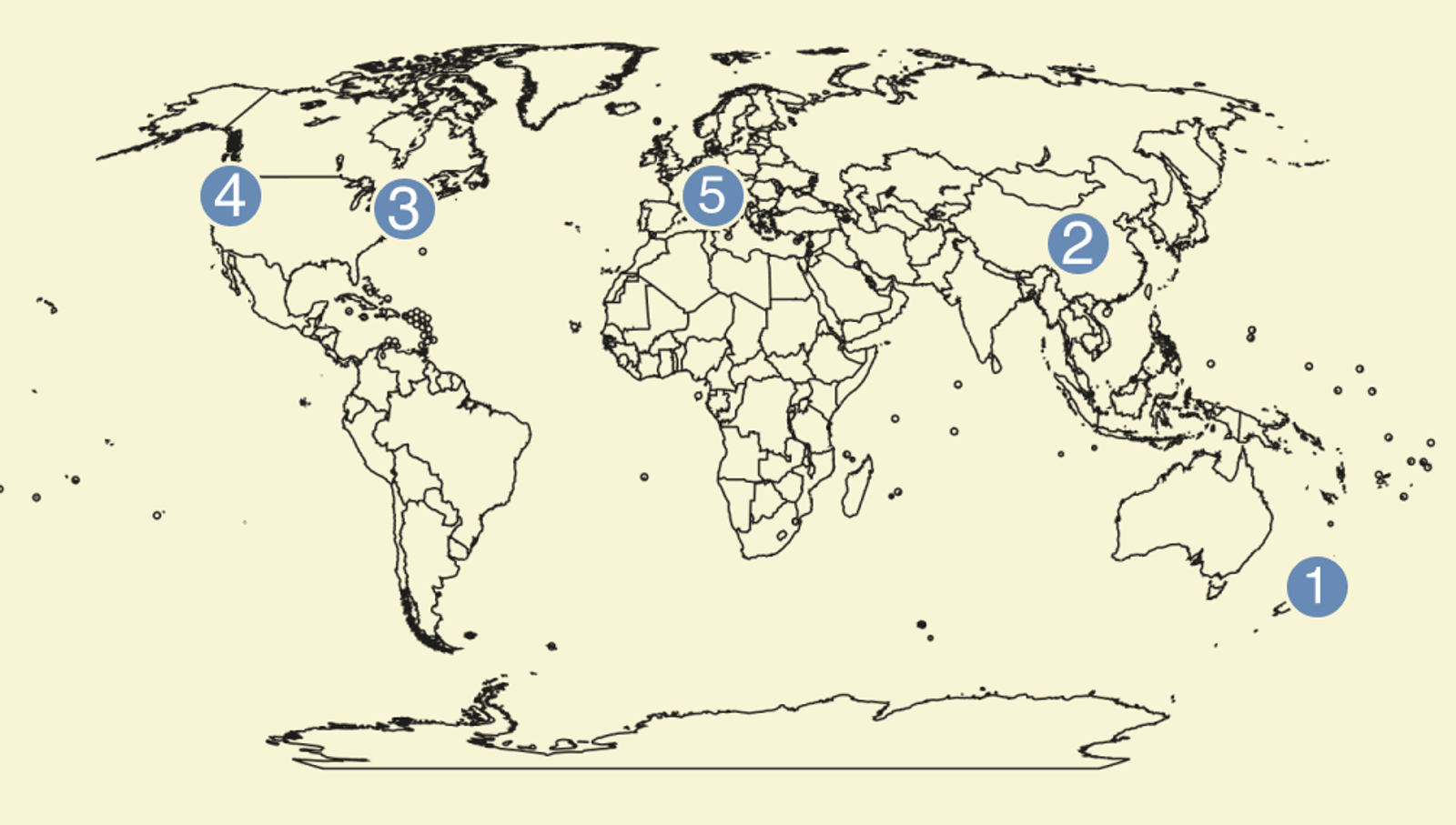 Ardern's farewell: New Zealand Prime Minister Jacinda Ardern announced her resignation. She said her time in power — during which she navigated her country through the pandemic, as well as the 2019 Christchurch terrorist attack and a volcano eruption — had taken a heavy toll.
Chinese reunite: Chinese travelers were returning to their hometowns after the abandonment of the country's zero-COVID restrictions, sparking joyous scenes of families reuniting after years apart. Xi Jinping voiced worry, however, over the impact of city dwellers carrying COVID-19 to more vulnerable rural areas.
A new mRNA vaccine: Moderna's new respiratory syncytial virus (RSV) mRNA vaccine prevents more than 80% of cases, the company said, the third RSV vaccine announced in recent months.
Tech job cuts: Microsoft announced it would cut 10,000 jobs, joining an array of U.S. technology companies slashing their workforces, all of them saying they hired too many people during the pandemic, and voicing worries about the global economy.
Davos mutiny: World Economic Forum founder Klaus Schwab may be joking about sticking around until 2045, but many of his staff think he is already obsolete. Several current and former WEF employees told The Guardian he was surrounded by aides who couldn't run the organization.

Connect with Semafor

Connect with Semafor at Davos
This morning Ben Smith will interview Meta's Chief Product Officer Chris Cox about global competition among digital platforms, WhatsApp, and generative AI. Doors Open 9:30 am CET. RSVP here.