The News
Taiwan's Minister of Economic Affairs announced Tuesday that the country was banning the imports of some mainland snacks, including spicy peanuts and a brand of snail rice noodles with the inscription "You are Chinese" on the packaging.
The move is the latest in a trade spat between the two governments that has both frustrated and amused the public.

Know More
Taipei's official reason for the ban on the products was to protect domestic production, with officials saying they had discovered tons of "smuggled" noodles and other products from the mainland over the last few years.
But cross-strait analysts interviewed by the South China Morning Post argued that the ban could be politically-motivated and retaliation for the mainland blocking the imports of some Taiwanese domestic goods over the last few years.
The diplomatic spat first began with China banning the import of Taiwanese pineapples in 2021 (at the time, China accounted for more than 95% of Taiwan's pineapple exports). Since then, the two governments have gone back and forth on with bans on other fruits, fish products, tobacco, and beer.

The View From Weibo
As of Wednesday evening Beijing time, posts with the hashtag #台湾禁售麻辣花生# (Taiwan bans spicy peanuts) had over 220 million views across the platform which is China's version of Twitter.
Some users appeared to suggest ways to circumvent the import ban: "I am curious to ask, if mainland tourists bring spicy peanuts to Taiwan, is it considered smuggling?"

Other users joked about whether it would also entail a ban on spicy potatoes, as the word for "peanut" in Taiwanese Mandarin means "potato" in Mainland Mandarin.

Huang Feihong -- the brand of banned peanuts -- also contributed to discussion on Weibo, joking that Taiwan likely banned the peanuts because they "probably make you drink more."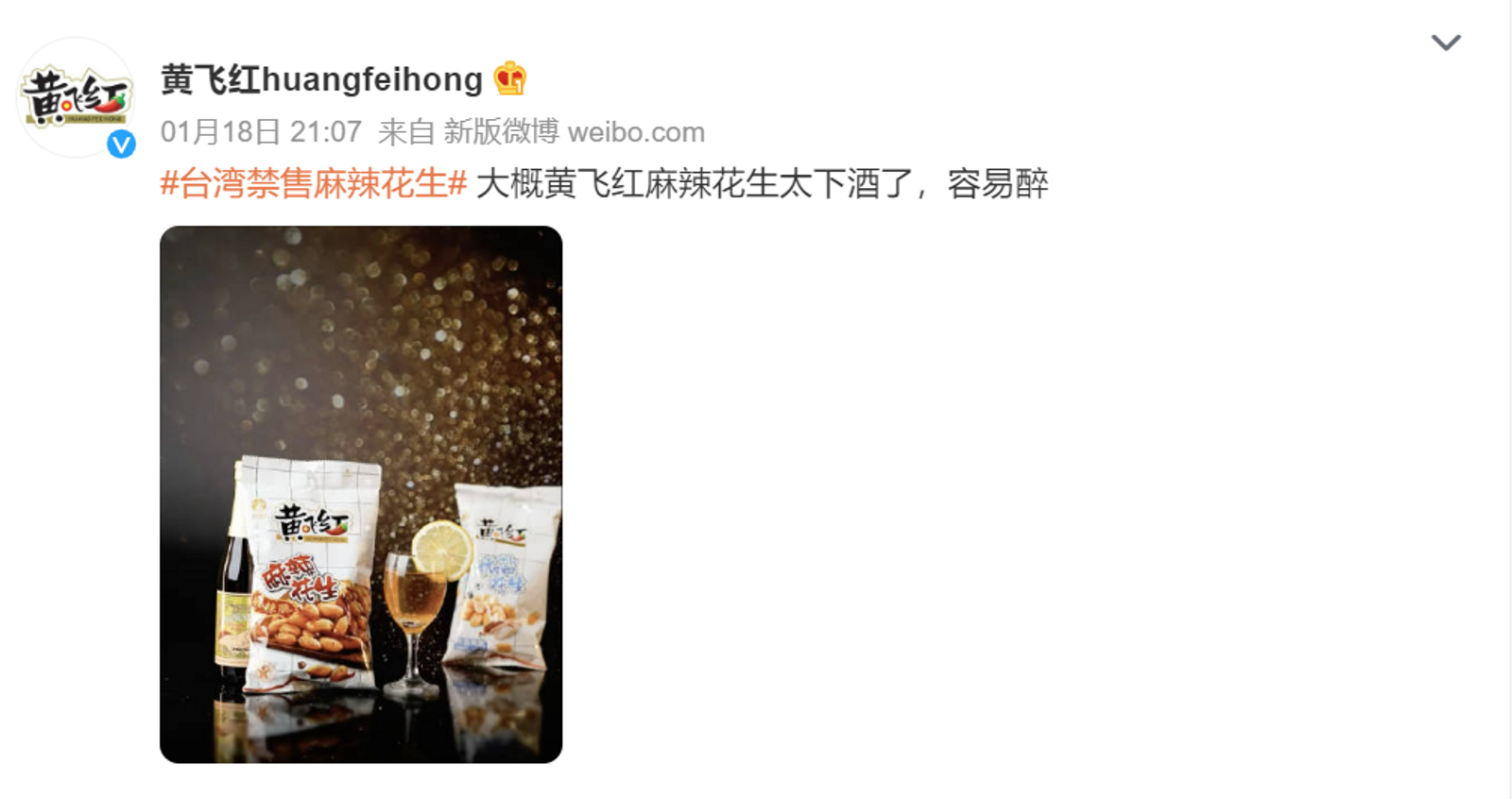 The View From Taiwan
Some prominent media figures and influencers in Taiwan were apparently "dumbfounded" by the bans, according to local news station CTI News.
Zhang Yuxuan -- a journalist and popular social commentator -- described Taiwan's minister of economics affairs, Wang Huamei, as the country's "store manager" who was more concerned about food bans than the island's gloomy economic forecast.
"According to statistics, due to the impact of the global energy surge, natural gas and crude oil have soared, and the cost of power generation has soared," Zhang posted on Facebook. "However, our economic minister, Wang Meihua, is busy paying attention to whether the Chinese snail powder is smuggled into the country."