Davos, man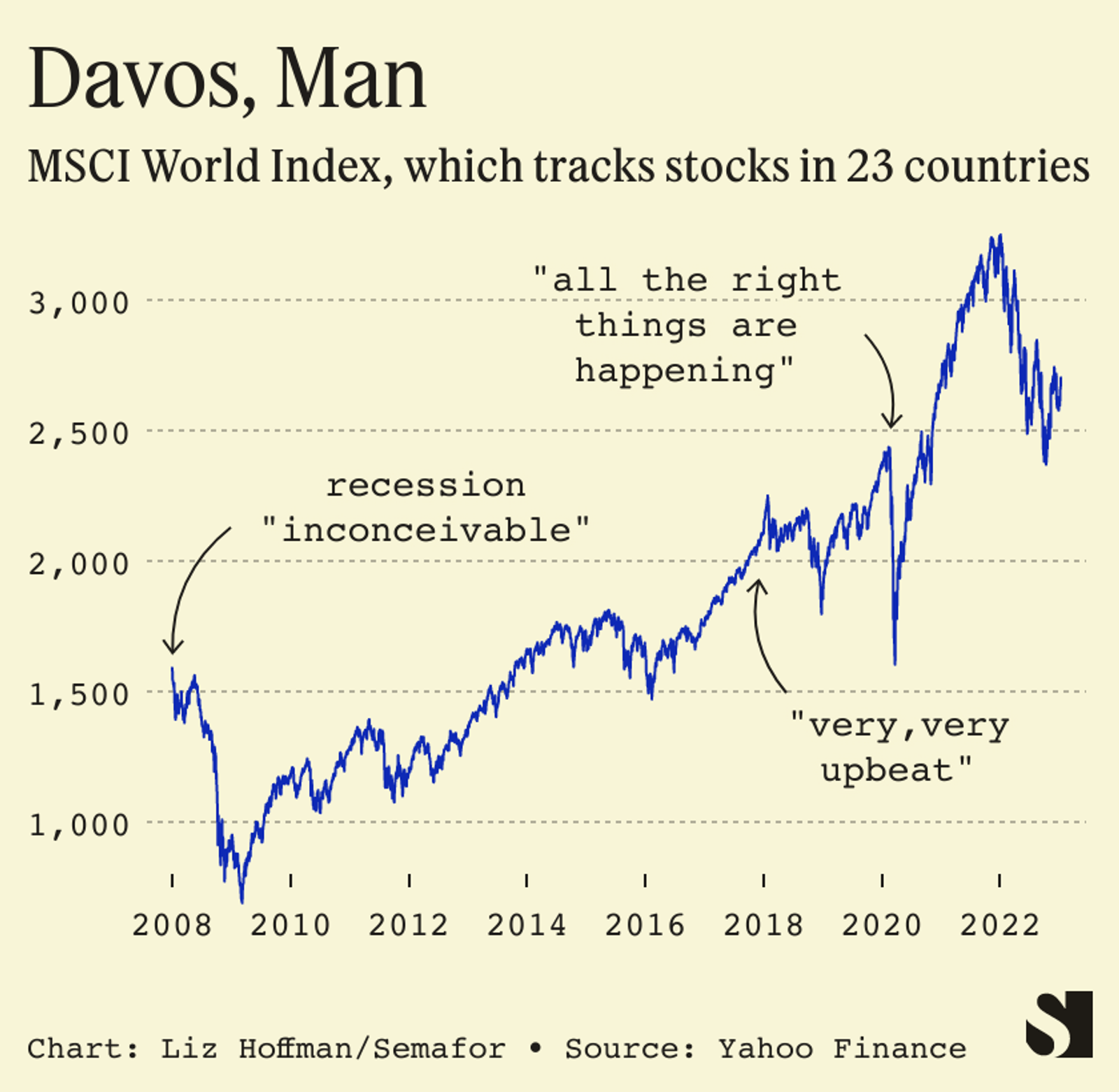 Tuesday's quotes
"Foreign investments are welcome in China, and the door to China will only open up further." — Chinese Vice Premier Liu He.
"We don't know when the war ends, but Ukraine has to win. I don't see another choice." — Finnish Prime Minister Sanna Marin.
"The time of peace in the world was quite bad for democracy." — U.S. Congresswoman Mikie Sherrill at Semafor's event Tuesday.
"Unpopular opinion: the obsession with Klaus Schwab, Davos, and the WEF is misguided, as they have little real power over life in America." — Right-wing American activist Chris Rufo on Twitter, trying to calm a storm Elon Musk stirred up.

Wednesday's agenda
1:45 p.m.: Ukrainian First Lady Olena Zelenska in conversation with the WEF's Mirek Dušek
3:45 p.m.: German Chancellor Olaf Scholz
5:00 p.m.: Ukraine President Volodymyr Zelenskyy
5:30 p.m.: Binance CEO Changpeng Zhao speaks to the co-founder of Casper Labs (which is hosting Semafor events this week)
10:00 p.m.: Arabian Nights at the Schatzalp
10:00 p.m.: Wall Street Journal nightcap at the Belvedere
10:30 p.m.: Chef and philanthropist José Andrés, Bank of America CEO Brian Moynihan, designer Diane von Furstenberg, and former U.S. Treasury Secretary Larry Summers at Goals House
ALSO: Steve Clemons will be talking to UAE Space Agency Chairwoman H.E. Sarah Al Amiri, Alexander Soros of Open Society Foundations, and Cisco's Francine Katsoudas in Semafor's events series starting at 9:15 a.m. at Promenade 69. (Sign up at the bottom of this email).

Global elite

Required reading
In the newsletters: Politico tracked European leaders' growing support for Ukraine, from Lithuania pushing for Germany to up its military aid to Poland saying a green light on tank deliveries was imminent. Quartz followed BlackRock CEO Larry Fink around Davos, where he bemoaned the backlash to ESG and his own support for it. "The narrative is ugly. The narrative has created this huge polarization … It's hard for me to lose much more hair, but it's not enjoyable … For the first time in my professional career, attacks are now personal. They're trying to demonize the issues."
Reality check:
We keep hearing the word "post-war" at panels and private conversations about investment in rebuilding Ukraine. But before you use that word, read this bleak weekend dispatch from Kyiv by The Wall Street Journal's Yaroslav Trofimov:
"Neither the U.S. nor Europe has made the adjustments, especially in military production, that are necessary for sustaining Ukraine in a war that could potentially drag on for several years," he writes, and quotes a French think tanker: "The idea that a major classic conventional war in Europe could last as long as one of the two world wars is not something we are yet ready for."

One Good Text With ... José Andrés

A level playing field?
Intel is on the Promenade in Davos, where CEO Pat Gelsinger told reporters that the location of fab plants will define the global power map for the next 50 years, just as oil did for the last five decades. About 80% of that manufacturing is now in Asia, but Gelsinger said the EU and U.S. versions of the CHIPS Act are going to level the playing field. Intel says it expects technological parity with Taiwan's TSMC by 2025.
— Steve Clemons

Room for disagreement
Former New York Times editor Jill Abramson emailed Ben to write that in her day, the Times paid little attention to Davos. Her predecessor Joseph Lelyveld, she wrote, "wanted to ban reporters" from attending, and Abramson "had an allergy to it."
She continued:
"I noticed (after I was gone), much more 'news' coverage in the Times of Davos, quoting the attendees and speakers at those endless panels. Of course, the coverage was a sweetener to flatter the CEOs by seeing their names in the NYT so that they would then speak at high-dollar NYT conferences and — of course — get phony news stories from the conferences into the paper."
"It was — and is' a corrupt circle-jerk."

Scenes
U.S. Sen. Kyrsten Sinema at the WSJ party with Princess Beatrice … Sinema at Anthony Scaramucci's annual Skybridge wine tasting party with a small glass of wine in each hand … Scaramucci back hosting the party — last year he left early to train for the FOX reality show Special Forces …Luxembourg Prime Minister Xavier Bettel and U.S. Senator Joe Manchin sparring at the PayPal dinner over US energy policy (per two sources who are not Steve) …MI6 Chief Richard Moore quietly briefing attendees on Russia and China … and unconfirmed suggestions that Snoop Dogg will be in town for the lavish Salesforce party, the last bacchanal in a relatively austere year.

Flagship briefing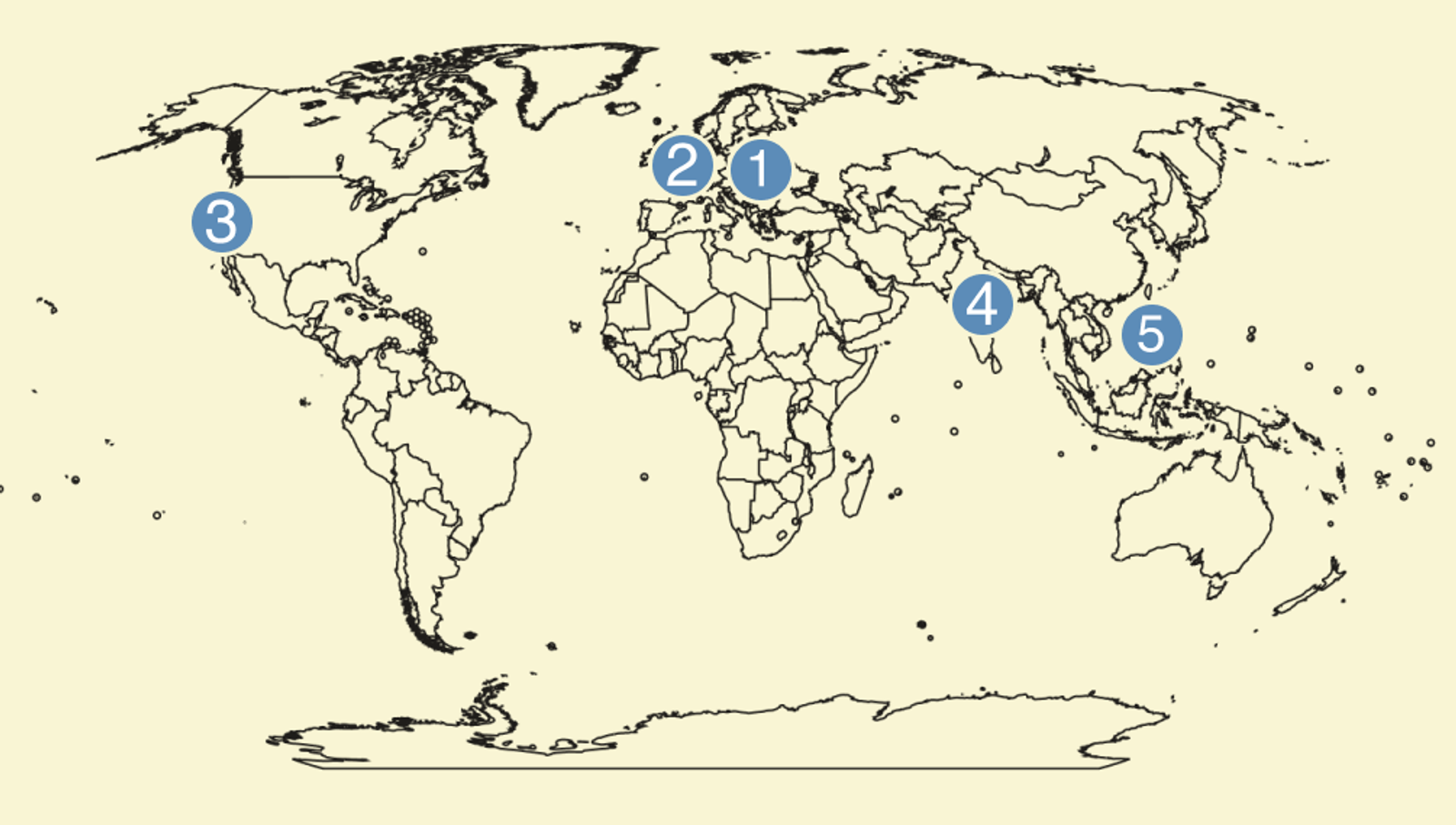 Here are the top stories our Semafor Flagship team in London is watching from lower lying territories.
Ukraine meeting: The top U.S. and Ukrainian military officers met in Poland, their first face-to-face meeting since Russia's invasion. The meeting comes as Western countries — notably the U.S. — ramp up military support for Kyiv.
Europe v. the world: European officials criticized China for luring away clean-tech investment while announcing the continent's own effort to compete with the U.S.'s gigantic green-business support program. The region "fears it might be left behind as the world's economy transforms," Politico reported."post-war
The future of batteries: New research shows "gravity batteries" in disused mines could store enough energy to run the world's electricity system for a day. Other methods are being used elsewhere: Norway pumps water up a valley and releases it when it's not, and a California project will store energy in the form of compressed air.
Indian oil: India is buying 33 times as much Russian oil now than this time last year. Western sanctions and price caps mean Moscow can sell its oil to far fewer places than before. That means remaining buyers can offer lower prices due to lack of competition.
Nobel Prize-winner acquitted: Philippine journalist Maria Ressa was cleared of tax evasion charges by an appeals court. Ressa had insisted the accusations were politically motivated. "Facts win. Truth wins. Justice wins," she said after the ruling was announced.

Connect with Semafor

Connect with Semafor at Davos
We have a packed morning of conversations with UAE Space Agency Chairwoman H.E. Sarah Al Amiri, Cisco's Francine Katsoudas and an exclusive interview with Alexander Soros of Open Society Foundations. Sign up here to attend.