Mic Check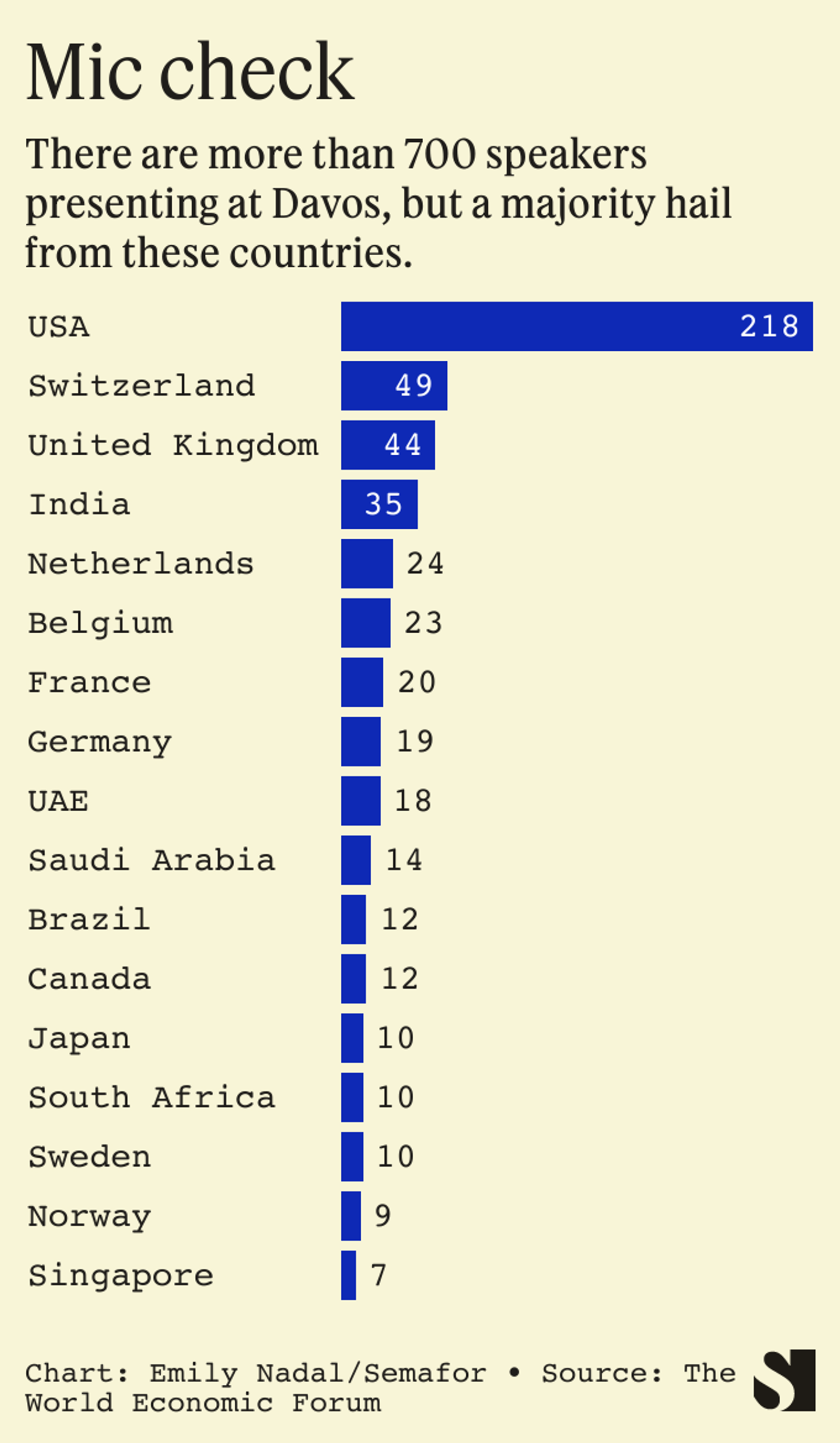 Today's Agenda
11:15 a.m.: European Commission President Ursula van der Leyen
11:45 a.m: Chinese Vice Premier Liu He
1:00 p.m.: Ukraine's First Deputy Prime Minister Yulia Svyrydenko is among a hopefully titled panel on Ukraine's "post-war" reconstruction
3:00 p.m.: Finnish President Sanna Marin speaks to Fareed Zakaria
3:00 p.m.: Saudi and Qatari royals appear on the same stage to discuss "keeping the lights on"
6:30 p.m.: New York Times dinner at the Hotel Seehoff
6:30 p.m.: Wall Street Journal drinks at the Belvedere
9:00 p.m.: Skybridge's Wine Forum at Hotel Europe'
Nightcap: Forbes and EY's at Goals House
And the scramble appears to be on for admission to competing Thursday night parties. Microsoft's features Sting, while Salesforce's act is the subject of speculation.
ALSO: U.S. Rep. Mikie Sherrill will join her colleagues Joaquin Castro and Seth Moulton at 9:30 a.m. tomorrow in Semafor's events series at Promenade 69. And if you're up early, I'll be moderating an 8:30 a.m. panel at the Congress Center on "Quiet Quitting and the Meaning of Work."

Required Reading
In The Newsletters: Politico's Ryan Heath says the leading candidates to succeed Klaus Schwab include Christine Lagarde, Tony Blair, and Schwab's children. And Quartz reports that Anthony Scaramucci visited the Blockchain hub, compared the fallen tycoon Sam Bankman-Fried to Judas, but otherwise seemed bullish on crypto (!). (Bankman-Fried is a Semafor investor.)
'Every conversation in Davos begins with talk of Ukraine, my colleague Steve Clemons noted. But every conversation then turns to China. The point of reference is often last week's Financial Times analysis that "a fundamental reset is taking place in Xi's foreign and economic policies," a turn back toward the West and economic openness, and away from Moscow.
That's unlikely to shift America's deeply anti-China domestic politics. But with Vice Premier Liu He set to speak Tuesday, I asked a couple of close observers — Peter Orszag and Li Xin — what they'd be listening for: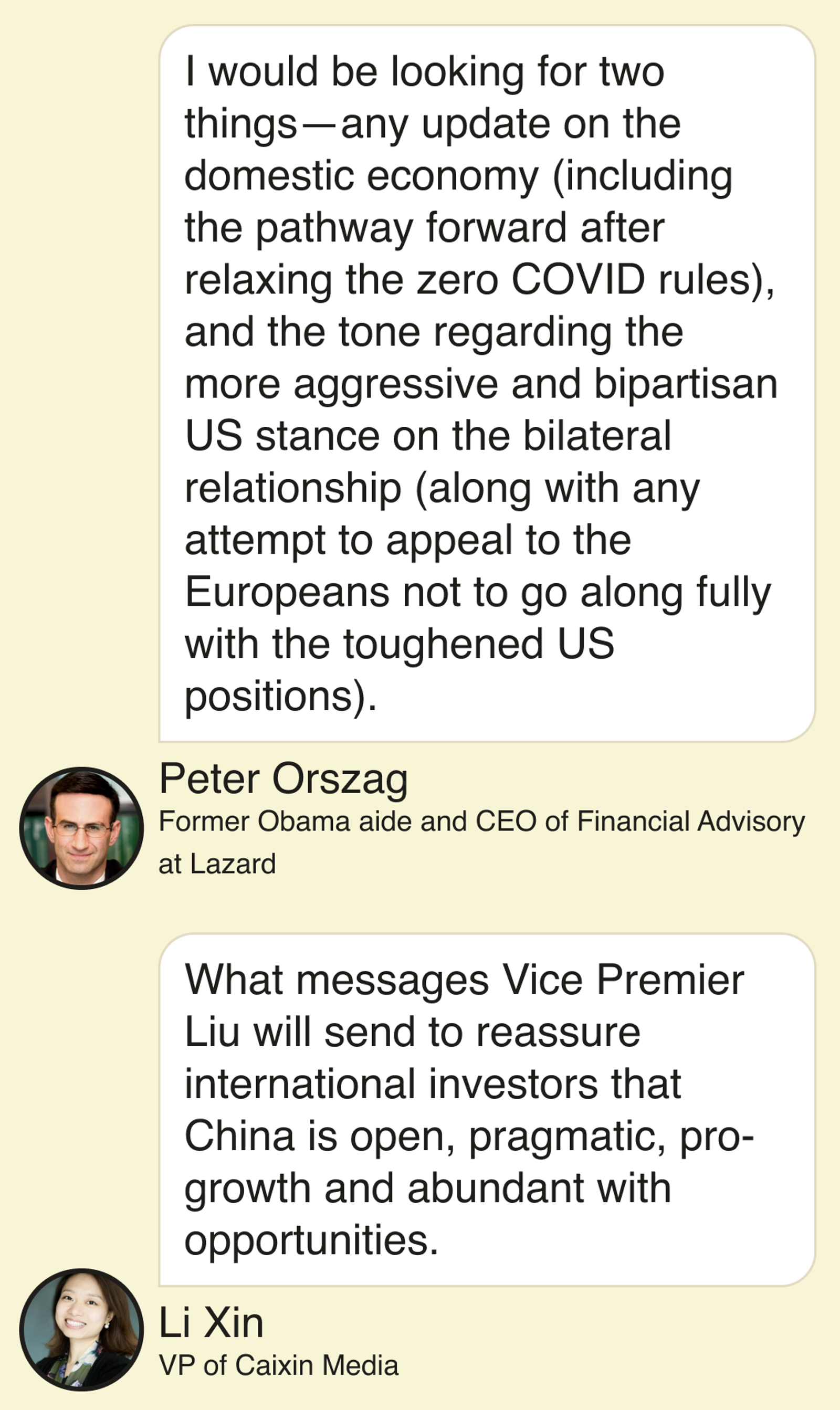 Room for Disagreement
Peter Goodman, the author of the scathing DAVOS MAN: How the Billionaires Devoured the World, won't be in town. In this short column for Semafor, he writes of Davos's place beside the Ukraine war, U.S. China tensions, and climate change:
In Davos, talking is the same thing as doing. The mere existence of a conversation, ideally, a "multi stakeholder dialogue," is tallied up as action.

The World Economic Forum is not a secret government or organized conspiracy. It is a giant business meeting, a chance for the heads of multinational oil giants to sit opposite Persian Gulf potentates — fronted by the performance art of earnest panel discussions aimed at solving the problems of the day.

More than anything, Davos is a prophylactic against change, an elaborate reinforcement of the status quo served up as the pursuit of human progress.

Price Tag


Scenes
Marc Benioff deep in conversation with Jared Kushner at Time's party …. Belarus's democratic leader Sviatlana Tsikhanouskaya at Bill Browder's dinner pleading movingly that her country not be forgotten … a crowd shutting down the promenade for Maharashtra Chief Minister Eknath Shinde … Reuters' Leela de Kretser cheering for the New York Giants well after midnight at Caprizzi Sportsbar … Angelina Jolie's stirring speech about refugees playing on a speaker in the men's room at the swank Goals House …

Flagship Briefing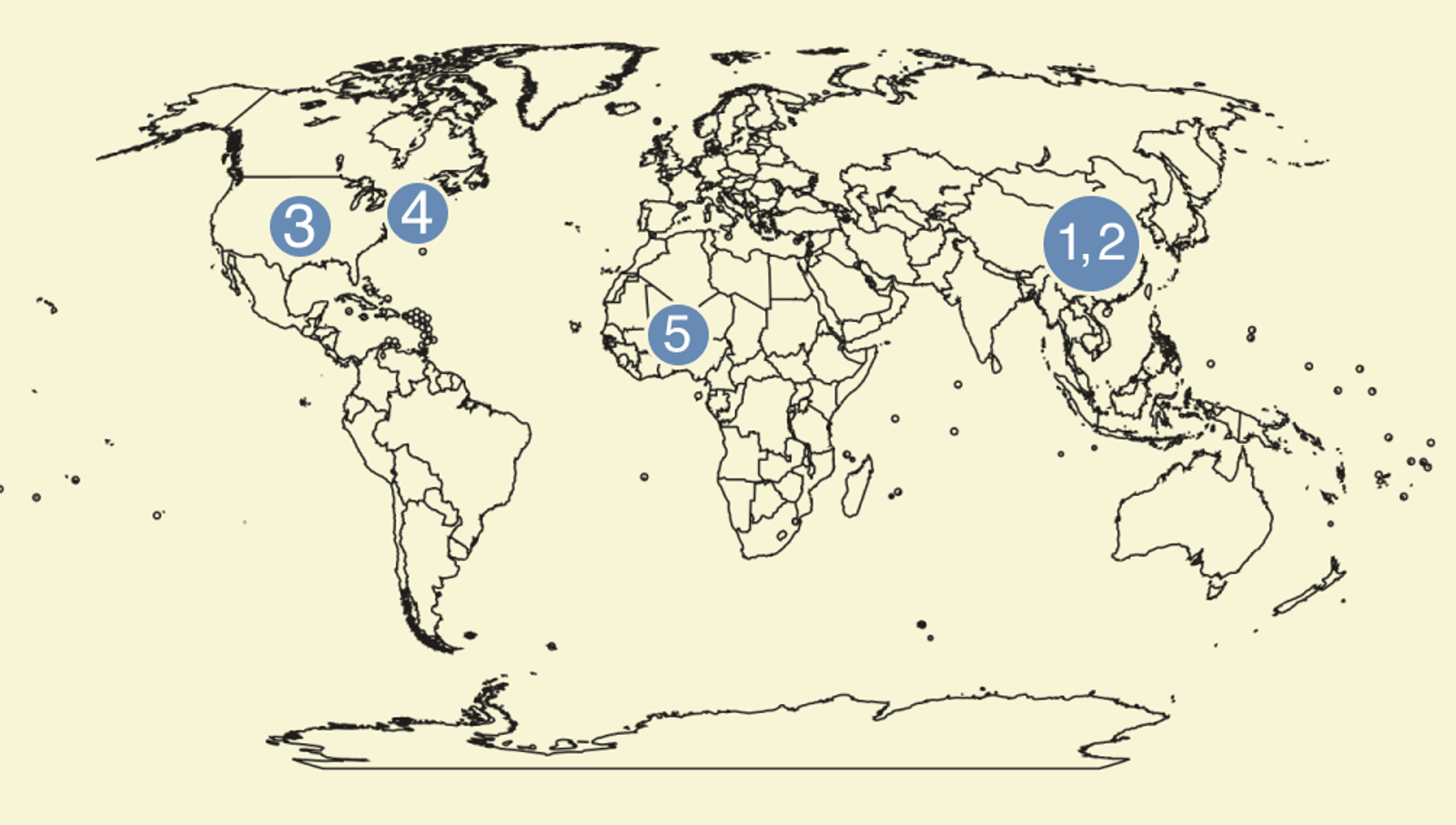 Here are the top stories our Semafor Flagship team in London is watching from lower lying territories:
China's falling population: Official data showed that China's population fell for the first time in 60 years. The decline spells trouble for the country's ill-equipped pension system, and for its long-term economic growth.
China's hopeful economy: In the short-term, though, economists and investors are buoyant over Beijing's prospects, despite the debacle of its abandonment of zero-COVID, and disappointing new GDP figures.
Beating cancer: Cancer rates in the United States have dropped 30% in less than 30 years, a decline driven in part by lifestyle changes. It's especially remarkable because cancer is a disease of aging, and Western societies are living longer than ever.
No Biden visitor logs: The White House said no logs exist for visitors to the Joe Biden residence where classified documents were recently found, the latest step in a controversy that has put the White House on the defensive after criticizing Donald Trump for holding classified documents himself.
Burkina Faso kidnapping: Gunmen abducted dozens of women as they were out picking fruit in Burkina Faso, which has been grappling with the fallout from an Islamist insurgency in neighboring Mali.